Earlier this month I attended the CES show in Las Vegas. The International CES (Consumer Electronics Show®) is the "world's gathering place for all who thrive on the business of consumer technologies." As a parent of four and a tech savvy mom, consumer electronics are prevalent in our household. As a consumer and lover of gadgets, I'm always looking for the latest and greatest tech that will make my life easier.
Here are the top technology picks for the connected family and the tech savvy family that I found while at CES.

UB+ Eupho Portable Bluetooth Speaker
UB+ Eupho Portable Bluetooth Speakerwas one of my favorite bluetooth speakers I saw while at CES. The UB+ Eupho Portable Bluetooth Speaker
 uses the UB+Modular Speaker and a Eupho Brave expansion casing made of solid ash. The sound quality is excellent and it's beautiful. It's like having a work of art in your home instead of simply speakers. And the UB+Modular Speaker can be removed to travel with and used as a bluetooth speaker on its own. Multipurpose products? Yes please. I'm looking forward to reviewing these speakers.

Caseco Bluetooth Beanies
Living in a cool climate, hats are a must. Buts hats don't always pair well with earphones and headphones. Caseco has solved that problem with their Bluetooth Beanies. My personal favorite is the Slouchy Blu-Toque Collection with the dual layered fabric. Their boho ribbed beanie features a built-in universal bluetooth headset so you can stay warm and connected. I can't wait to pair mine and get chatting while being bundled up.

myCharge
Being a multiple phone family and different brands of phones, we know that not all chargers are created equal. I was invited to a private breakfast by myCharge and I'm so glad I did. CES is huge and in the sea of booths, who knows if I would have stopped by, but they have some products that stood out and have changed my charging game. The myCharge HubPlus 6000mAh Portable Charger with Built-In Apple Lightning and Micro-USB Cables and Built-In Wall Prongs
is my new favorite portable charger. It includes a built-in cable for both my iPhone 6s and my Samsung Galaxy Edge+. It charges both devices (and basically nothing charges the Samsung, so that speaks miles. And it's fast. And small. myCharge for the win.
myCharge also has a collection of adorable prints on the new 2000mAh Style Power portable charger. Not quite as hefty as the HubPlus, but perfect for a lighter charge and even more perfect for a tween. Great for a stocking stuffer or Easter basket gift. My girls will love these.

LG
LG launched some new smarthome solutions including double laundry with a pedestal washer and robotic virtual vacuum. I did a whole post just on that, but a small pedestal laundry machine for small loads allowing you to wash more laundry at once is incredible!
Luma
At the Showstoppers I was introduced to one of the coolest innovations of the week: Luma. Luma offers the ability to create an incredible home network wi-fi experience unlike anything you've ever seen before. Luma is an intelligent wi-fi that helps boosts your wi-fi to eliminate dead zones, creates multiple access points to speed up your internet, and brings network-wide security to home wi-fi. The built-in security features will automatically identify security issues and help you fix them. Luma will also help you control and customize which devices and users can access your network and then monitor that usage through a user-friendly app. You can see what each user is up to in real time, allowing parental controls where needed based on age. I can't wait to test this product. There is nothing like this on the market, and I think this will be a positive game changer for the connected family.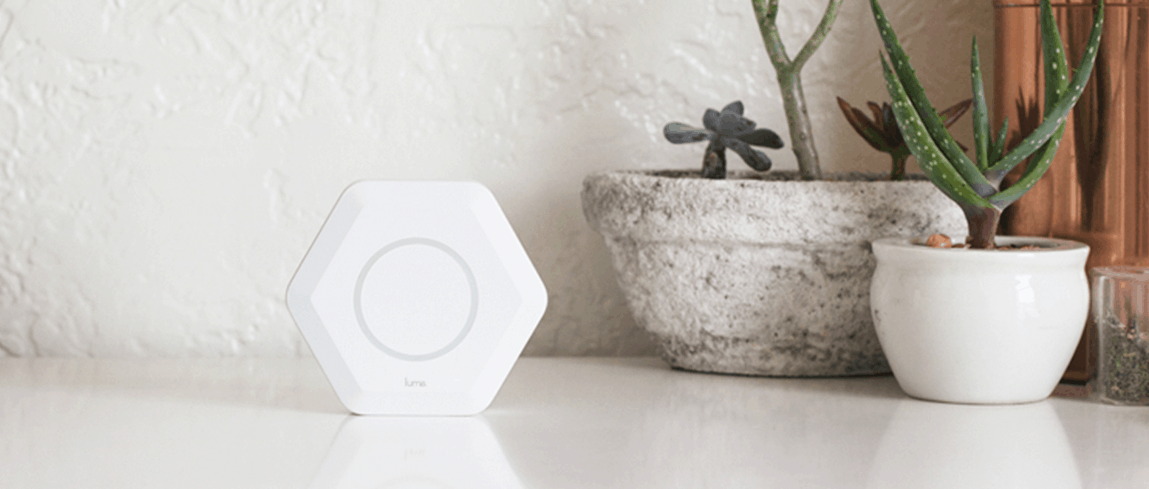 Misfit Ray
I'm all about wearables, and cool ones are where it's at. Forgot rubberbands and fitness trackers that look like fitness trackers. I want slicker trackers that look like jewelry. The new Misfit Ray launching in Spring 2016 is just that: a fitness tracker wearable that looks like jewelry. Ray is for minimalists. Only 12mm in diameter and 38mm long, Ray's sleek form factor and clean lines make it uniquely wearable. Ray features a highly customizable cylindrical aluminum body, able to be worn with Misfit-branded or custom accessories on the wrist or as a necklace. Ray effortlessly complements watches, bracelets, and fine jewelry. Its elemental, interchangeable design makes it easy to personalize. Ray can be elegant or sporty, sensual or bold, striking or subtle. Now that's my kind of wearable. Ray comes in Rose Gold and Caron Black.

Samsung
From smart watches to smart refrigerators, Samsung had some incredible tech. Their Family Bulletin board feature on their smart fridge was a huge family selling point. Four kids, two parents, and a dog? That's something I need in my life. A way for us to all be connected and keep track of all of the schedules, my fridge to tell me what's in it while I'm shopping at the grocery store, the ability to tell me what i can make with the ingredients that I have, and so much more.