Disney and Pixar's TURNING RED is now streaming on Disney+ and we're loving this new coming-of-age film. We're also loving all of the Easter eggs in this latest film from Pixar. Since 1995's Toy Story, Easter eggs are the thing to hunt for in any Pixar movie. As always, the hunt is on for TURNING RED Easter eggs and we've included all the ones we've found so far!

TURNING RED Easter Eggs
**SPOILER ALERT** Spoilers ahead for TURNING RED
If you're as obsessed as we are with finding Easter eggs in movies, you'll love that there are oodles of Easter eggs in TURNING RED.
Let's start with the TURNING RED Easter eggs that came straight from the cast and filmmakers' mouths at our press junket. Some of the confirmed Easter Eggs include:
Luxo ball
A113 (a nod to the animation classroom number at alma mater California Institute of the Arts in every Pixar film)
Pizza Planet Truck, as Red Panda Mei runs toward Skydome
"Bao" restaurant sign, sign as the camera pans down into Toronto Chinatown
Purl (from Sparks Shorts) on Mei's desk
Burrow Bunny (from Sparks Shorts) sticker on a notebook on the floor of her room.
A nod to LIGHTYEAR can be seen on Miriam's skateboard (there's always a nod to the next film in the current one)
Blue Jay, nod to the Toronto Blue Jays MLB team
Toronto Skyline

Red Panda
The use of the Red Panda as the animal Mei transforms into is a giant Easter egg on its own littered with its own meanings.
Red Pandas are natively found in Eastern Himalayas and South-western China, so choosing an animal that has roots to China and is heavily embedded in Chinese mythology makes sense.
In Chinese, the red panda is called hun ho, which means "fire fox."
With the film TURNING RED having such an homage to the early 2000s, did you know that the Red Panda is the animal on the Firefox logo? Firefox is being a 2000s company (2004). And did you know that the sound a Red Panda makes is often referred to as a Twitter, with Twitter having been created in 2006?
The Red Panda is often seen as a symbol of gentleness, compromise, and patience. Their spiritual meanings include balance, independence, nonchalance, and security.
Mei-Mei
Mei-Mei means "little sister" in Chinese. Rosalie Chiang said during the interviews, "My mom actually calls me Mei-Mei 'cause Mei-Mei means 'little sister' in Chinese. So when she goes, "I'm perfect little Mei-Mei," I literally went through that [because] I don't want to be perfect little Mei-Mei either."
Bao Buns
Playing off the "Bao" restaurant sign in Toronto's Chinatown, you'll see Mei shaping Bao buns at dinner one evening as an ad for 4*Town plays on the TV screen. Her dad says they are perfect, then the bao, are gulp, eaten—just like in director Domee Shi's award-winning short "Bao."
During that same scene, Ming and Mei are watching an Asian drama called "Jade Palace."
I understood that reference.
When Mei introduces her besties at the start of the film, she says, "Besties, Assemble!" This is a nod to the line in the Avengers movies used to gather the group, "Avengers, Assemble!"
Another Marvel nod is Mei's grandmother, voiced by Wai Ching Ho. She portrayed Madame Gao on Marvel's "Daredevil," "Iron Fist," and "The Defenders."

Twilight
Priya can be seen reading the final chapter of "Nightfall" by Roberta Mover. This is a nod to the "Twilight" book series, a popular cult YA novel series in the mid-to-late 2000s.
Oh, Canada!
With TURNING RED being set in the early 2000s in Toronto, Ontario, Canada, there are dozens of nods and Easter eggs for our friends to the north. Some are easier to spot than others, especially if you spent any significant time in Canada, near the border growing up, or watching sports and CBC. Also note this is the first Pixar movie that takes place in Canada.
The Cast and Director
Given that several of the core voice cast and the director are all Canadian—Sandra Oh, Rosalie Chiang, Maitreyi Ramakrishnan, Hyein Park, and director Domee Shi—it's no surprise that TURNING RED is a love letter to Toronto.
Sandra Oh previously voiced Virana in RAYA AND THE LAST DRAGON.
Canada Maple Leaf Flag T-Shirt
In her bedroom before poofing back into a giant red panda, Mei can be seen wearing a white shirt with a red Canadian Maple Leaf and red trim, one that emulates the Canadian flag (also seen in sticker form on her flute case).
Lester B. Pearson Middle School
Lester B. Pearson, also known as Lester Bowles "Mike" Pearson, is a former Canadian Prime Minister. The 14th Canadian Prime Minister served from 1963 to 1968. There is a Lester B. Pearson Elementary School and also a Lester B. Pearson Public School in Toronto, but not a middle school.
Ming's license plate is "SYST 3MS."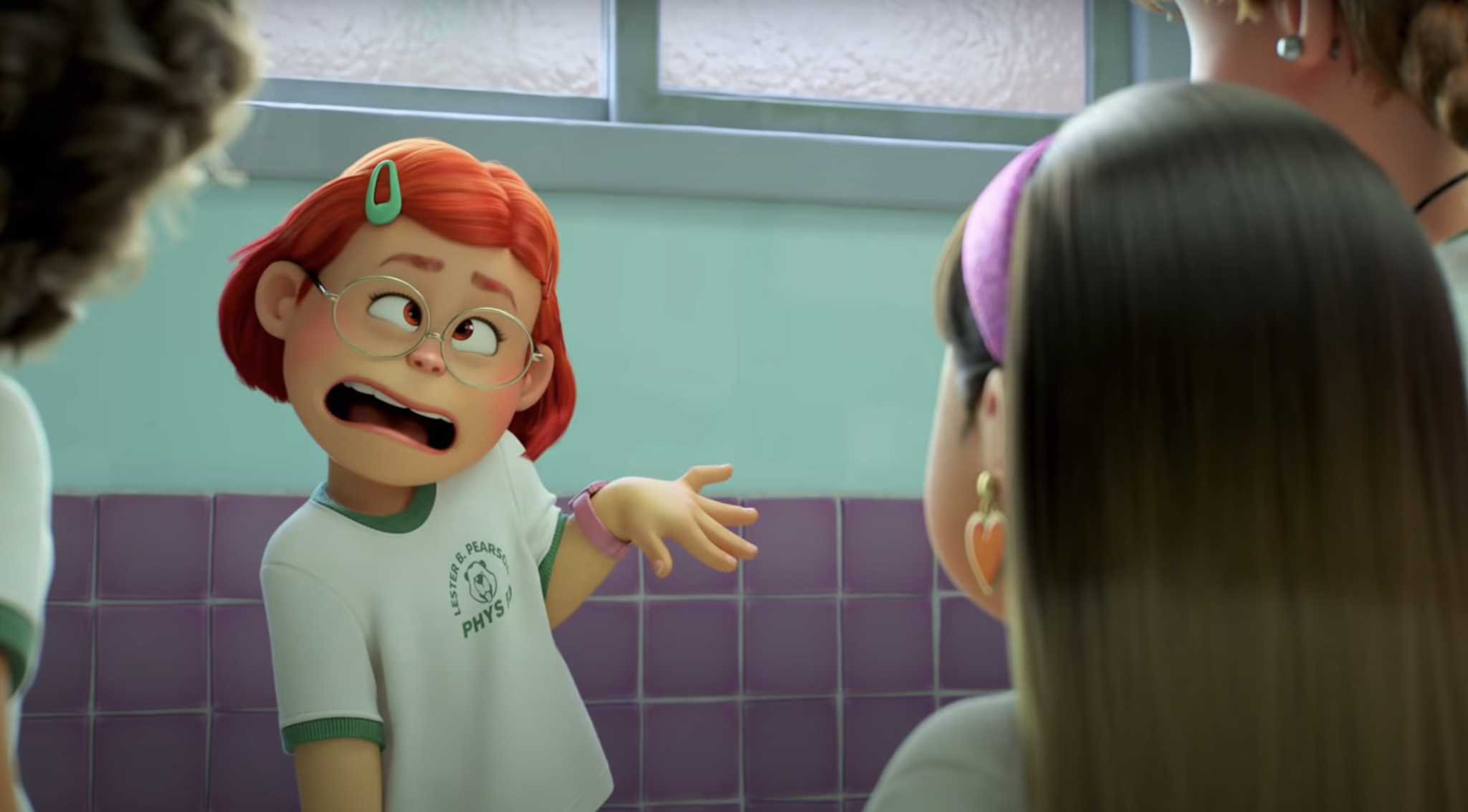 The CN Tower
The CN Tower (Canadian National Tower) broadcast and telecommunications tower held the record for tallest building, tower, freestanding structure for over 3 decades, the CN Tower remains the tallest in the Western Hemisphere. It's in several shots in the film, including this and as Red Panda Mei runs across the rooftops.

The SkyDome
Home to the MLB Toronto Blue Jays and now known as the Rogers Centre, this multi-purpose retractable roof stadium in Downtown Toronto is located just southwest of the CN Tower near the northern shore of Lake Ontario.

Tyler's Purple Basketball Jersey
Tyler in his purple basketball jerseys are nods to the Toronto Raptors basketball team.
City Streets of Chinatown in Toronto
The corner of Spadina and Dundas is a standout intersection in the movie.
"The Simpsons"
Mei named the red panda statues in front of the Temple "Bart" and "Lisa" from "The Simpsons." While "The Simpsons" is now a Disney-owned property, the sitcom first began airing in 1989, this would have been during the height of The Simpsons' rage.
Toronto Transit Commission
Toronto Transit Commission (TTC) streetcars can be seen driving past the vibrant storefronts of Kensington Market.
Kensington Market
As the TTC streetcars pass through the streets of Kensington Market, we see spatterings of the multicultural open-air marketplace in Toronto. Kensington Market is known for its bohemian style, colorful storefronts, vibrant murals, friendly locals, and pedestrian-friendly events.

Daisy Mart
Daisy Mart is a well-known Canadian convenience store franchise. When Red Panda Mei runs past the Daisy Mart, upon seeing Devon, she thumps her foot like Thumper does in BAMBI.
Tim Hortons Timbits donut box
In the opening montage, a Tim Hortons Timbits donut box can be seen. Tim Hortons is as synonymous with Canada as Dunkin Donuts is to the East Coast or Starbucks is with Seattle, Washington. And do you see the Hidden Mickey in the donut holes?
Toque
Mei and her friends refer to her hat as a toque. It's a colloquial Canadian term for a winter hat, generally a close-fitting knitted hat with a pom-pom. Historically, the term toque was used to describe a style of women's hat with a narrow, closely turned-up brim popular in Europe from the 13th to the 16th century.
I grew up so close to the Canadian border, we referred to winter hats as toques and I didn't even realize it was a Canadian term until I was an adult with Canadian friends.

Loonies and Toonies
The "loonie" is a $1 CAD coin used in lieu of a paper dollar bill and features the image of a Loon, the bird of Canada. The "toonie" is the $2 CAD coin.

Hockey
Hockey, while not limited to Canadians as a pastime, is definitely a VERY Canadian sport. Having grown up on the border, hockey is THE sport of choice for watching and playing. After all, winter is basically 8 months long. In Mei's classroom, there is a "1980 Winter Games Poster" featuring two hockey players. A double nod, not just to hockey in general, but as it's one of the most iconic Olympic hockey matches in history: USA vs Societ Union played in Lake Placid, NY, with the USA win upsetting the Soviets in their holding of 5 of the 6 previous gold medals (Miracle on Ice is a great movie if you need a sports movie to watch).
Mei's teacher also has a bear with the Toronto Maple Leafs logo on his shelf. He kind of reminds us of a young Charles F. Muntz, the villain in UP!
There's another scene when Red Panda Mei is jumping over buildings and some teens are playing basketball. One of them is wearing a hockey jersey that is a nod to the Toronto Maple Leafs.
And "Hockey Night in Canada," anybody? It started as a radio segment in 1931 and it's still going strong on CBC. Legit. If you think hockey, you should think Canada.

Moose
There are several scenes where there are Moose, including the bobblehead moose in Ming's car. Moose are
All the 90s and 2000s TURNING RED Easter Eggs
With TURNING RED taking place in the early 2000s, there are tons of nods to the 90s included in this film.
Boybands
Boybands became huge with and synonymous with the 90s. *NSYNC's music ("It's Gonna Be Me") was featured in the trailer, Backstreet Boys "Larger Than Life" was featured in the teaser trailer, and Pixar even created its own imaginary boyband 4*Town for the film, inspired by Backstreet Boys, *NSYNC, 98 Degrees, and others according to director Domee Shi.
The 4*Town members are all wearing white at their concert. The Backstreet Boys wore all white for their 1999 "Millennium" album and NKOTB did this for their comeback tour.
Mei and her "4*Townies for life" are crazy for boybands.
The number 4 is considered unlucky in China, South Korea, and Japan as it sounds close to the word for "death" in all three languages. In South Korea and Japan, they often do not have a 4th floor in buildings, much like there is no 13th floor in many buildings in the U.S.
Toward the end of the movie, the Ritual is performed at what remains of the Skydome, the dance moves 4*town do are the same ones in the Backstreet Boys "Everybody" video (1997).

Tamagotchi
There are several nods to the 90s Tamagotchi digital pet in TURNING RED. The first Bandai Tamagotchi had only a 32 x 16-pixel screen and three small buttons and was first released in Japan on November 23, 1996.

Friendship Bracelets
Have they ever gone out of style? Girls and summer camp through the ages have made friendship bracelets but the jelly bracelets that Mei and her posse have are pretty 90s in style.
90s fashion
Miriam is straight-up 90s grunge in her plaid shirt and beanie hat (toque). If you didn't own at least one plaid shirt that you left unbuttoned or tied around your waist did you even live in the 90s? Mei's pleated mini skirt and barrettes are very trendy from the 90s.
Also spotted are choker necklaces, overalls, rolled pant cuffs, a calculator watch, butterfly hair clips, and a variety of other very 90s trends.

Boo's Door from Monsters, Inc.
Abby's outfit looks like Boo's Door from Pixar's Monsters, Inc., which was released in 2001.
Tech Deck
One of the students can be seen playing with a Tech Deck, an early 2000s toy.

Walkman, Boomboxes, and Flip phones
More nods to tech of days gone by. The flip phones are labeled "Jokia" as a nod to "Nokia" and the pink Jokia has a Rainbow Unicorn sticker on it that could be a nod to INSIDE OUT.

Polaroid Panda Pics
The "Snapshot" camera Miriam is taking photos with is a nod to the Polaroid Instant Camera. The model she uses is similar in format to the Polaroid One600 of that time period. The 600 series is a landmark chapter in Polaroid history, and the last of the series was produced in 2003.

"Tween Beat" Magazine
The "Tween Beat" magazine featured in the film is a nod to the ever-popular "Teen Beat" Magazine that was highly popular in the 90s and early 2000s until it ceased publication in 2007. The cover always featured celebrities, often musicians, and many boybands made appearances over the years including Backstreet Boys, *NSYNC, and NKOTB.

Stickers galore
Mei has stickers everywhere, like her flute case and her notebook. Many are legit 90s references like "Talk to the Hand," "Y2K A OK," and "Save the Whales." The unicorn and red panda are very stylistic of the Lisa Frank sticker collection from back in the day.
Dance Moves and Handshakes
Mei "raises the roof" in the intro montage. Priya and Mei's handshake is the same one that DJ Jazzy Jeff and Will do on "The Fresh Prince of Bel-Air," a sitcom that ran for 6 seasons from 1990–1996.
Lingo and Tunes
From phrases like "the Bomb dot com" to "You da bomb," "Chill," "Let's bail," and "Nuclear," the film is full of 90s and 2000s lingo.
Listen for some great tunes like Destiny Child's "Bootylicious" (2002) and DJ Casper's "Cha Cha Slide" (2000).
Decor
Mei has a lava lamp in her room. There's a slow cooker on the counter in the Lee home that features the Corning Blue Cornflower floral pattern on it but in a pink/coral color.

Mushu's Bunny Slippers
When Red Panda Mei steps out of bed, she steps right onto her bunny slippers and smushes them. This could be a nod to Mushu from Disney's Mulan, which was released in 1998. Mushu has a line in the animated film, "Oh, I think my bunny slippers just ran for cover. Come on, scare me, girl!"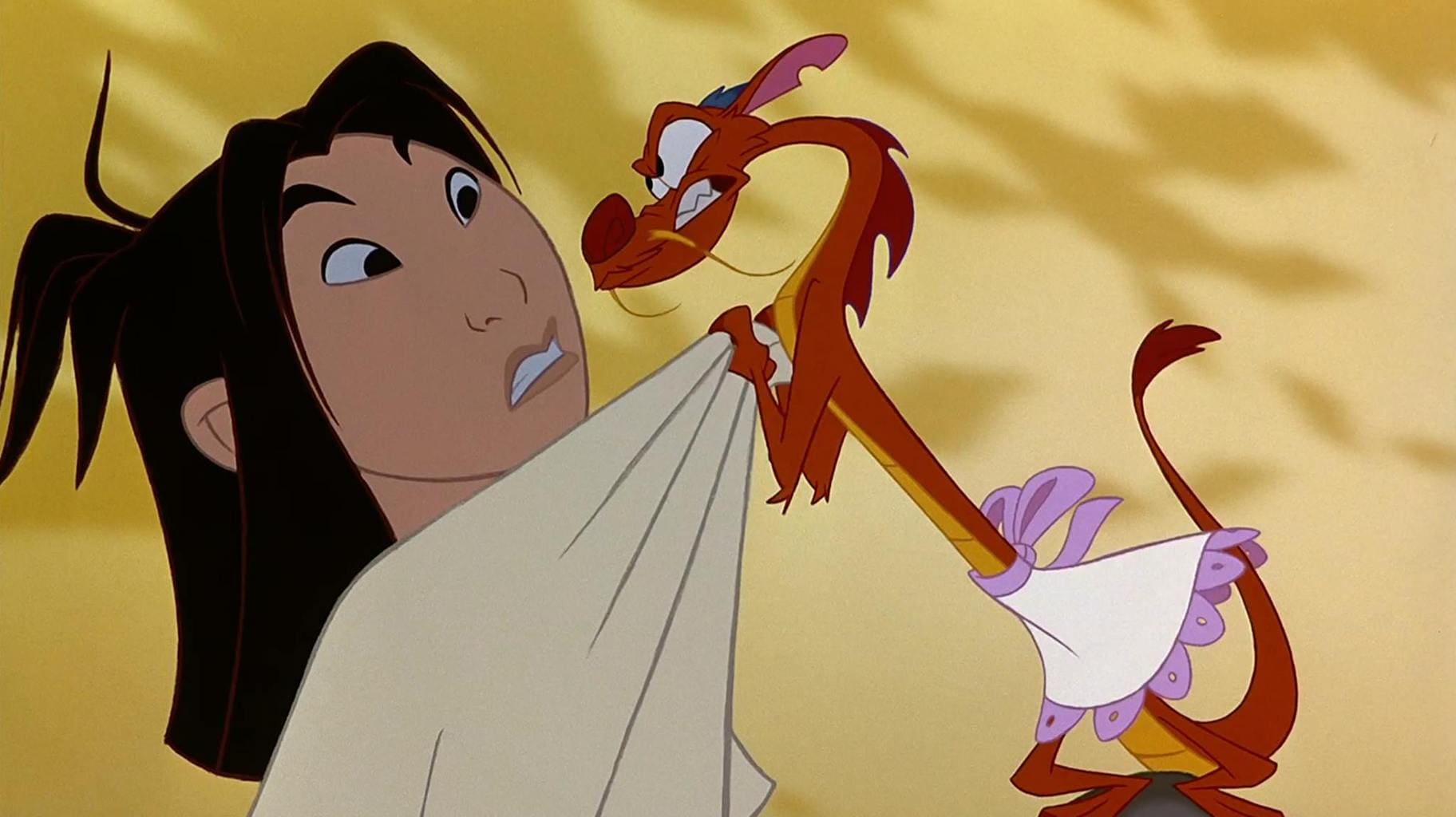 More Mulan Nods
James Hong, the voice of. Mr. Gao, previously voiced Chi Fu in Mulan.

OmniPod
There are at least 2 different students and multiple shots of those students at Mei's school who appear to be wearing pod-style insulin pumps. We're venturing a guess at a nod toward the OmniPod Insulin Management System, which was the first tubeless and wirelessly-controlled insulin pump available in Canada, which debuted in November 2011. The OmniPod is a big deal for kids (and anyone, really) with Type 1 Diabetes as it was the first time since the advent of the insulin pump in the 1970s that insulin pumps could be controlled wirelessly.

BagSport
A nod to the popular JanSport backpacks that a huge proportion of teens carry their lives in is Mei's backpack of choice. While JanSport has been making backpacks since 1967, they started out in the backpacking and climbing segment. In the late 1990s, they got to be very popular after moving most of their manufacturing overseas to be more price-competitive with other popular manufacturers.
Real Life in the Story
This scene when Ming is hiding behind the tree at Mei's school is based on something that actually happened to director Domee Shi when she was a child.

Oliver & Co.
When Mei's parents are testing her inner panda, they give her a box of kittens as a final test. The kitten test box is reminiscent of the scene in OLIVER & CO. with the box of kittens and even has one orange tabby kitten.

Toy Story
When Red Panda Mei is running from school across the city, the clouds in the sky are the same as the ones seen on Andy's bedroom wall in TOY STORY.

Coco
When Red Panda Mei scares the couple in Chinatown, the papel picado from COCO can be seen.

Mickey Ears
Well, Panda Ears. A nod to the Mickey and Minnie ears that are so popular in Disney Parks.

Red Moon
The moon on May 25, 2002, wasn't actually a Red Moon, but it was cool. It was actually a Waxing Gibbous with illumination by the Sun at 99%, as the following night on May 26th was a full moon with a lunar eclipse at 7:51 p.m. in Toronto.

Astral Plane
Mr. Gao draws an astral plane as a door to the realm. In SOUL, they do something similar as they chant around a circle to open the astral plane.

Studio Ghibli
As Mei enters the astral realm, the animation is very reminiscent of what you would see from Studio Ghibli.

Godzilla
When Ming is in her Red Panda form, she resembles Godzilla in movement.
Aunties Jump to Action
The Aunties jump to action and pose.
Did you catch any Easter eggs we missed? Comment below and let us know!
TURNING RED is now streaming exclusively on Disney+