Many people love the slightly spicy, yet sweet combination of a Moscow mule. Typically served in a copper mug with a lime wedge, nearly everyone perks up at the sight of a Classic Moscow Mule. If you are looking for Moscow mule variations to add a new flavor to the popular cocktail, learn about four unique twists below!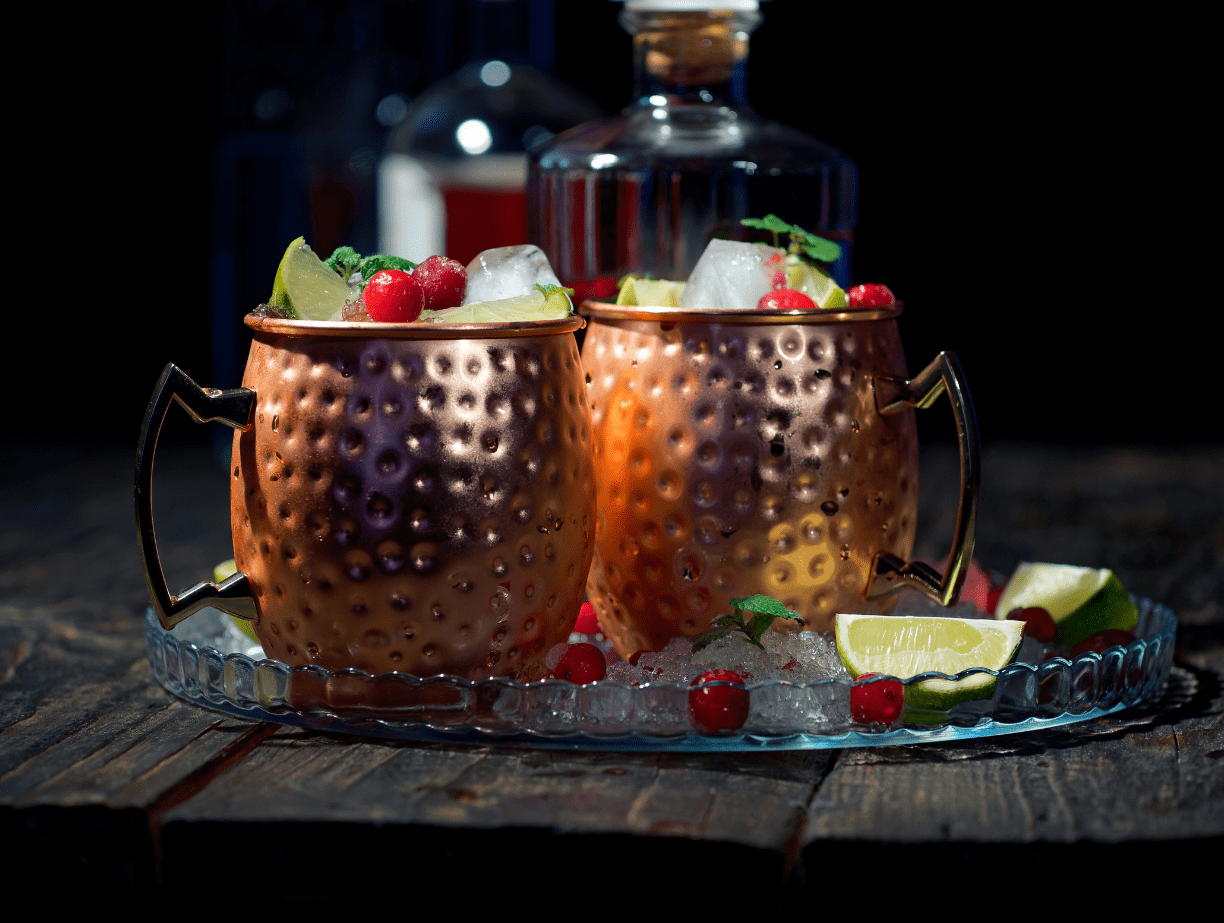 1. Cranberry Moscow Mule
Cranberry is a popular flavor, usually associated with the holiday season, but you can enjoy a Cranberry Moscow Mule any time of the year! To make a Cranberry Moscow mule, you'll need:
4 oz cranberry juice
4 oz ginger beer
2 oz vodka
1/2 lime
1 cup ice cubes
Fresh cranberries for garnish
Add the ice cubes to a copper mug or glass. Place the cranberry juice, ginger beer, vodka, and squeezed lime juice into a shaker with ice. Gently shake for a few seconds, and strain into the mug or glass. Add cranberries to the top and place a lime wheel on the rim.
If you're making Cranberry Moscow Mules for the adults, don't forget to make some mocktails for the kids and your friends who don't drink. This Cranberry Raspberry Holiday Punch is delicious any time of year and makes a perfect party punch.
2. Moscow Mule Slushy
There is almost no better treat than a slushy on a hot summer day, especially when it's a Moscow mule slushie! This recipe takes everything you love about Moscow mules and blends them all together for a delightful frozen treat. You'll need:
4 oz. ginger beer
3 oz. vodka
2 oz. lime juice
1 tsp. sugar
2 1/2 cups ice
Fresh mint for garnish
Add all the ingredients to a blender or food processor (minus the mint) and blend on low. Once the ingredients start to bet mixed together well, you can gradually increase the blender speed. Pour the mixture into a tall copper mug or highball glass, add a sprig of mint, and serve with a spoon or straw.

We love a good twist on a Classic Moscow Mule. Give us a good variation of a Moscow Mule any day. This particular mule—Spicy Tangelo Ginger Mule—we created for the live-action version of The Jungle Book movie (if you follow us, you'll see that we do a lot of cocktails and recipes based on movies and TV).
This particular mule we made with ginger ale instead of ginger beer because it already had a bit of extra pizazz with the tangelo juice.
1 ounce Fresh Tangelo Juice
2 ounces Tito's Vodka
3 ounces Ginger Ale
1 Scotch Bonnet Pepper
If you want something a little more muted in flavor, the next variation will probably be a great choice for you.

4. Watermelon Moscow Mule
One of the best parts about summer for most Americans is the increased access to fresh fruits, especially watermelon. Watermelon is delicious on its own, but it's even better in a Moscow mule! For one serving, you'll need the following:
1 cup watermelon cubes
2 oz. vodka
1/2 oz. lime juice
4 oz. ginger beer
Place watermelon cubes into a blender and blend until it yields juice. Strain liquid through a fine-mesh strainer into a container. Add the watermelon juice, vodka, ginger beer, and lime juice to a copper mug or glass, and stir.
Top with ice and add your favorite garnish. This drink looks especially great when a watermelon wedge is placed on the rim of the glass or mug!
These Cherry and Rum Moscow Mule Cocktail + Popsicle pairings are the perfect treats for a hot summer's day.
We made this mule with Krakken Dark Spiced Rum and R.W. Knudsen Just Tart Cherry Juice. Such a beautiful flavor profile!
Experiment with Your Next Moscow Mule
Although the Classic Moscow mule is a consistent fan favorite, it can be incredibly fun and rewarding to use some creativity and make your own Moscow Mule concoction. Play around with ratios, flavors of vodka, garnishes, and more. You never know when you'll stumble upon your new favorite Moscow Mule combination!
Do you have a favorite Moscow Mule variant? Tell us below!