Disclosure: While Halloween Horror Nights was sponsored by Universal Orlando Resort, this in no way alters my opinions (they are always my own). It simply makes bringing those opinions and experiences more affordable, and I'm totally cool with that.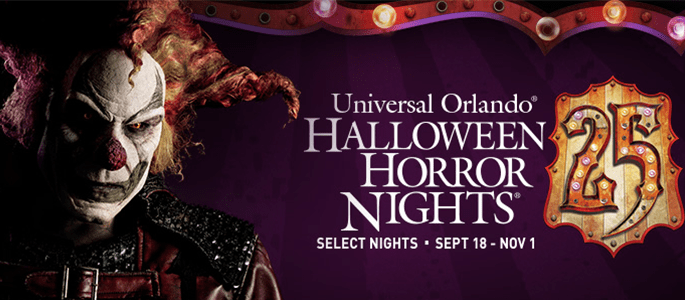 Last month I joined a team of bloggers for a press event at Universal Orlando Resort as we faced our fears together during the second annual "Facing Their Fears Together" Blogger Media Event as part of the 25th Annual Halloween Horror Nights. We toured all 9 of the horror houses (and repeated 2 of them) in the dark, and then we had the pleasure of an exclusive look at a lights on tours of 3 of those houses where we Unmasked the Horror: Insidious, The Purge, and An American Werewolf in London.
Our R.I.P Tour Guides Pete and Jesse were awesome: super nice and really knowledgeable. The training that the tour guides have to go through is unbelievable. We were so lucky to have guides that knew so much, as it really enhanced the experience. We had the same guides on our R.I.P. tour as we did for our Lights on Tour.
Halloween Horror nights uses about 1,200 actors, between 40 and 60 make-up artists on any given night, and numerous costume runners to make it all come together. Construction on the houses starts in May to make this all come together for you.
We had an exclusive tour of the Insidious, The Purge, and An American Werewolf in London houses. One other group had toured Insidious and The Purge, but no other groups had toured An American Werewolf in London and probably none will. Having been a theatre major for awhile in college and spent years on stage and working backstage, I have an appreciation and keen interest in how this all works.
To keep audiences scared well and give a good show all night, every night, each house has two identical casts that scare for 45 minutes at a time. They take a break, and then come back to scare again. It's an intense job and so much different than a 2-hour musical or comedy routine! They need to keep their energy up to give a great show since they are scaring droves of people continuously all night long.
The Purge was disturbing, startling, and creepy. I hate weird masks. And the mask in The Purge fits that bill. It's like a demented mask of Ronald Reagan and it weirds me out. There's a scene that really messes with you in that house though that really got most of us, even a few of the guys were like, "Whoa, I thought that was part of our group." Well, played, Halloween Horror Nights. That was messed up (not telling you, you'll have to go see it for yourself). When we went back through the second time I realized how it worked. And during the lights on tour you could get a better view of what the scene actually was, but it's really cool to see.
The blood in all the houses is added last. Toward the end of the construction there is a "blood day" and buckets of blood are sprayed on as a last det design element.
That little hole in the bottom right above is used to spray water. When you're walking through the house, you feel like you're getting sprayed with blood as the actor is stabbing the "prom queen" in her bed. The closet is one of the "boo" holes.
While the Purge house has lots of in-your-face-scare, they all come from the sides or behind to keep you moving, never from in front of you.
The park bench scene above is that scene that got us all. Crazy!
All the sets are fire retardant. Many of the sets have a whitish gray coating that you can't see at night but you can see during the day. They are sprayed multiple times.
An American Werewolf in London was amazing. Recreating the movie in scenes. I'll go into more details of this house when I do my "Lights On: Behind the Screams" tour recap, but it was awesome. I loved it. based on the John Landis film An American Werewolf in London, this house was incredible. It was almost an exact replica of a house they did previously, redone for the 25th anniversary of Halloween Horror Nights. They did an amazing job of building up anticipation and mixing scary scenes with scare-acters. This was one of my favorite houses.
This house is nearly identical to the one they did before, but they did add a new werewolf to the end. Unlike The Purge and Insidious that are a house in tents, this is on a sound stage. There's a nod to Mary Shaw on one of the gravestones at the beginning of the house.
The details are uncanny. "Blue Moon" plays when you walk through the living room scene during the first transition.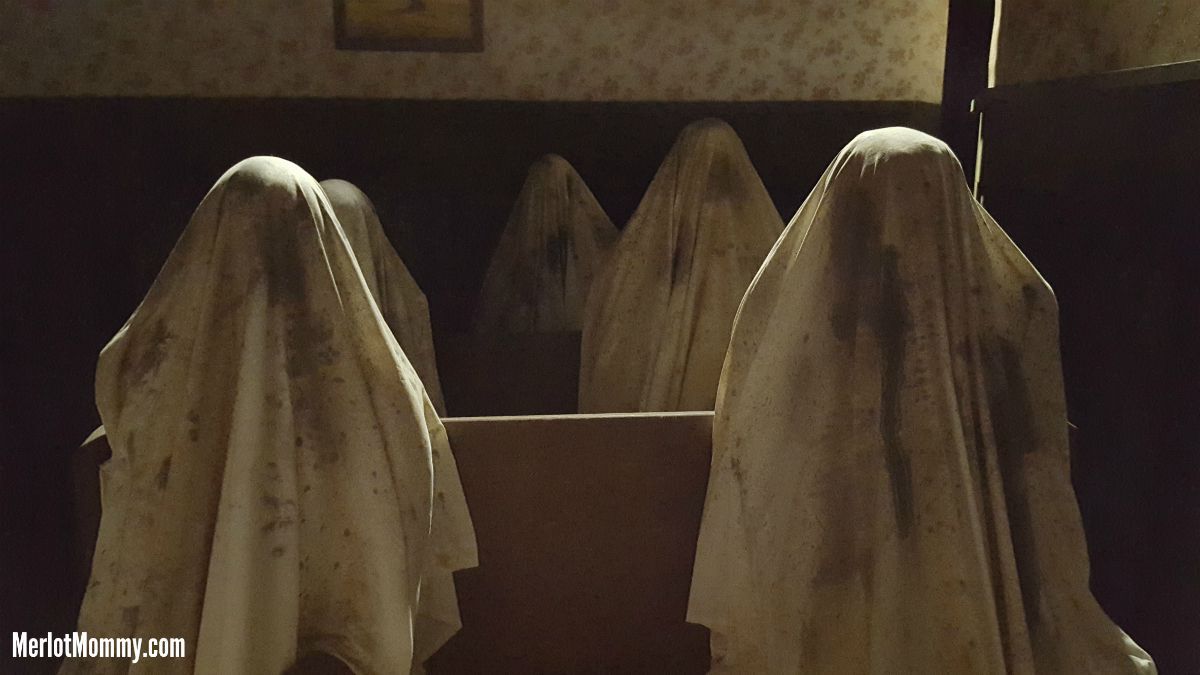 The Insidious house was so well done. Based on Insidious, Insidious: Chapter 2, and Insidious: Chapter 3, you enter "The Further" and travel through all three parts of the Insidious saga. We saw this house during out "Lights On: Behind the Screams" tour, too. This house was creepy, but maybe not as disturbing to me as The Purge and AMC The Walking Dead. I love how well the integration of "The Further" and "The Demon's Lair" is done and takes you through the sage of the movies. Creeped out at most every step of the way, this house is unsettling to say the least.
"Boo" holes, like the one in the corner at the bottom left, are always at the side or behind you to keep you moving forward, never in front of you or it keeps the traffic flow from moving forward.
One of the fun things about this house was the nods to previous houses and collaborative works of the directors of the movies and previous Halloween Horror Nights. We saw references to Annabelle from the Conjuring (possibly the most terrifying movie I've ever seen) and dolls from the Dollhouse of the Damned house of the Halloween Horror Nights 2014.
Set deconstruction begins November 2. All props and set pieces that will be kept are cataloged and stored off-site in a warehouse for future use. They have never done a horror house exactly the same as before; even the ones that they have recreated to be similar have been slightly different.