"WandaVision" is the weird show of the year, and I am here for it. In fact, I've been here for it since I saw the First Look at D23 in 2019. "WandaVision" takes place after the events of Avengers: Endgame and stars Elizabeth Olsen as Wanda Maximoff and Paul Bettany as Vision.
"WandaVision" Review and First Impressions
This week I screened the first 3 episodes of "WandaVision" on Disney+ and Marvel Studios did not disappoint. I was floored at just how great the show was. I was begging for more at the end of Episode 3.
Quirky, dark, fun, strange, trippy—mind-bending fun. It's one of the greatest things I've seen the MCU create to date. I'm loving the storylines from the comics and thrilled about the tie-ins to Doctor Strange in the Multiverse of Madness, SpiderMan 3, and "Loki" series. So. Much. Potential.
If you've watched the trailers and trailer breakdowns, you know there are a lot of questions to be answered in this series.

Eras of American Sitcoms
As an 80s kid, I can appreciate having watched a wide variety of TV genres growing up. "WandaVision" is a comedy (of sorts) set in a suburb inspired by several eras of American sitcoms, from "The Dick Van Dyke Show," to "Bewitched" to "The Brady Bunch." The nostalgia is real and you'll feel is from the moment the show opens.
In the 1950s, Wanda dons floral aprons, while Vision heads off to the office. The 1960s show hippie trends; the 1970s is loaded with wild colors, frills, and hair; and the 1980s gives us a glimpse at the colorful aerobics craze—this trippy treat offers an homage to every era.
It's a very different dynamic seeing Elizabeth Olsen and Paul Bettany as the center of a comedy sketch versus part of an ensemble of superheroes in an action film. There's no blending in or being on the sidelines. It's all them, and boy are they good. It was obvious the Scarlet Witch no longer had her accent in the 1950s, which makes me wonder if it will work its way back as we reach the modern-day.


Scarlet Witch is a VERY Complex Character
If you haven't read any of the comics or watched any of the MCU properties in which Scarlet Witch appears, this show will likely confuse you. It might be hard to follow even if you're only a minimal Marvel fan.
Scarlet Witch is arguably one of Marvel's most complex characters. In the comics, she's known for a slew of mental health issues. Depression, going "mad," dealing with alternate realities, unable to identify what's real and what isn't—these are all things we haven't see much of in the MCU, yet.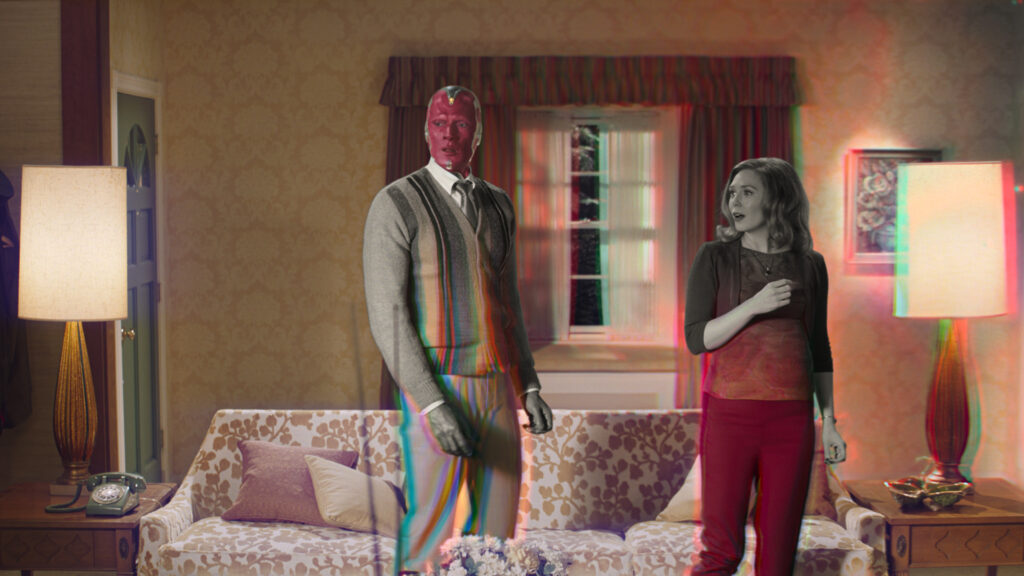 There are moments of grief we see Scarlet Witch experience in a couple of films, like when Pietro dies in Avengers: Age of Ultron. And let's not forget that the last time we saw Vison, he had just died at the end of Avengers: Infinity War in 2018.

"WandaVision" Comic Tie-Ins
Without giving any spoilers, and only giving common knowledge from the comics and what we know based on the trailers so far, there will be some pretty iconic comic moments and storyline tie-ins for Wanda and Vision's characters.
In the first trailer for "WandaVision," we see Wanda levitating a bottle of "Maison du Mepris" wine. That's "House of Contempt" in French. Back to the complexity of Scarlet Witch, I mentioned above, House of M is a comic that features Scarlet Witch. Long story short, she grieves the loss of her twin children, creating chaos eliminated by the Avengers and X-Men. So there's the potential for a House of M/X-Men cross over, or maybe even a hint at a Secret Invasion storyline somewhere down the line.
In the comics, Wanda and Vision have twins (Tommy/Speed, Billy/Wiccan). Scarlet Witch creates them using fragments of Mephisto's soul magic. House of M is the comic series related to the grief, destruction, and new reality she creates when she loses those children.
Speed and Wiccan are both members of the Young Avengers.

Easter Eggs
Well, you'll have to wait for another post for those, but I assure you there are many. So many in fact, I was practically screaming with excitement. But we were sworn to promise the PR gods we work with that we would not post spoilers until after the premiere date, so I will abide by that request.
But above, you can see some tie ins that are Easter Eggs without giving away anything other than what was in the trailers.

About "WandaVision"
Marvel Studios presents "WandaVision," a blend of classic television and the Marvel Cinematic Universe in which Wanda Maximoff (Elizabeth Olsen) and Vision (Paul Bettany)—two super-powered beings living idealized suburban lives—begin to suspect that everything is not as it seems. The new series is directed by Matt Shakman; Jac Schaeffer is the head writer.
WandaVision is on Disney+ from Friday, January 15.