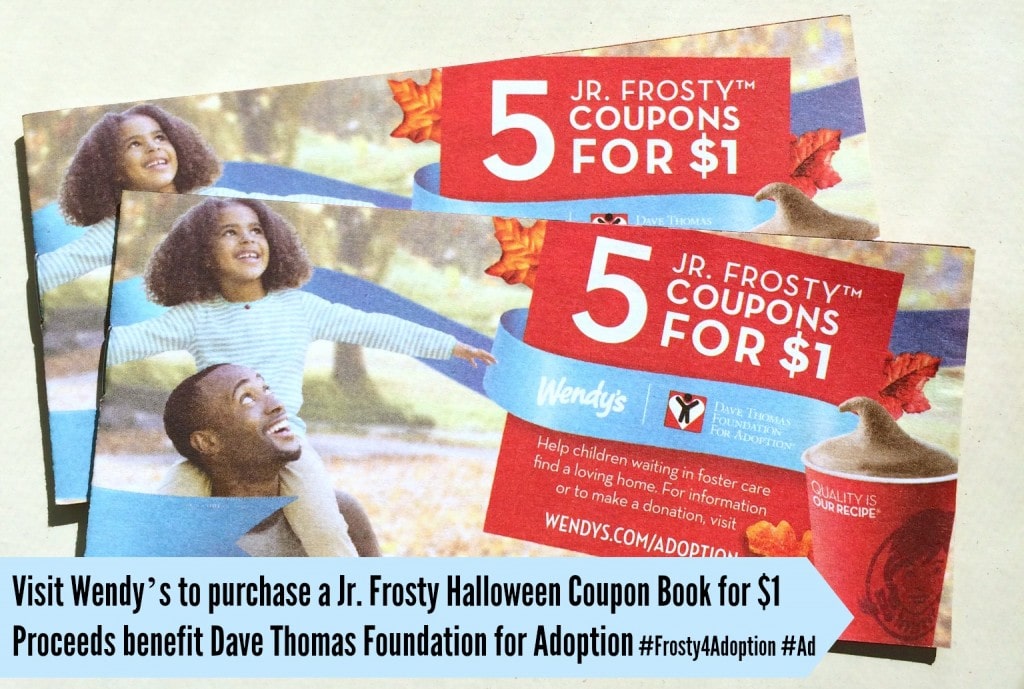 As a kid, one of my favorite things about trick-or-treating was knowing that I might get a coupon for a treat at a local restaurant. It was always such a surprise and pleasure to find that golden ticket in my treat back for a cold frosty beverage! As an adult, I love that I can hand out treat coupons to our trick-or-treaters, and that while I'm giving a great alternative to candy, I'm also helping kids with my purchase. Ninety cents of every $1 Halloween Coupon Book sold between September 13–October 31, 2014, will benefit the Dave Thomas Foundation for Adoption®. Coupons are valid for use: November 1, 2014 through February 1, 2015.
In addition to making a great trick-or-treating handout, these coupons make great rewards for kids or borthday treats, too! Whether they earn them to help with additional chores, you take them for a quick treat, or you hand them out as party favors, these coupons are a great treat at an excellent price, benefitting a wonderful cause.
In 1992, Dave Thomas, founder of Wendy's®, established The Dave Thomas Foundation for Adoption® non-profit public charity with one primary goal: to help every child in foster care find a loving and permanent family. Did you know that there are more than 100,000 children in foster care awaiting adoption? The Dave Thomas Foundation for Adoption® believes that we have a responsibility to be the voice of foster care adoption, so that every child finds a family. As founder Dave Thomas said, "These children are not someone else's responsibility. They are our responsibility." The DTFA exist to find homes for children who are waiting to be adopted from foster care in North America.
Thanks to Wendy's® consumers and the Dave Thomas Foundation for Adoption®, 4,000+ children have found adoptive families.  This year, Wendy's® aims to give $10 million to The Dave Thomas Foundation for Adoption®. You can help this Halloween season by purchasing a Wendy's® Halloween Coupon Book for $1 at participating Wendy's to support foster care adoption.
Visit your local Wendy's® to purchase a Jr. Frosty™ Halloween Coupon Book* for $1, which benefits theDave Thomas Foundation for Adoption)®!
*Coupon book may contain coupons for 5 or 10 free Jr. Frosty™ treats. Prices and participation may vary. Ninety cents to every $1 coupon booklet sold between 9/15/14 and 10/31/14 will benefit the Dave Thomas Foundation for Adoption®. Coupons valid from 11/1/14 through 2/1/15. © 2014 Oldemark LLC"
I was selected for this opportunity as a member of Clever Girls Collective and the content and opinions expressed here are all my own.