One of the exciting places to try in Star Wars: Galaxy's Edge is Oga's Cantina. The drinks at Oga's Cantina are premixed so you can't get any alterations except for maybe a few garnish eliminations.
In Disneyland, Oga's Cantina in Star Wars: Galaxy's Edge is the only place where alcohol is served other than in Club 33. In Hollywood Studios, it's just one of several places for libations. Oga's offers a variety of uniquely themed alcoholic and non-alcoholic beverages. This post contains affiliate links.
What to Drink at Oga's Cantina
After several visits to both Oga's Cantina Disneyland and Oga's Cantina Disney World, I've sampled almost all of Oga's Cantina menu. Here are the best drinks in Oga's Cantina, our favorites in order of preference. We're including the alcoholic and non-alcoholic drinks at Oga's Cantina in this list.
Oga's Cantina menu varies slightly by breakfast and then lunch/dinner. There a few Oga's Cantina's menu items that are only available at breakfast at and then a few that are only available at lunch/dinner. Remember, reservations are basically required for Oga's Cantina. You can try a walk-in for a small party during a slow party, but they typically don't accept walk-in parties.
Oga's Cantina Alcoholic Drinks
Yub Nub
Malibu Pineapple Rum, Sailor Jerry Spiced Rim, Citrus Juices, Passion Fruit, served in a souvenir Endor Mug
Dagobah Slug Slinger
Herradura Respasoda Tequila, Bols Blue Curacao, Citrus Juices, Ginger, Herbs, Bitters
Jedi Mind Trick
Ketel One Botanical Grapefruit & Rose Vodka, John D Taylor's Velvet Falernum, Bols Blue Curacao, White Grape Juice, lime Juice, Grapefruit Bitters
Jet Juice
Maker's Mark Bourbon, Ancho Reyes Chile Liqueur, Cedilla Acai Liqueur, White Grape Juice, Lemon Juice
Fuzzy Tauntaun
Ciroc Peach Vodka, Bols Peach Schnapps, Simply Orange with Tangerine, Pure Cane Sugar, "Buzzz" Foam
The Outer Rim
Patron Silver Tequila, Cedilla Acai Liqueur, Lime Juice, Pure Cane Sugar with Black Salt and Exotic Fruit Puree
T-18 Skyhopper
Tito's Handmade Vodka, Bols Melon Liqueur, Kiwi, Half & Half

Bespin Fizz
Bacardi Superior Rum, Yuzu Puree, Pomegranate Juice, White Cranberry Juice, Cloud Swirl

Spiran Caf (breakfast)
Peru Alto Mayo Organic Joffrey's Coffee, Orange Marmalade, Gosling's 151 Rum, Vanilla Whipped Cream, Citrus Zest

Bloody Rancor (breakfast)
Tito's Handmade Vodka, Ancho Reyes Chile Liqueur, Spicy Bloody Mary Mix, Rancor Bone

Oga's Cantina Non-Alcoholic Drinks
Black Spire Brew
Cold Brew Joffrey's Coffee, Honey, Falernum, Passionfruit, Citrus
Cliff Dweller
Citrus Juices, Coconut, Hibiscus-Grenadine, Seagram's Gingerale, served in a souvenir Porg mug

Jabba Juice
Simply Orange with Pineapple, Kiwi, Cantaloupe, Blueberry Popping Pearls
Blurrgfire
Odwalla Lemonade Pomegranate Juice, Habanero-Lime
Carbon Freeze
Powerade Lemon Lime; Wild Strawberry; Blueberry and Green Apple Popping Pearls
Blue Bantha
Blue Milk served chilled with Banthaiinspired Vanilla-Butter Sugar Cookie (contains tree nuts, coconut)
Hyperdrive (Punch It!)
Powerade Mountain Berry Blast, White Cranberry Juice, Black Cherry Puree, Sprite
Beers on Tap at Oga's Cantina
Gold Squadron Lager
Golden Lager with Lavender and Plum flavors (Blue Point Brewing Co.)
White Wampa Ale
Classic Hefeweizen with a Banana and Citrus Character (Ballast Point Brewing Co.)
Gamorrean Ale
Red Ale with Roasted Caramel, Hop Characteristic, Touch of Grapefruit (New Belgium Brewing Co.)
Bad Motivator IPA
Tropical India Pale Ale with Galaxy and Comet Hops (Sierra Nevada Brewing Co.)
Rancor Beer Flight souvenir board with four teeth (sample of all four beers)
Cider on Tap at Oga's Cantina
Spiced Runner Hard Cider
Hard Apple Cider with Vibrant Red Color and Spices (Angry Orchard Cider Co.)
Wine on Tap at Oga's Cantina
Toniray
Formerly produced on Alderaan, teal-colored, refreshing crisp style, aroma characteristics of green apple and Meyer lemon with flavors of juicy white peach, apricot, and a hint of vanilla.
Imperial Guard
Family clad crimson-colored nicely focused red cherry and raspberry aromas combined with robust red berry fruit flavors a touch of caramel, dark chocolate and spice with long, supple tannins.
Oga's Cantina Provisions

Rising Moons Overnight Oats (breakfast)
Oats, Dragon Fruit, Yogurt, Seasonal Fruits

Mustafarian Lava Roll (breakfast)
Sweet Galactic Delight
Oga's Obsession (lunch)
Odwalla Lemonade, Cotton Candy Flavor, Blueberry Popping Pearls, with Bursting Dried Fruit Mixture
Batuu Bits (lunch)
A light crisp snack mix from the galaxy
What are you most looking forward to trying at Oga's Cantina?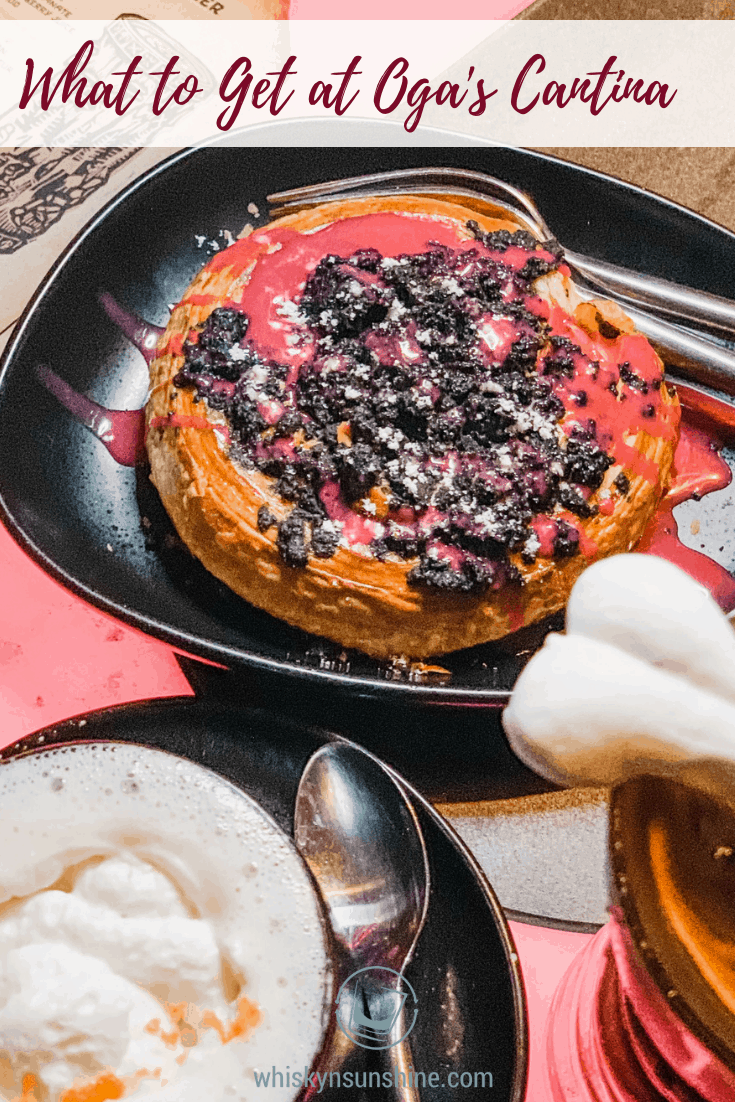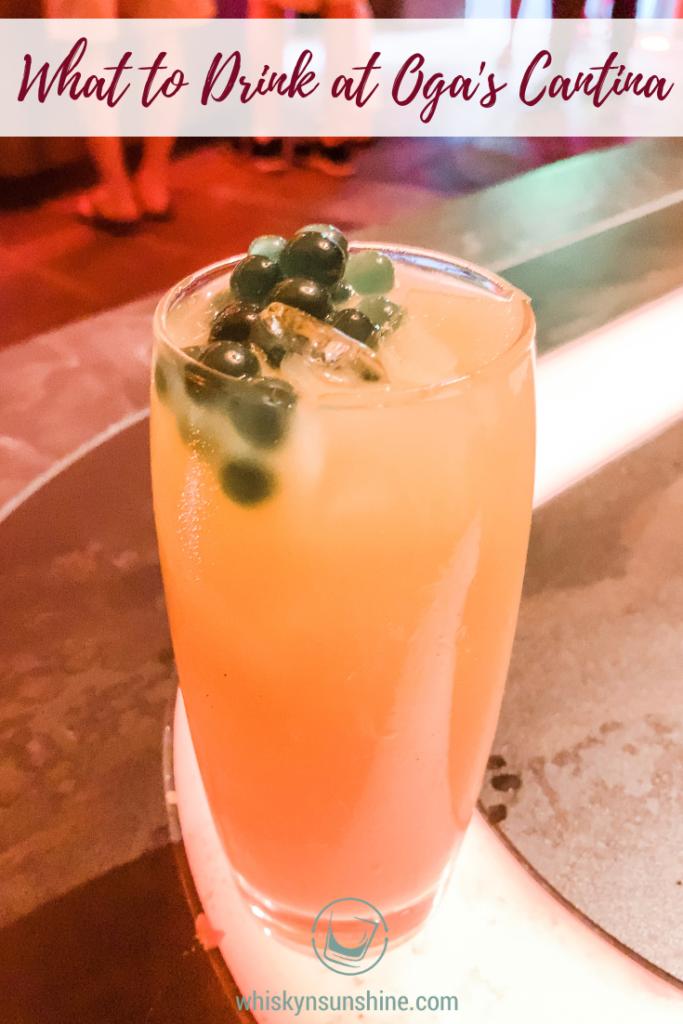 The following two tabs change content below.
Jana
Jana Seitzer is a full-time mom to 4 amazing kids, wife, writer, photographer, marketer, designer, and social media maven. She loves to travel all over the world—solo and with her family—and tell stories about her travel adventures, adventures that often involve a glass of wine or whisky.