I am a huge fan of SUVs simply because of all the room that is available and how much can be stored in the back. Seriously, crossover SUVs can store more than they look like, especially if the seats fold down. Thanks to DriveShop, I recently had the opportunity to drive around the 2016 LEXUS NX 200T F Sport for a week for a test drive and review. Hollar! I have test driven several luxury vehicles, but this luxury crossover SUV seriously topped them all. Let me first start out by saying the name Lexus is the least luxurious thing about this awesome crossover SUV. As a family, we really enjoyed this ride. Full disclosure, anytime we drive a vehicle that doesn't have a third row, it simply has to be an awesome around-town vehicle for us because we have 4 kids. I can't take a road trip with the entire family in a vehicle that doesn't have a third-row, but there are plenty of great vehicles that make a great second or around-town vehicle for us.

2016 Lexus NX 200T: A Mom's View
A few fun facts about Lexus if you aren't a car person:
Lexus is the luxury division of the Toyota brand car.

Lexus is marketed in over 70 countries and is the number one seller of Japan's largest selling vehicle.

In 1983, Japan set out to make a premium sedan and the code name was F1 (who doesn't love a code name?!)

Until 2005, Lexus was released under the name Toyota in Japan, the country that manufactures Lexus.
Now, back to the awesome crossover SUV, the 2016 Lexus NX 200T. This crossover SUV combines design, technology, and a turbocharged engine to take you wherever your adventures take you. There are several luxury crossover SUVs, but the 2016 Lexus NX 200T gives you more bang for your buck. First, you will be amazed by the ample legroom and power folding and reclining rear seats. How many vehicles have you ever seen that does that? Personally, I haven't. There was so much space in this vehicle for its size. My kids LOVED it, despite the fact that my youngest was a bit contemplative at first.
Also on the inside, you will see an Outer Sliding Moonroof, 10-Way Power Front Seats, Race-Inspired Interior, Customizable Settings, Heated and Ventilated Front Seats (or "butt coolers and warmers as my kids like to call them), Dual Zone Climate Control, ample cargo space, and so much more.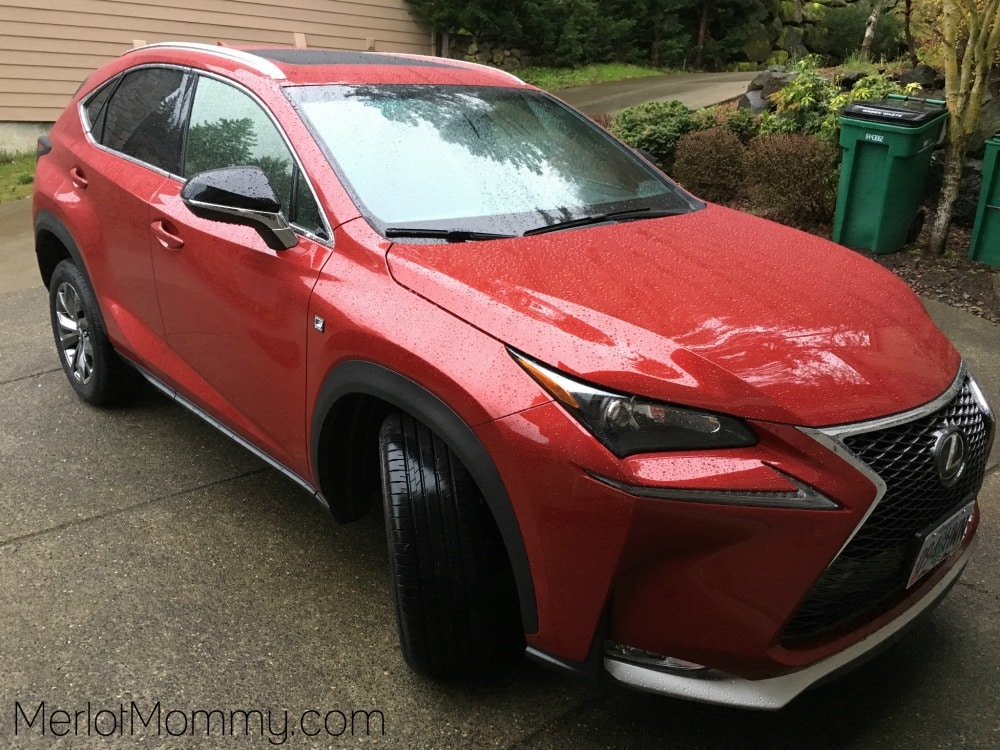 The exterior and engine are just as impressive, but did you really think they wouldn't be?! One of the things I loved the most (and really, it's the little things that matter in life) is the Illuminated Door Handles. The next thing that I loved, and really helps if you have children or even dogs, is the clear coat is scratch resistant! The engine is on the small side at 2.0L, but don't let that turn you off. The engine is turbocharged, getting more voom in your voooom. This baby has oomph. Even loaded, we had plenty of horsepower. When you push the pedal to the metal you can get 235 Horsepower and drive 28 MPG when you are traveling down the highway. That's incredible mileage for this class of vehicle.
The 2016 Lexus NX 200T really gives you the most car for your money, and for it being a luxury vehicle you really get the luxury car at an affordable price. What do you think of the SUV?
Price: Starting at $34,965 for the basic, 4WD model.
Visit your local Lexus dealership today and schedule a test drive.