I drove the 2016 Kia Sorento SXL as part of a press loan through Drive Shop USA. All opinions are my own.
We own a 2011 Sorento and love it. I would buy the 2016 Kia Sorento SXL in a heartbeat if we were looking to upgrade to a new vehicle. I loved everything about this ride. My kids and I drove it around New York State and Vermont on a 1,200-mile road trip last month and it was the perfect getaway vehicle. Elegant, modern, and intuitive, the 2016 Kia Sorento was a dream.
It fit all of our luggage from our 3-week trip comfortably, as well as the five of us. The red leather trim was sexy and practical. The back seat was spacious, so the girls all had space with their booster seats.
Obviously because I own a Sorento there were things about it that were comfortable for me to hop right in an drive, but there were features that were new, too. The navigation and media system were spectacular—quite an upgrade from the model we have, yet easy to figure out with no instruction manual required.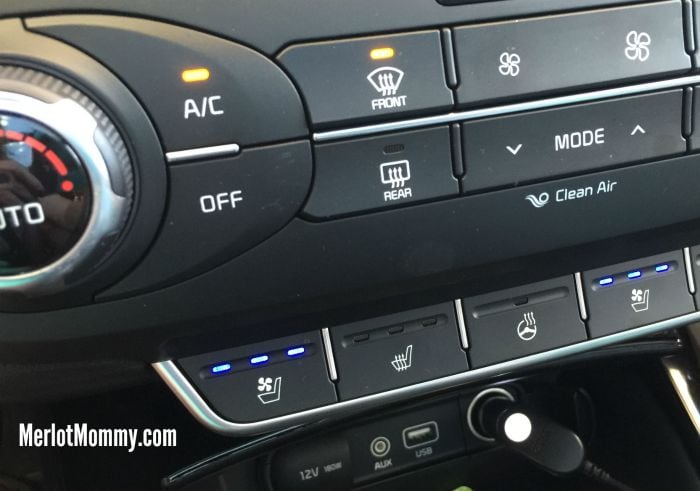 The driver seat with all of the adjustments including lumbar support made for a very custom ride, which is necessary when you are short. And as hot as it was, the ventilated front seats came in pretty handy (or butt coolers as my kids refereed to them). Dual-zone automatic climate control is a huge benefit when you're traveling with little kids who don't know how to manage the controls themselves. It's one less thing to have to worry about while you're driving, and the last thing a mom needs is another thing to cause distracted driving. We also enjoyed the panoramic sunroof with power sunshade. The power liftgate withy programmable height adjustment is another awesome option for moms like me who aren't super tall. At barely 5'2", I LOVE that I can program the height. How cool?!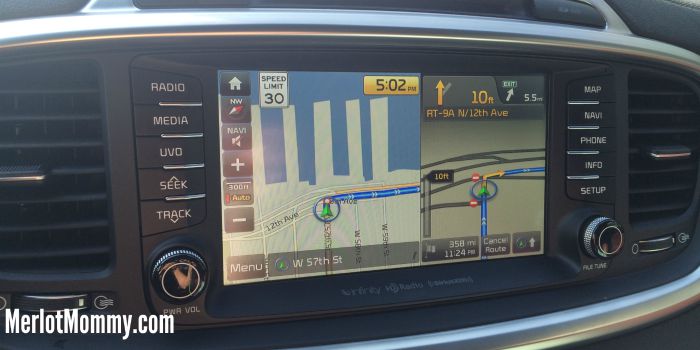 The navigation system was easy and intuitive. I loved how it reduced on the screen but didn't disappear if you navigated away to the radio.
The safety features are nothing to shake a stick at either. There are 18 safety features standard on all of the 2016 models of the Sorento. The Blind-Spot Detection System is incredible and something I wish every car had. When you signal to change lanes, the side view mirror not only lights up to indicate something in your blind spot, but it also beeps at you. My car lights up, but it doesn't beep. The beep is a really nice feature.
So many airbags. I won't even list them all.
I really didn't want to give the car back at the end of the week. Part of me really hoped I could just keep it, and drive back to Oregon from New York instead of catching our flight home from JFK.