This post contains affiliate links.
This easy Agents of S.H.I.E.L.D DIY Cuff Bracelet is similar in process to making DIY Scrabble tile necklace pendants, which I've made on the blog before. The key to this project is being able to play nicely with Mod Podge Dimensional Magic. If you've never used it, test it on something before your cuff to see how it works for you so you can work out the kinks before you use it on your bracelet. It's pretty easy to use, but can be a little tricky the first time you use it.
I always love a good arts and crafts project, especially a wearable one, and one that I can make to tie into an upcoming trip, such as the #AvengersEvent press trip I'll be on beginning April 9th for the Marvel's Avengers: Age of Ultron movie that releases on May 1st.
What You'll Need
What To Do
Print your images. You can technically use just about any printed medium you can imagine (print out custom images, cut from a magazine, etc.). Because we were making a cuff bracelet to honor the upcoming Avengers: Age of Ultron movie, we used photos from the internet. As a designer, I have access to programs like Adobe InDesign (Creative Cloud)
. While I used InDesign, you can use Word or another program if that's what you have. I made a 1.25″ round circle in my document and sized the image I wanted to print within that circle and them printed them on a thicker paper stock. I then used a paper crafting punch to punch around the image knowing that my scissor-wielding skills are not that accurate. I used the Agents of S.H.I.E.L.D. logo because I LOVE that show, it's MARVEL, and we found out we'll be going behind the scenes on the set of that show during our trip.
Using a thin layer of Mod Podge Gloss to adhere the image to the cuff and press gently until your image is mounted evenly without bubbles or lumps. Set aside and let this dry for a few minutes.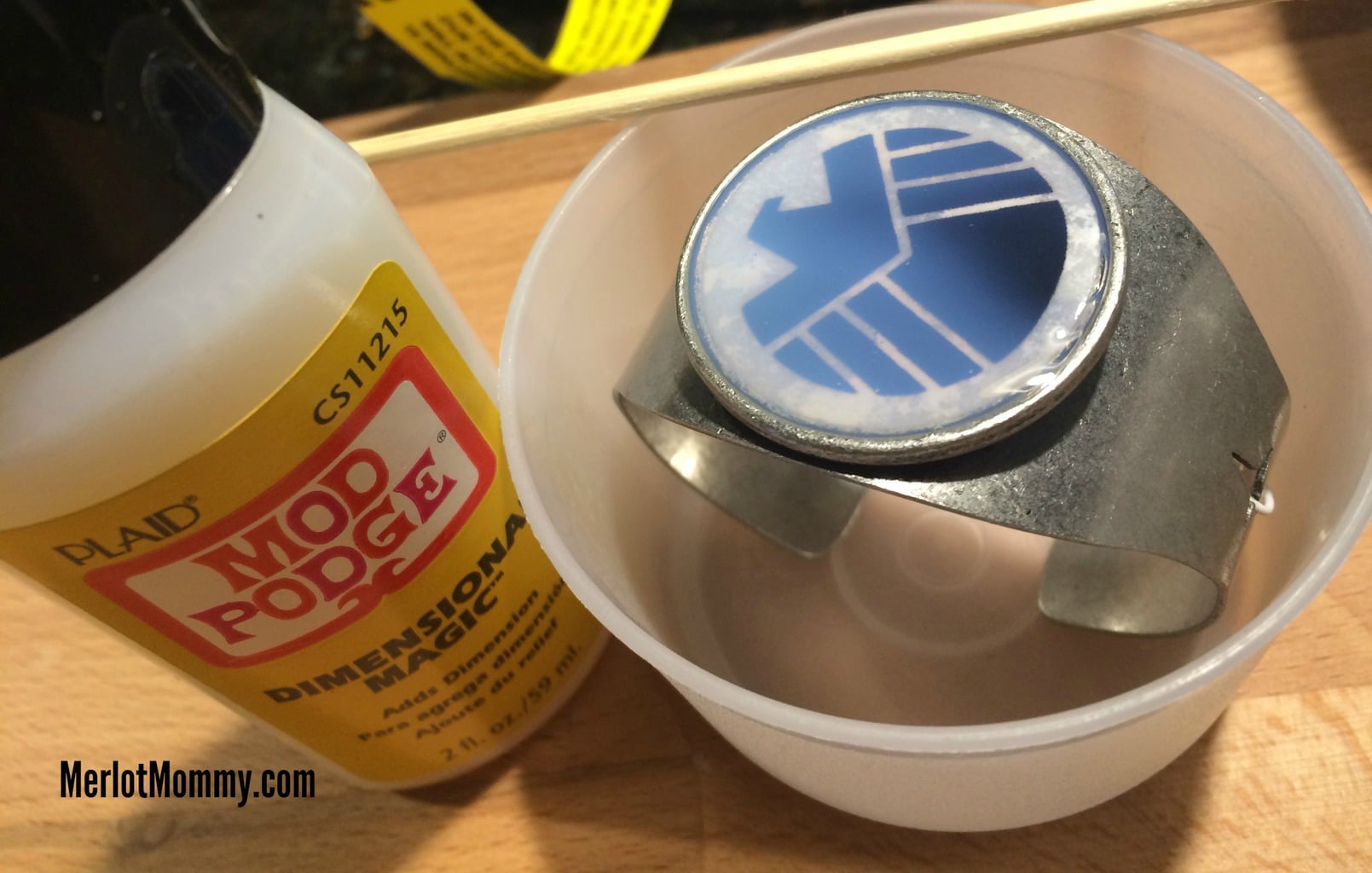 Once the mounted image is dry, use the Mod Podge Dimensional Magic to create a bubble dimension on top of your cuff area. Apply the Dimension Magic in a thin layer over the top of the graphic all the way to the edges. The trick here is that you have to use enough to cover the area evenly without pouring over the lip. Set the bracelet upright and level to dry. If you need to, use the toothpick or skewer to push the Mod Podge Dimensional Magic around to cover the image area to fill in any gaps.
Allow the Mod Podge to dry overnight. You may need to add another thin layer to even out the bubble layer. If that is the case, repeat the step above and let dry again over night.
Avengers: Age of Ultron—New Trailer