When Emily Blunt walks in a room, it feels like you're best friend is walking in. Well, for me, quite literally. We had the opportunity to interview Emily Blunt on her role as Mary Poppins in Disney's Mary Poppins Returns and I was instantly struck by just how much she reminds me of my best friend Jaqui—their mannerisms are uncannily similar, they're both singers, actors, just in different industries. But the mannerisms. Crazy. And she's sweet as can be. She was elated by our warm welcome and she commented on how pleasant it was to walk in our room that was completely lacking in cynicism. I loved our Emily Blunt interview. What a fun part of our day!

On Emily Blunt's favorite costume in Mary Poppins Returns
"I really loved the red suit with the skirt that kind of flowed out when I danced with 30 Lamplighters," Blunt said. "And I remember Rob Marshall really wanted a Ginger Rogers type of look to that, and it's not actually accurate for the time period to have a skirt that opened up like that."
Sandy Powell was the costume designer for Mary Poppins Returns.
"She created all those very tight pleats so that it looked very chic and sort of straight-lined," Blunt said. "And then when I turned, the whole skirt kind of opened up. She's just so exciting to work with, Sandy Powell."
On Emily Blunt's Favorite Scene in Mary Poppins Returns
Emily shared with us the moment that most felt like "whoa, I'm Mary Poppins." It was the arrival scene where you first meet Mary Poppins.
"I am dangling 60 feet from a crane and Rob Marshall played the amazing orchestral music from the speakers, like blared it from the speakers so that it was very transporting and really exciting but I was kind of terrified at that," Blunt said. "I thought I was alright with heights and then I was up there, and like 'I'm not.' And I remember hanging up there and looking down to Lin Manual-Miranda was like that big. And I was like, 'Oh My God.' But I think that was the moment because I had the coat, the hat, the umbrella, the feet, the kite, and that was when I—it was one of the only moments I allowed myself, cause I kind of had to block out the fear of how iconic she was in taking this on for most of the shoot. But that was the moment where I allowed myself that moment of, 'I'm gonna vomit,' like it was really insane. I was hit between the eyeballs with it."
Blunt continued, "And then I remember I landed, and we did the scene, and one of the crew guys—this is when you know it's like a cool scene—he's like the focus puller. And he came up to me and he goes, 'I've got to say, I got really emotional watching that, so sweet, cause it's like she's back. And we've waited 54 years.' People have told me that, people who, some of the most cynical people I know were like, 'I cried when she came, and I didn't realize how much I wanted her to come back until I saw her, saw your feet coming out of the clouds.' It was so cool."
On being a mother and being Mary Poppins
It seems like if you're Mary Poppins, your kids would either love it or hate it.
"I feel my whole household is full of imagination and childlike wonder cause my kids are so young, and so I do feel like I've sort of rediscovered life through their eyes," Blunt said. "I mean Hazel is a bit disappointed that there aren't dolphins in her bathtub, so I feel actually in a way, Mary Poppins has kind of shot me in the foot, like I know I'm only going to be less than. So I think for everyone else like all of their friends are gonna be like, 'Your mum's Mary Poppins? That's so cool!' And my own kids would be like, 'You should see it, it's not.' They are gonna be like, 'She is so not Mary Poppins'."

On working with Dick Van Dyke
I had to know what it was like to work with Dick Van Dyke. He is, after all, literally a Disney Legend.
"Oh My God. It was so overwhelming! I have to say because he's so sprightly and cool, just what a gorgeous human and he walked on set and he just said I feel the same spirit here that was there on the first movie, and of course, we all wanted to cry," Blunt said. "And we'd sit around him, and just want him to tell us stories about the original and he sang 'Jolly Holiday' to me. I was just like, 'That's it, I could die now, that's it. I could die and be happy. It's just lights out, awesome moment'."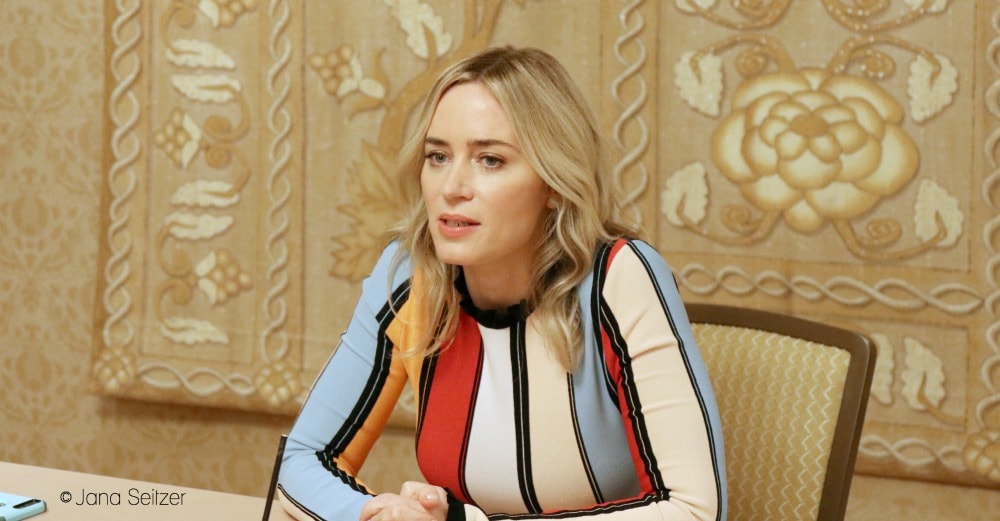 Are you a huge Funko POP fan? Grab one of these adorable Mary Poppins Returns Funkos:
Mary Poppins Returns Mary with Kite Pop! Vinyl Figure #468
MARY POPPINS RETURNS arrives in theatres everywhere on December 19th! Grab your tickets now!
Thanks to Walt Disney Studios for bringing me to Los Angeles on an all-expense paid trip. As always, all opinions are my own.