The reviewer has been compensated in the form of a Best Buy Gift Card and/or received the product/service at a reduced price or for free.
Do you work from home and hate having to run to the door every time the doorbell rings? Are you frequently out of town for work trips? Expecting a delivery? Sick of unwanted solicitors being the faces that greet you when you do race to answer the doorbell when you're in the middle of a DIY project because you thought it might be your latest LuLaRoe shipment but it turns out to be the competing landscaping company trying to drum up business? The Ring Video Doorbell (SKU 5814005) is the solution to all of your doorbell torments.
Never miss a visitor
The Ring Video Doorbell has wide-angled HD video, smart motion detection, and cloud recording. You can see who's there from anywhere, whether you are upstairs working in your office, outside in your garden, or halfway across the world on vacation or a work trip. You can answer your door from wherever you are, whether hiding out in a back room or halfway down the street while you are walking the dog. Screen visitors with the HD camera and choose to converse with 2-way audio. It's almost like being home even when you're not.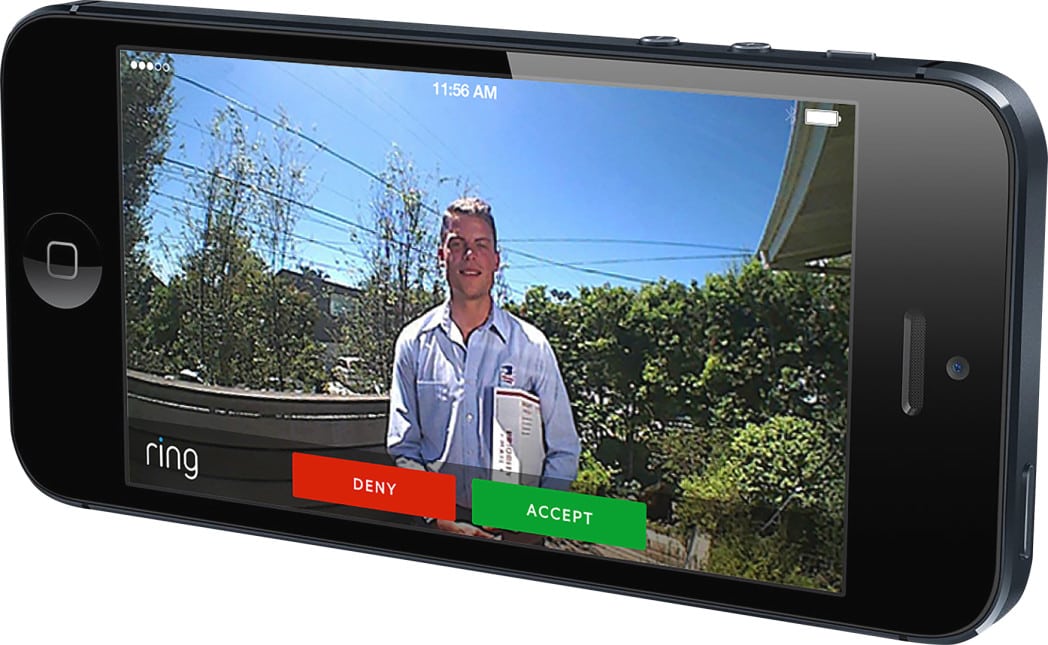 Built-in security and monitoring
Traveling for a night or a week? With the Ring Video Doorbell there's no need to wonder if something is going on outside your home, see for yourself. Built-in motion sensors detect any activity on your property and trigger instant mobile alerts, giving you peace of mind when you're away.
Utilize motion detectors to record footage when activity is detected, so even if someone doesn't ring the bell you'll know they've have been to the door. Plus, footage can be stored on the cloud for viewing at a later time. The night vision and wide-angle HD video means you'll never miss a thing.
Ring Video Doorbell provides a new level of security, by notifying you when someone is on your property and letting you see and speak with anyone at your front door. Imagine being home alone at night, and answering the door in the safety and from the comfort of inside your home. This is great peace of mind knowing that over 1 million burglaries occur each year during daylight hours just in the United States alone. My pitbull's a great deterrent, but she's not perfect.
Convenient Smart Home Access
Ring Video Doorbell includes a Micro USB charging cable, as you can either hardwire the doorbell to your current system or setup with on its own given the built-in battery. Download the Ring Video Doorbell iOS app or Android app to answer your door from your smartphone.
UPDATE: Why we didn't replace our Ring that died with another Ring product.
Sometimes we update posts on the blog to let you know when we have significant updates. About a year after this was installed, it stopped working. We had numerous emails back and forth with the support team, who initially were seemingly responsive to our request for support. The video doorbell was taking video of black. Nothingness. No sound, nothing other than black void and recording them. I send the requested files and info to the support team but they were never able to resolve it and then the ghosted me and stopped responding to our response thread. Ultimately I canceled the monthly subscription and uninstalled the doorbell. We got a generic competitor one installed that costs no monthly fee and holds the videos for 30 days at no costs. So far it's been great. I loved the Ring Video Doorbell until it stopped working and their support sucked. Super disappointing considering the pricepoint and the fact that really you have to pay to get any use out of the video service. I wouldn't (and didn't) jump at getting a Ring as a replacement.