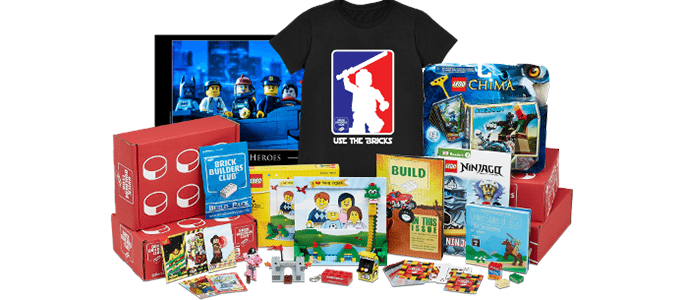 Do you have a LEGO lover in your house? If so, this is going to be perfect for you to keep the inspiration flowing and achieve master-builder status! Get a LEGO Box Subscription for the holidays.
BrickSwag is the #1 membership for LEGO fans. This LEGO Subscription Box comes each month and includes official LEGO swag kits to build and keep, exclusive t-shirt, Build magazine, Funky Fig trading cards, and more surprises. BrickSwag's mission: To Inspire, Educate, and Entertain with LEGO bricks.
BrickSwag is box full of LEGO-themed merchandise that arrives in the mail just for your builder. It even arrives with their name on the package.
Every month, your BrickSwag red brick-shaped box arrives packed with official LEGO bricks you keep—never clone or generic brands—an exclusive LEGO-themed T-shirt in any size, Build Magazine packed with interviews and building ideas, custom trading cards, inspirational posters, and more.
This is a definite hot pick this holiday season, and we have this LEGO Monthly Subscription for you now at the best price. Last year, memberships to this Monthly LEGO Box sold out before December so now is the time to lock in for this holiday season.
My readers receive 20% Off their BrickSwag subscription with this exclusive promo code: FAM20
Hurry. This OFFER EXPIRES: 11/20/2015.