The reviewer has been compensated in the form of a Best Buy Gift Card and/or received the product/service at a reduced price or for free.
The Canary Indoor Wireless High-Definition All-In-One Home Security System helps you have a connected home. The Canary Home Security System
is one of the coolest pieces of connected homes technology I've laid my hands on to date. This products enables you to keep your home safe and sound with motion detection notifications, HomeHealth Technology, and a 90+ dB siren, and HomeHealth Technology. Amazing. Canary's HomeHealth feature lets you know if the temperature and air quality of the home is safe and comfortable. You can monitor the air quality, temperature and humidity in your home from almost anywhere. A perfect feature for allergy sufferers.
Based on location services, I walk in the door and my security system disables itself. It knows I'm home and in the house, so it turns off any video monitoring and recording. All video and recording is off.
It learns the cadence of my home so it can send me accurate notifications with fewer false alarms triggered by pets or other regular activity in your house.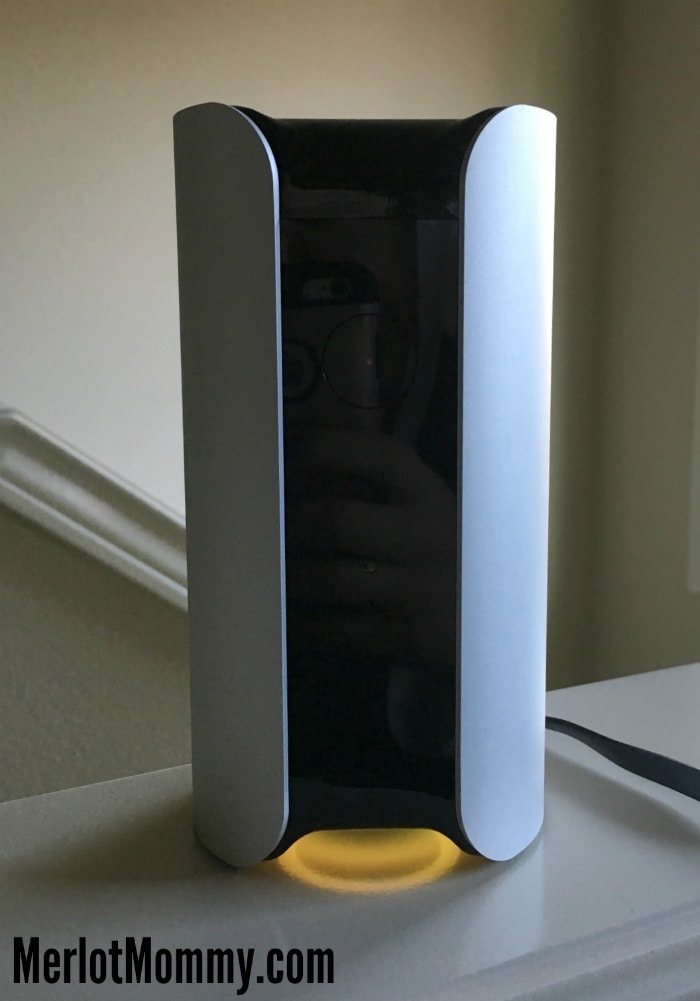 Canary is easy to set up. Place the Canary in a central location, plug it in, and connect to your Wi-Fi. It's takes about 10 minutes abd you'll be set up and ready to go. Once set up, you can stream live video from your home anytime using Canary's free mobile app with your iPhone® or Android smartphone. Vivid HD 1080p resolution allows you to see small details on your screen. The 147° field of view lets you see more with minimal blind spots, and infrared night vision lets you see in the dark.
If the Canary is set to "Arm," you'll receive a notification when someone arrives in your home. Use the "Watch Live" feature to check on everything from homework being done to house rules are being followed. Canary gives you a complete picture of what's going on at home, it puts you in control of how to react when something goes wrong. Canary is the only solution with a 90+ decibel siren and a localized emergency call feature, which lets you contact authorities close to home from anywhere in the world. Since the March 2015 launch, nearly 75 known burglaries, home invasions, caretaker abuse, and other emergency situations have been captured by Canary, resulting in multiple arrests. That's peace of mind.
Netgear® Nighthawk™ DST Router and DST Adapter with Geek Squad included—new and exclusively at Best Buy
This brand new Netgear® Nighthawk™ DSTRouter 
was exclusively developed between Netgear and Best Buy to help provide consumers with an easy all-in-one solution to support their home's connected devices. As the number of Wi-Fi-dependent products increase in a home (the average U.S. household has 7 "connected devices"), this puts a strain on the home's network, especially the router. With the interest in online gaming and 4k TVs, connected devices such as smart thermostats, plus the desire to stream shows from Netflix or hulu, it places even more demands on the network. Many households may experience slow Wi-Fi, dropped calls, or experience "dead zones,"which could be improved upon with an "AC" router, Wi-Fi extenders, and expert help.
The Canary comes with one DST  ("Dead Spot Terminator") adapter to eliminate your Wi-Fi dead zones. place it in an area where you get little/no reception, to improve Wi-Fi access. Additional adapters can be purchased for other dead zones.
This high-performance router was built to support 10+ connected devices, and you can also prioritize devices for streaming videos or music, and includes advanced features for lag-free gaming. This router is a life saver for work-at-home parents or evening work session for parents who work out of an office but still catch up at night.
Best Buy makes being connected it easy with this new high performance Wi-Fi router, which includes a Wi-Fi extender and Geek Squad Set Up and Support via phone & web, for one full year.
The Geek Squad service via phone & web allows customers to call or get help 24/7 whenever they want, vs. the need to schedule an appointment.
Sling TV One Month Free Service Offer (optional as you will need to create an account and provide a credit card #):
Get TV on your terms with Sling TV—watch when you want, on the device you want, plus pay for the channels you want at a great price. Enjoy live TV from many of the most popular channels, including ESPN, AMC, A&E, TNT, HGTV, and more—for just $20 per month. Plus, watch the latest episodes of your favorite shows and new movies on demand. You can also get extra entertainment with add-on packages starting at $5 a month, and HBO® for an additional $15 per month.