Disclaimer: I received a Keurig 2.0 for review. No other compensation was offered or received. As always, all opinions are my own.
It's no secret that I love my caffeine. Coffee, espresso, tea…you name it. I enjoyed my old Keurig brewer; I've had one for years. I love being able to brew a fresh cup of coffee whenever the mood strikes. Iced or hot, the perfect cup is right at my finger tips every time. In fact, I loved my first Keurig so much I ditched my coffee make because we never made pots any more, but sometimes you want to make a pot because it's faster than making a bunch of individual cups in a row.
Enter the Keurig 2.0. This amazing piece of brewing technology allows you the option to brew a single K-cup of coffee or a 4-cup carafe…from the same machine. I was pumped the day this showed up on my doorstep to review.
Brew a cup or a carafe with the Keurig 2.0
The Keurig 2.0 (Model K550) brews the traditional K-cup and the new K-carafe, which makes a 4-cup pot of coffee. I love that the brewer comes with a few so you can make coffee right out of the gate. I owned a Keurig already, so I had K-cups in stock, but no K-carafes. The K-carafes are similar to the tradition K-cup, just a little bigger.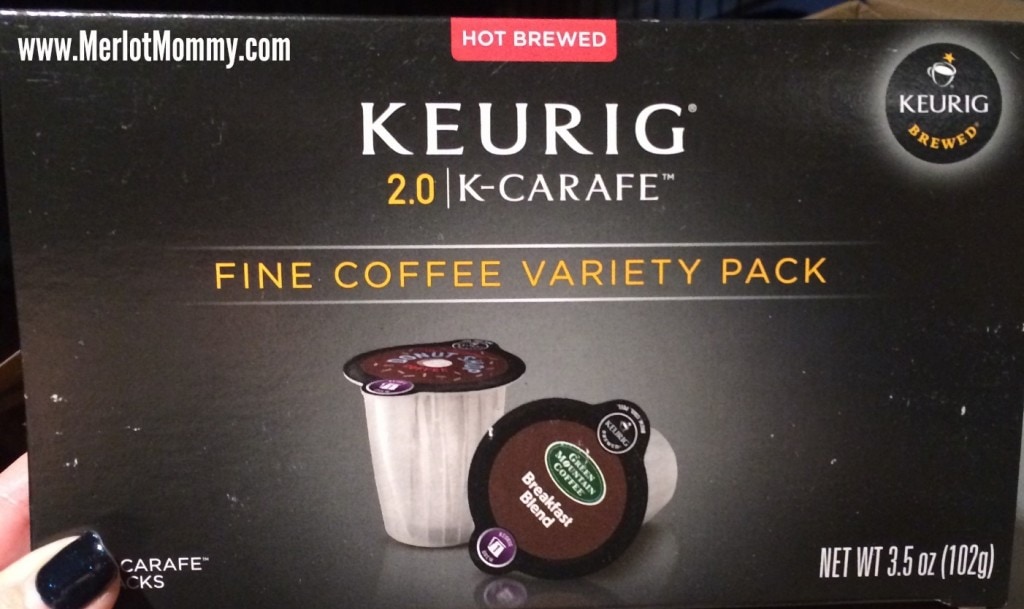 The Keurig 2.0 K550 offers an 80 oz. water reservoir, which is awesome if you brew as much coffee as I do. The larger reservoir means you can refill less frequently. It also features a large color touch display that lets you easily program your brew settings, including setting a timer to start your coffee just as you wake up! The technology allows you to set your strength and is programmed to easily let you make the coffee that matches the K-cup or K-carafe that you are using. Color- and number-coded for a perfect match each brew.
Keurig 2.0 (K550) Features
Here's a list of the key features the Keurig 2.0 K550 offers:
Extra Large 80 oz Water Reservoir
•  Large Color Touch Display
•  Programmable Clock
•  Hot Water on Demand
•  Customizable Night-Light in Water Reservoir
•  Strength Control
•  Water Filter and Cartridge
•  Starter Carafe Included
 Keurig Perks
One of the best features about anything from Keurig is their incredible customer service. Over the many years of owning a Keurig brewer, I've had a few occasions to call customer service…and they offer some of the best customer service I have ever experienced. Ever. From ANY company. Also, they offer free shipping with a minimum purchase on their website every day. No special promotions needed. And you can more than 250 varieties of coffee, tea, hot chocolate, etc. from more than 40 brands. That's amazing variety to pull from. I love that I can buy some of my favorite coffees from the online store that I can't buy in my local grocer.