As a mom of 4 kids, including twins (one of whom has some developmental delays), I think it's wildly important to share accurate information about developmental milestones. One of my twins has some hearing loss due to recurring ear infections and multiple ruptured eardrums, which has lead to speech and reading delays and difficulties.
Do you know someone who suffers from hearing loss? Cochlear has helped more than 450,000 people worldwide have access to sound over the last 30 years. Cochlear is the leading global provider of implantable hearing solutions providing medical devices such as cochlear implants, bone conduction, and acoustic implants to allow those with hearing loss to live life without limits.
Thanks to Cochlear for sponsoring this conversation about hearing loss. As always all opinions are my own.
In addition to providing medical devices to help those with hearing loss,
Cochlear is passionate about connecting parents who want their kids to have access to hearing to help with language and development so they can grow to live their lives without limits.
As parents, we understand that communication is the core of everything in parenting. Communication is also an essential step in every parent's journey toward working on speech, language, and developmental milestones—something that for better or worse we use as measurements of our parenting successes. As the parent of a newborn, one of the most rewarding things initially is bonding with your baby and experiencing the delight in hearing your newborn's first coos and babbles while you anxiously await the formation of your child's first words. Months later it's then the eagerness for your toddler to string together those first words into a first simple sentence and then hearing your child sing. All of these communication forms are important ways to connect and bond with your child.
The reality is that babies understand much more of what you say than they can communicate back, and you crave the feedback response. There's a relief that comes when a child can express themselves through words or sounds, even when it's screaming or crying or a tantrum, despite the frustration you may experience from those responses.
Imagine being the parent of a child with hearing loss and those moments of relief don't come.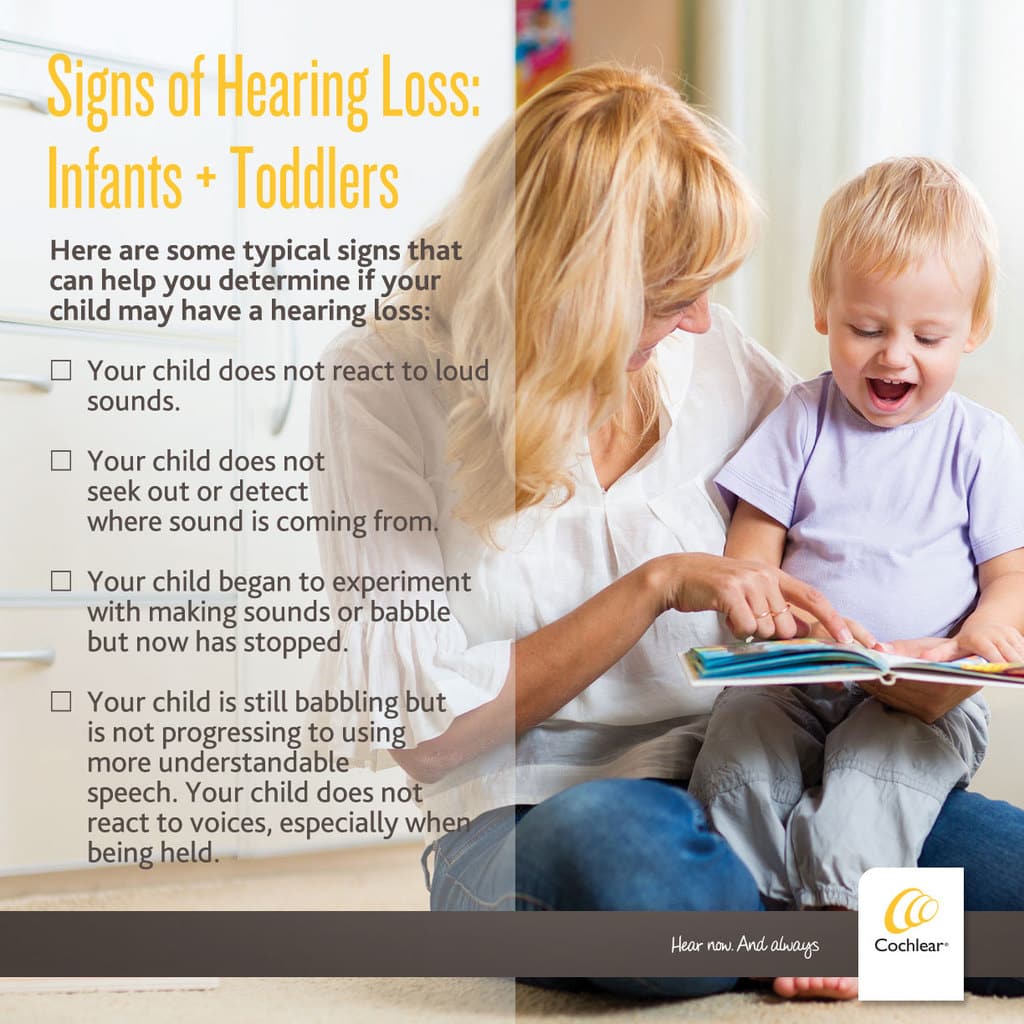 Understanding and recognizing the signs of hearing loss and knowing what to do is important in helping to diagnose and manage hearing loss and help families of children with implants live without limits.
Now in 3rd grade, we still struggle with my daughter's developmental delays and that hearing loss on a daily basis. Every time she speaks, she wonders if someone will understand what she is saying because she knows that what she says doesn't always sound as it should because she isn't able to form her word sounds correctly because of that hearing loss. Sometimes she doesn't even want to speak and tries to get her siblings or a parent to talk for her for fear of failing. It's a frustrating process when she has to repeat herself constantly. Fortunately, her speech therapy helps and she's a generally upbeat kid.
Cochlear wants to be a partner to families of children with hearing loss for their lifetime. One resource is the Thirty Million Words campaign, which is an initiative to close the language gap focusing on Tuning In (pay attention to what your child is communicating).
Watch Natalie's Story
Visit IWantYouToHear.com. Only a medical professional such as a hearing implant specialist, an audiologist or doctor will determine candidacy and answer medical specific questions. One can find a hearing implant specialist by clicking on "Find a Hearing Specialist" at the top left of the page.