Disclaimer: I received compensation for this post and for creating a Shout® team to participate in The Color Run. All opinions are my own.
A couple of summers ago, I had signed up for a 5K, but just 2 weeks before race day, I blew out my knee—oops. Forced to stand behind the sidelines and watch my friends have fun, I was so eager for a quick recovery. And thankfully, that's basically what I got! On Saturday, September 6, I finally got to check one of the messiest, but happiest, runs off of my bucket list—The Color Run aka "The Happiest 5K on the Planet." Thanks to Shout® for not only encouraging me to step out of my comfort zone and do something super fun, but also for giving me the opportunity to help other find their fun too.
My #ShoutItOut team and I spent the morning making a mess and having a blast at the Portland International Raceway for The Color Run. Pre-race, we experienced the Shout® 360 Cam booth and got pics individually and as a team pre-color. (Of course, we were hooked and had to make another stop after being doused in all the colors of the rainbow!)
Just me, pre-Color Run

Team Shout It Out, post-Color Run

Just me, post-Color Run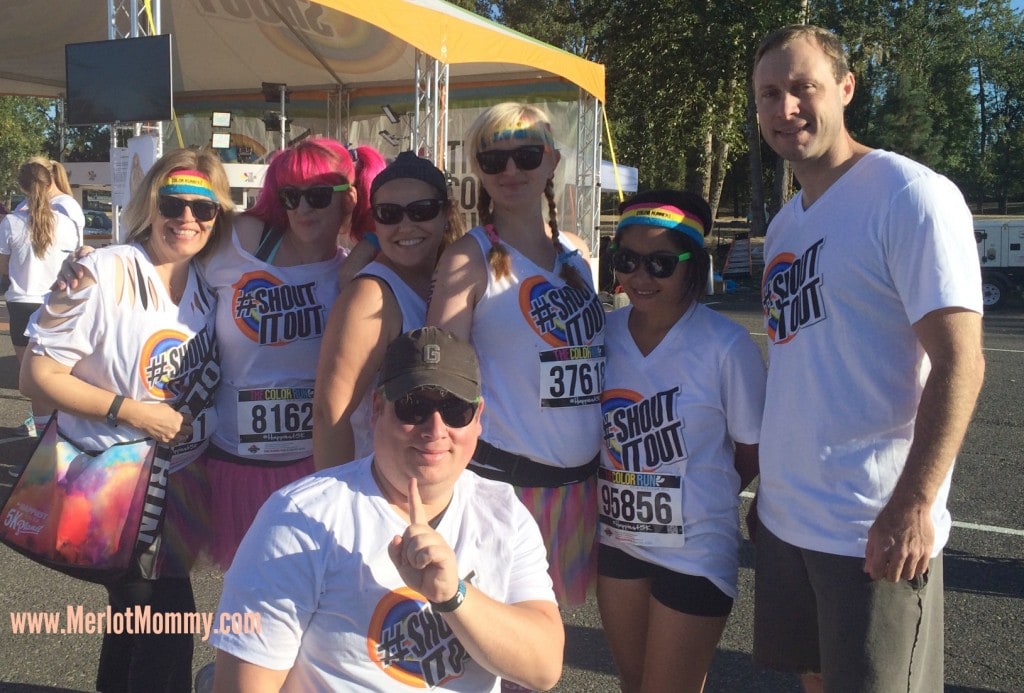 When it was time to line-up at the starting line, Shout® made sure we were at the front of the show. The DJ pumped up and unicorn mascot pumped up the crowd and we couldn't wait for the rope drop. Off we went, all starting with a solid running pace. Some of us ran the whole 5k, while others decided to walk and enjoy the bursts of colors throughout the race. Regardless, we all had a blast.
After the race was over, Shout® brought us up on stage to announce the orange color throw! This was a highlight of the day as we just got to really let go and douse the crowd in orange. It was an incredible, colorful experience that brought so much laughter and happiness—for us and the crowd!
My friend and teammate, Carol, got some great pictures of the color being thrown. Check it out—Wow, right?!
I was so orange I looked like an Oompa Loompa! All the orange color covered me from head to toe.
When I walked in the door after the event, my son asked why I was dirty. Apparently he forgot the discussion about how there was a lot of COLOR involved in The Color Run—Ha!
I had so much fun running through the color stations, getting doused in pink, blue, yellow, and orange throughout the course. For a few hours, we had nothing to think about except having a messy good time. I love getting out and experiencing new adventures and activities. As a way of life, our family spends time together outdoors and being active. We frequently make time for fun, family time during the weekend and take day trips to go hiking, biking, and skiing. Anything that a makes us forget about the mundane day-to-day things in our lives and helps us to unwind, relax, have fun and make memories is a HUGE win!
To help you get out and make memories with your families, Shout® has launched the new Shout It Out Fun Finder to help you find fun wherever you are. To learn more about Shout®, visit ShoutItOut.com and check them out on Facebook, Twitter, and Instagram.
How will you and your family live out loud the last few days of summer? Share your fun plans on Facebook and Twitter using the hashtag #ShoutItOut!