I am a NETGEAR Ambassador. I received this product for free to review in exchange for my honest opinion. As always, all opinions are my own.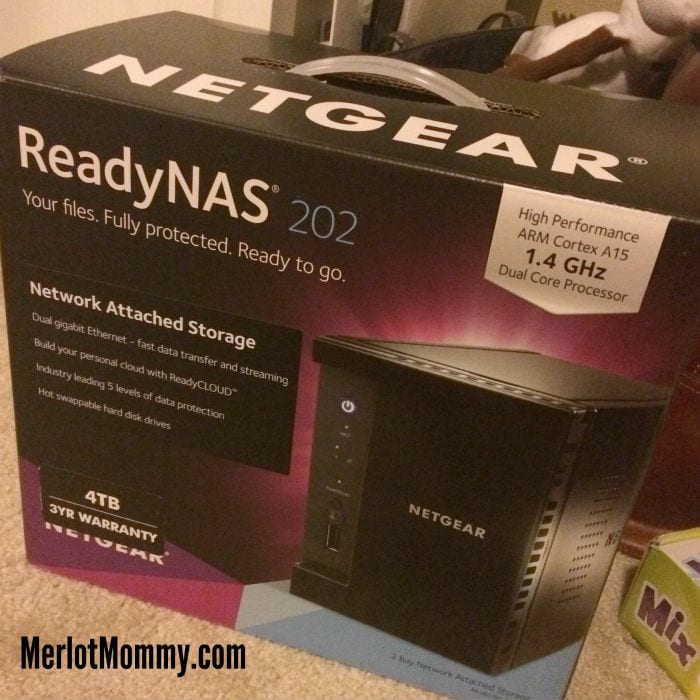 The NETGEAR ReadyNAS 202 offers storage and protection for your files at home. You can easily and quickly create a private and personal cloud for protecting and accessing your photos, videos, and other files.
ReadyNAS 200 Advanced Storage Hardware
The ReadyNAS 200 Series of advanced storage hardware combined with excellently designed software and packed with the state-of-the-art features makes it the ultimate way to store, stream, and protect your home data. As a designer and photographer, storage and file back up is critical to my business and sanity. As a traveler, access to my files from anywhere in the world a convenience that I need. The NETGEAR ReadyNAS 202 allows me to do all of that. And the ReadyCloud interface is awesome.
ReadyNAS 202 comes with 4 TB of storage and a 3 year warranty, but it's expandable to 12 TB with the eSATA Expansion Port.
The ReadyNAS 202 is powered by a high-performance ARM Cortex A15 1.4 GHz dual core processor, 2GB of RAM, and dual gigabit ethernet ports and Link Aggregation technology. Its read/write speed is incredibly fast: 200Mbps read and 160Mbps write for faster backups and faster file access—that's double the throughput of competing devices in its class—especially if you have a newly upgraded 802.11ac WiFi network.

ReadyNAS 200 5 Levels of Data Protection
One of the other great features of this storage is the 5 levels of data protection ReadyNAS 202 offers.
ReadyNAS 202 provides home users with the most complete data protection available in its class. Its foundation is a next-generation BTRFS file system offering 5 levels of data protection, again something as a designer and photographer I need for peace of mind. Files:
written across multiple drives for RAID protection from disk failure;
automatically protected against common media degradation or bit rot;
continuously protected by snapshot technology for point-in-time recovery;
secured in real-time against viruses and malware; and
easily replicated to the cloud or a second ReadyNAS.
ReadyNAS 200 Advanced Setting and Add-On Applications
It also offers add-on applications and advanced settings for creating my ideal storage solution. With disk spin-down included, my power bill down't go through the roof, either.

Easy-to-Use ReadyCloud Interface
I love the interface for accessing your files. The ReadyCloud cloud software interface is clean, simple, and easy to navigate. To me, that is a hugely important feature. No one wants cumbersome software that isn't intuitive to use. NETGEAR nailed it when they designed this software.
In the market for a new data protection unit for your home? I highly recommend the ReadyNAS 202.