Thanks to Freixenet to sending us bottles to craft with. As always, all opinions are my own.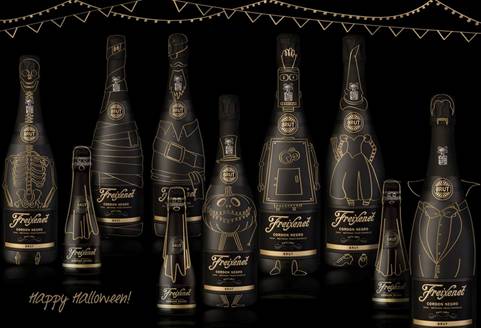 Freixenet's "black cauldron" of bubbles, Cordon Negro Brut (SRP $12) is a fabulous addition to your Halloween celebrations. Freixenet's Cordon Negro Brut comes in an elegant black bottle that lends itself to fun DIY crafts, especially for Halloween. A splash of gold Sharpie
and you can DIY that Freixenet Cordon Negro Brut bottle into any number of things. Delightfully decadent and refreshingly bubbly, Cordon Negro Brut is the ideal sparkler to sip while getting ready for the night. Here are some of ideas:

"Costume-ize your bottle": Cordon Negro Brut is the perfect party prop! Grab some girlfriends and gold Sharpie pens (or glow-in-the-dark paint pens ) and host your own "costume-ize your bottle" party—like a pumpkin carving party without the mess! Mummies, pirates, and witches (oh my!). The possibilities are endless for entertaining this Halloween.
Minis for the win: Also available in personal-sized, 187 ml bottles ($3), these mysterious minis are a no-brainer when it comes to serving. Add festive orange straws, and you are all set for a fun-filled evening and free of having to doing the dishes later.