As a CK Mondavi Ambassador, I'll be sharing wine and food ideas with you over the coming months. As always, all opinions are my own. #CKMondaviWines #CKMondaviAmbassador #CKMondaviGameDay
Quesadillas are an easy favorite appetizer or meal, perfect for game day or a quick weeknight dish. The Pizzadilla is a fun spin on a classic cheese quesadilla that's a fan favorite, customizable for all tastes with your favorite pizza toppings!
Easy Pizzadilla
Ingredients
Olive oil
Flour tortillas, 10 in.
Pizza sauce (one 15 oz. can or jar)
Mozzarella cheese, shredded
Pepperoni (optional, Bridgford pepperoni is a great choice!)
Other pizza toppings (optional)
Cast iron skillet
Directions
Place rack on top or second from top slot, about 6 or 8 inches from broiler element. Turn broiler on low.
Lightly coat cast iron skillet.
Preheat skillet for a few minutes; remove from oven.
Place one tortilla in skillet. Place 2 tbsp. pizza sauce on top of tortilla and spread it around evenly. Sprinkle desired amount of mozzarella cheese on top. Cover with second tortilla.
Broil on low for about 3 minutes until the tortilla starts to brown. Remove from oven. Flip tortilla over.
Place 2 more tbsp. or pizza sauce on tortilla, spread it around evenly, and top with desired amount of mozzarella cheese. Add pepperoni (optional) or other pizza toppings.
Return to broiler for another 3–4 until cheese is melted and starts to brown. Remove.
Repeat for as many Pizzadillas as you want to make. Generally, one 10-inch pizzadilla serves one person if making it as a meal.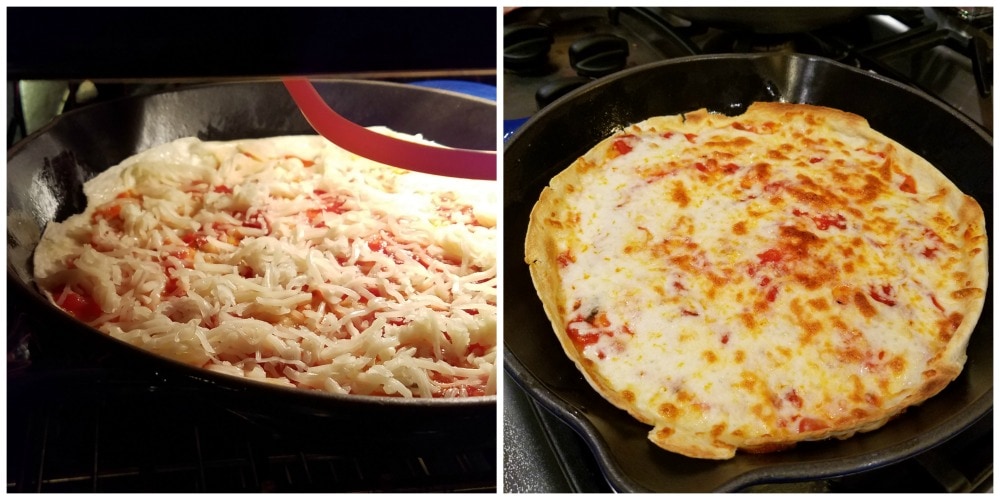 Looking for an easy wine pairing suggestion for your Pizzadilla? CK Mondavi Sauvignon Blanc is a crowd pleaser and pairs well with most anything, making it an exceptional choice for an appetizer wine. Look for CK Mondavi's special game day promotions on their wine bottles in stores now through March 31, 2018. CK Mondavi is the perfect game day wine because of its quality for price.