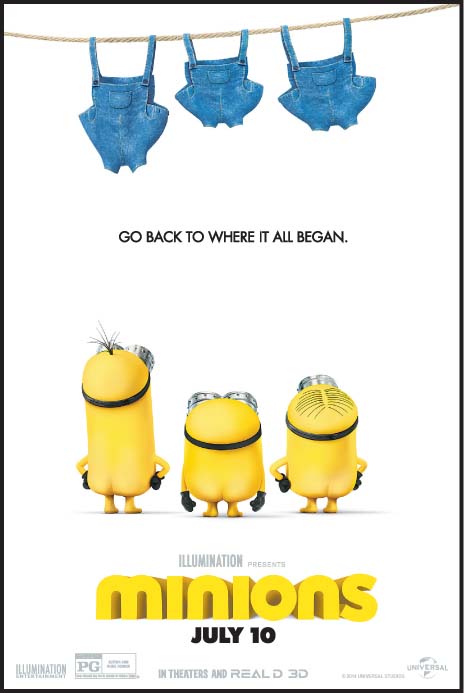 Universal Pictures family film MINONS arrives in theatres on July 10!
You could win a family 4-pack of tickets to see MINIONS Tuesday, July 7 at a free advance screening for the film at Lloyd Center 10 Theater at 7pm.
Enter to win a MINIONS Prize Pack
The prize pack will include promotional items for the film and 1 Early Entry VIP ticket pack (good for 4 people) to the advance screening on July 7 at the Regal Lloyd Center 10, 1510 NE Multnomah St., Portland, OR 97232. Portland, OR-area residents only.
Use the Rafflecopter below to enter to win.
a Rafflecopter giveaway

Synopsis: The story of Universal Pictures and Illumination Entertainment's Minions begins at the dawn of time. Starting as single-celled yellow organisms, Minions evolve through the ages, perpetually serving the most despicable of masters. Continuously unsuccessful at keeping these masters- from T. rex to Napoleon- the Minions find themselves without someone to serve and fall into a deep depression.
But one Minion named Kevin has a plan, and he – alongside teenage rebel Stuart and lovable little Bob – ventures out into the world to find a new evil boss for his brethren to follow.
The trio embarks upon a thrilling journey that ultimately leads them to their next potential master, Scarlet Overkill (Academy Award winner Sandra Bullock), the world's first-ever female super-villain. They travel from frigid Antarctica to 1960's New York City, ending in mod London, where they must face their biggest challenge to date: saving all of Minionkind…from annihilation.