I received the LG Tone Infinim Silver Bluetooth Headset for review. As always, all opinions are my own.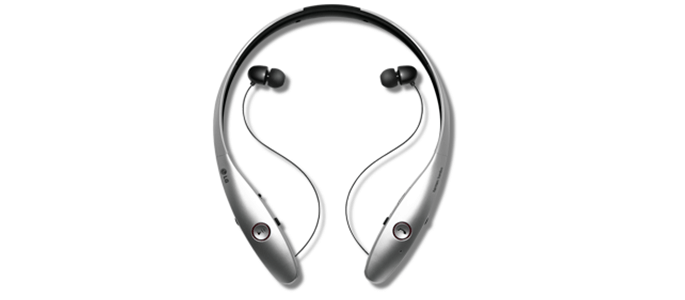 Does back to school mean you are constantly on the go? It does in my house. With four kids and two working parents, no one ever stands still. The LG Tone Infinim Silver Bluetooth Headset (HBS-900) from AT&T makes it easy to stay in my back-to-school groove by helping to keep me stay connected with friends, work, and family through the touch of a button.
I'm a bit of an audiophile, so I'm always looking for great headphones. While my big bulky noise-canceling awesome sounding headphones are fine for certain things, they don't fit the bill for all activities, such as the gym, running kids to activities, or taking phone calls at my desk. The high-end audio of Harman Kardon Signature Sound on LG Tone Infinim is excellent, and even more excellent considering the price point. The highs and lows are quite good. Honestly, from a sound perspective, the only thing I found to be lacking a little bit was the bass. The noise canceling quality was great, and the sound overall was really quite excellent. And for earbud-style sound at the price, I was really impressed. (To date with all of my headphone/earbud testing, I've only found one earbud style the has slightly better audio quality for a similar price, but it has none of the active features such as the retractable earbuds, and the noise canceling isn't nearly as good). You'll be hard pressed to find anything better in this price range. In fact, I'd like to know if you do.
One of the other awesome features of this premium stereo wireless headset is the retractable earbuds. I love that the cord doesn't get tangled. A quick push of a button and my earbuds are back inside all hidden away. I can take them off my neck and drop them in my bag without worrying about wrapping up a cord or the cord getting tangled. I can also let my kids use them without worrying about them getting broken, tangled, or wrecked like I worry about with some of my other headphones because the earbud cord is out of the way and they are wireless. The ergonomic design and slider jog button for one-touch volume and music control are pretty sweet, as well.
As far as set up, that was really easy. The Blue tooth was paired in just seconds to my iPhone. And battery life is excellent. I get 12+ hours of playback or talking before I even need to think about a recharge.
All in all, this is a great headset for the price!