Thanks to Digital Dream Labs for sharing their new game Puzzlets with us to review. As always, all opinions are our own.
When it comes to toys and games for holiday gift giving, we love being able to include recommendations that have a heavy learning and education focus. Digital Dream Labs Puzzlets offers kids a STEAM-based game play for fun and education tied into one connected package of fun. Puzzlets is designed to triggers a "child's natural curiosity, allowing for better understanding of the world around them, while preparing them for success in an increasingly technology-driven future." Puzzlets combines hands-on play with interactive gaming to form one seamless experience, engaging the mind and teaching the player new ways of thinking.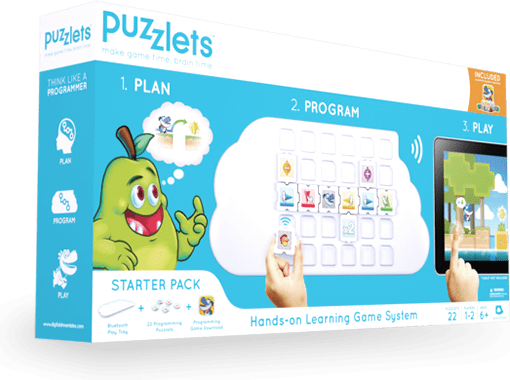 The Puzzlets Starter Pack comes with everything you need and setup is simple. Puzzlets connects wirelessly to a personal device like an iPad or Android tablet or to a Mac computer through the included USB cable. Game play is designed to be 50% virtual and 50% tangible play, and because there are two modes of play, Puzzlets can be played with a friend, parent, or teacher—it doesn't have to be played by yourself on your device. Puzzlets isn't merely a series of interactive video games, it's a toy as well. Only half of any Puzzlets game is played on a screen; the other half is played by arranging and rearranging the Puzzlets Tiles on what is called the "Play Tray." We love games that aren't strictly digital, which is so much of the new games you see coming out these days.

Cork the Volcano is the first of the games to be released for Puzzlets. It's a game for your compatible tablet or computer and comes included in every Puzzlets Starter Set. Gameplay is really simple to learn and very rewarding to master. Cork the Volcano encourages kids to think like a programmer! If you want to get your child into coding, this is a great place to start. Admit it: you're way better at crushing candy now than you were 3 years ago, and there's no way it's because you took a class on it. The question is not whether or not kids will learn from the games that they play, but rather what exactly it is exactly that they will learn. The games designed for the Puzzlets platform focus on teaching children new and innovative ways of thinking.