We received the new Disney Infinity 3.0 edition for review. As always, all opinions are our own. Merlot Mommy is a participant in the Amazon Services LLC Associates Program, an affiliate advertising program designed to provide a means for sites to earn advertising fees by advertising and linking to Amazon.com.
My kids are huge fans of Disney Infinity and Disney Infinity 2.0. I didn't think they could get any more excited about Disney Infinity 3.0 after all the MARVEL characters joined the 2.0 edition, but now that Star Wars has joined the 3.0 edition, their imaginary play world just got a whole lot more awesome. With the Disney Infinity 3.0 Edition Starter Pack
they can create their own, stories, worlds, and games in the new Toy Box 3.0. The limit is endless, or certainly no smaller than their imaginations. Star Wars, MARVEL, Disney, and Disney•Pixar characters come to life as they navigate through adventures and embark on journeys in the new Disney Infinity 3.0 edition.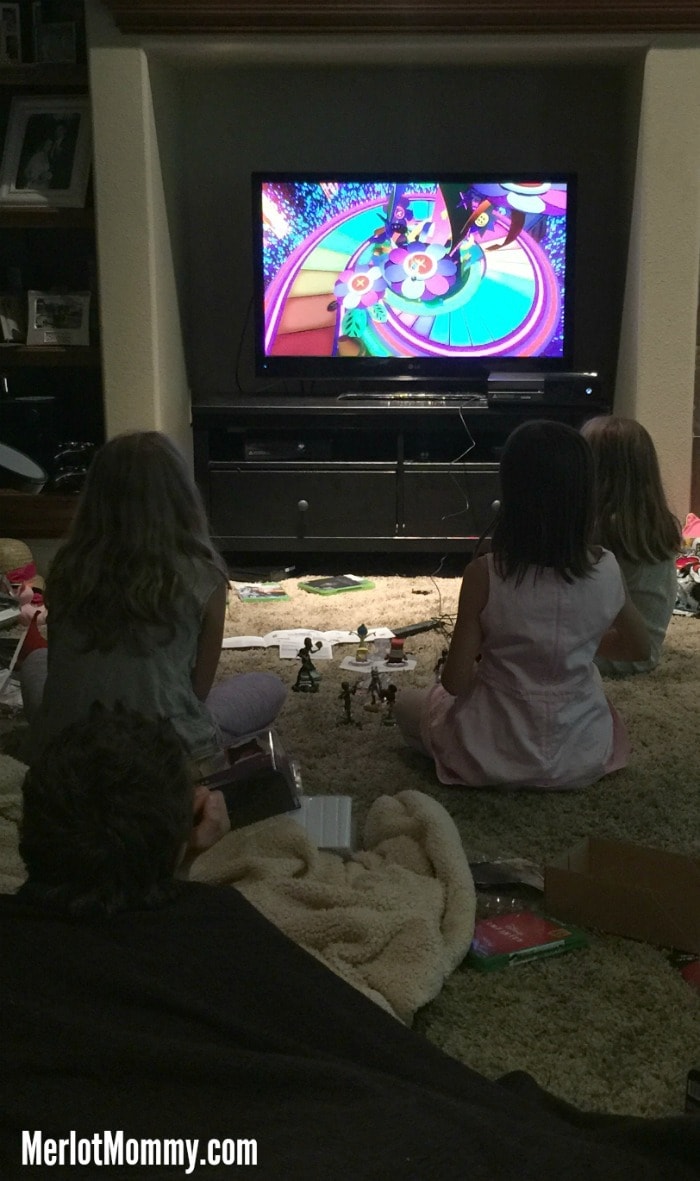 Disney Infinity 3.0 is magical. My kids don't always get to play video games. In fact, we limit them pretty heavily, but they had to play to review the this new game. Not too many games can keep all four of my kids playing collaboratively and quietly for hours at a time. I was shocked and pleasantly surprised at how well they played together and got along. Incredible. I saw some pretty awesome character combos, too. Sabine and Olaf. Joy and Han Solo. Yoda and Anger. The combinations are endless, especially with the backwards compatibility of the Toy Box and ability to play with characters from previous editions.

Even Better Toy Box Play with Toy Box 3.0
The Toy Box 3.0 features even more enhancements, where you can mix and mash up your favorite characters in Disney Infinity to unlock additional hours of added gameplay using unlocked toys and gadgets to complete missions. The Toy Box now features a 3-D Toy Box Hub where you can explore gameplay experiences, including platforming, racing, and farming simulation. The new multiplayer Toy Box Takeover expansion game lets you use some of your favorite Star Wars™, MARVEL, Disney, and Disney•Pixar characters in Disney Infinity to battle across multiple worlds and defeat the bad guys before they ruin the Toy Box forever! You can play in 2-Player Local Co-Op mode, as you've always been able to play, but now you can also play with up to 4 players online!

All New Characters
The new edition unleashes a whole new realm of characters including characters from Star Wars, MARVEL, Disney, and Disney•Pixar figures. You can take on epic heroic abilities, earn upgradable skills, and use Lightsaber-wielding abilities for all your characters in the Toy Box! Who doesn't want to be Yoda wielding a Lightsaber?

So Many Play Set Options
There are so many Play Set options available, maying Disney Infinity 3.0 perfect for any interest, whether you love Inside Out, Star Wars, or MARVEL. Battle against evil with Anakin Skywalker and Ahsoka Tano as they fight to save the Republic with the Star Wars Twilight of the Republic Play Set
 if you are a big Clone Wars fan. Star Wars fans will definitely want to grab the brand new Star Wars Rise Against the Empire Play Set
 and join legendary Jedi Luke Skywalker and Rebel leader Leia Organa as they overthrow the evil Galactic Empire. Feeling Emotional? Don't let Sadness get you down and get the Inside Out
Play Set: when Riley's mind becomes an emotional rollercoaster, it's up to Joy, Anger, and the rest of Riley's Emotions to overcome swamp monsters and other creatures in Imagination Land!