Thanks to Disney for making memories like always. This has been a bucket list item. I can't wait!
I still can't believe this is my life! Squeal!!!! I'm actually headed to Anaheim, California, on Thursday to cover the biennial D23 Expo, the ultimate Disney fan event!
What is D23 Expo?
D23 Expo is kind of like Comic-Con for Disney Fans. That's how I explain it to people, anyway.
Because it's similar to a comic-con event you'll see people in all sorts of attire, from full-on costume to minimal Disneybound outfits to regular street clothing.
I'll be DisneyBounding Each Day!
I've got my Vanessa (Ursula in Human form) down, but make sure to follow me on on Instagram and Twitter and follow the hashtag #D23Expo to see my other looks and follow my adventures!
We'll be attending epic panels like the following:
Disney Legends Awards Ceremony
Oprah Winfrey, Carrie Fisher, Mark Hamill, Stan Lee, Julie Taymor, and other remarkable contributors to the Disney legacy will be honored as official Disney Legends during D23 Expo 2017. Hosted by Disney Chairman and CEO Bob Iger, the Disney Legends Award Ceremony will include special musical performances. This year marks the 30th anniversary of the Disney Legends Awards. The first Disney Legend was Fred MacMurray (The Shaggy Dog, The Absent-Minded Professor, The Happiest Millionaire), who was honored in 1987.
Based on the Carrie Fisher tribute I saw at the Star Wars Celebration in Orlando, I should probably bring at least one box of tissues, if not two.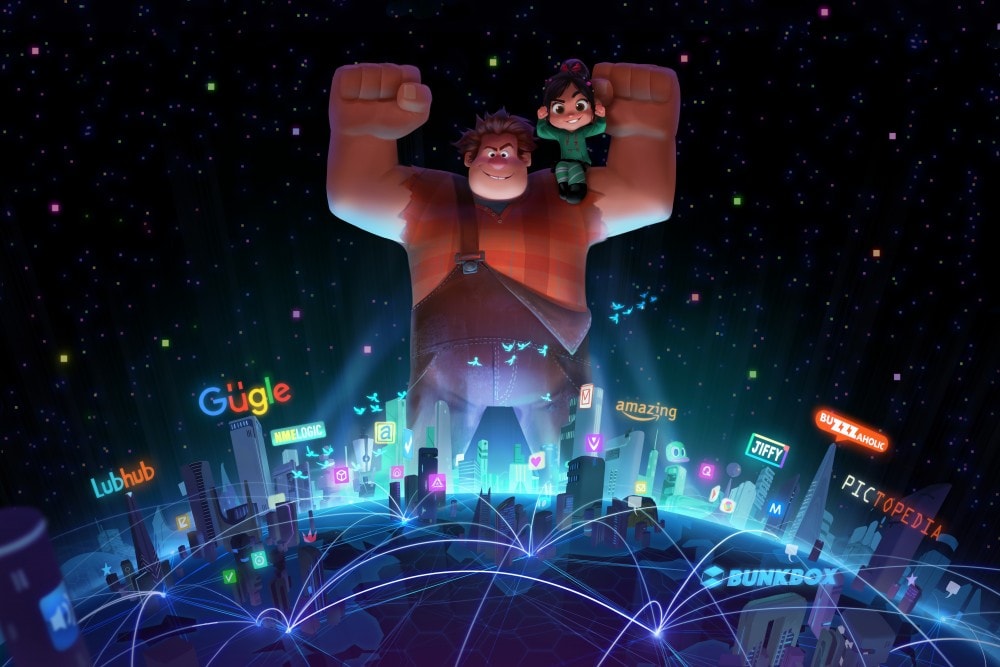 Pixar and Walt Disney Animation Studios: The Upcoming Films, Hosted by John Lasseter panel
Host John Lasseter, chief creative officer of Pixar and Walt Disney Animation Studios presents Pixar and Walt Disney Animation Studios: The Upcoming Films. Watch never-before-seen footage from Pixar's upcoming feature COCO and Walt Disney Animation's RALPH BREAKS THE INTERNET: WRECK-IT RALPH 2, and surprise announcements, musical performances, and appearances by star voice talent.
Disney, Marvel Studios & Lucasfilm – Live Action at The Walt Disney Studios panel
The Walt Disney Studios is home to the biggest and most beloved brands in filmmaking today, with a number of highly anticipated projects from Disney, Marvel Studios, and Lucasfilm in the works. At this exclusive Hall D23 presentation featuring never-before-seen footage, surprise star appearances, and more, you'll get a behind-the-scenes glimpse at an exciting array of spectacular films on the horizon from these world-class studios. This super Marvel and Star Wars geek is REALLY excited about this particular panel.
Walt Disney Parks and Resorts panel
Disney Parks and Resorts Chairman Bob Chapek will take the stage during this presentation to share what's new and what's next at Disney Parks and Resorts around the globe.
Walt Disney Records The Legacy Collection Robin Hood overview at the Disney Music Emporium
The Disney Music Emporium is a pop-up store on the D23 EXPO floor that sells collectible Disney music-related products
Walt Disney Records The Legacy Collection Robin Hood, a two-disc set, will be released for the first time during the expo. Disc one of the collection includes the songs and score and disc two includes previously unreleased demos and bonus tracks performed by Louis Prima. Also included are extensive liner notes by Disney historian and writer Paula Sigman-Lowery. The CD cover and 20-page booklet feature newly created artwork inspired by ROBIN HOOD from Lorelay Bove, a visual development artist at Walt Disney Animation Studios (Tangled, Winnie the Pooh, Wreck-It Ralph).
A Whole New World of Alan Menken concert
"Under the Sea." "Be Our Guest." "Colors of the Wind." These are just three of the unforgettable songs written by Disney Legend Alan Menken over the course of his unrivaled career. Menken's iconic melodies have been stuck in our heads and are firmly imprinted on our hearts—and now he's giving us the chance to hear them like never before. Menken will present a brand-new one-man show, A Whole New World of Alan Menken, in which the Disney Legend will perform songs from beloved Disney films and share stories from his incredible career in film, TV, and theater. This special concert will be filled with magical musical memories that will make your heart sing.
Celebration of an Animated Classic: THE LION KING panel
Join a Disney Celebration of the magic, the music, and the majesty of the animated classic THE LION KING. Producer Don Hahn, Director Rob Minkoff, and animators Tony Bancroft and Mark Henn, along with some very special guests, reveal the secrets behind the making of the timeless animated classic.
We'll also have exclusive access to the Walt Disney Archives exhibit "A Pirates Life For Me" on the D23 EXPO show floor, a 12,000-square-foot exhibit that will honor Disney's treasured pirates from film, TV, and parks attractions that have thrilled guests from Anaheim to Shanghai. Hundreds of props, set pieces, photographs, costumes and never-before-seen items will be on display. Included in this collection will be a 23-foot-tall set model of the Black Pearl ship, the Dead Men's chest, and more original props and set pieces, including items from the new film, PIRATES OF THE CARIBBEAN: DEAD MEN TELL NO TALES.
Also on the show floor, the Archives will present "Fantastical Fashions," a dazzling selection of dresses worn by beloved heroines and sinister villainesses. Costumes from six of Disney's live-action fantasy films will be showcased including Enchanted, Maleficent and Beauty and the Beast.

DuckTales!
Can I even tell you how excited I am for the relaunch of this series? DuckTales premieres Saturday, August 12th, on Disney XD, but I'll be bringing you coverage from D23 Expo this week. Also, the fact that Lin-Manuel Miranda and David Tennant could be in the same room for the DuckTales panel? Geek girl heaven.
We're having fun photos at Scrooge McDuck's Money Bin and we'll get to 'swim' away with a professional 180-degree video capture.
We also get to screen the first episode of "DuckTales" and a Q&A with Executive Producer Matt Youngberg and Co-Producer / Story Editor Francisco Angones.

Disneyland and Disney California Adventure
We'll also be visiting Disneyland and Disney California Adventure to check out what's new at the parks including the new Mission Breakout Guardians of the Galaxy Disneyland. Follow along using the #SummerofHeroes and #Disneyland hashtags on social media.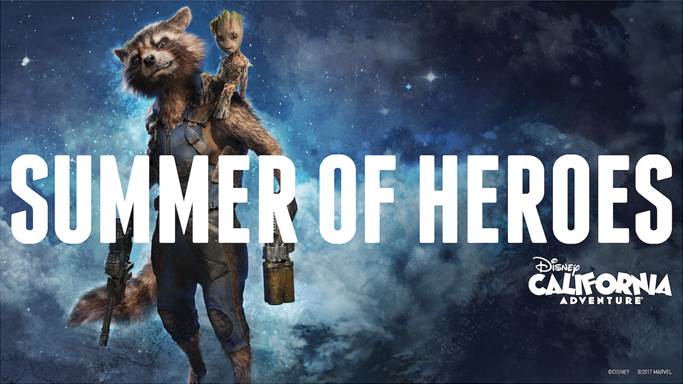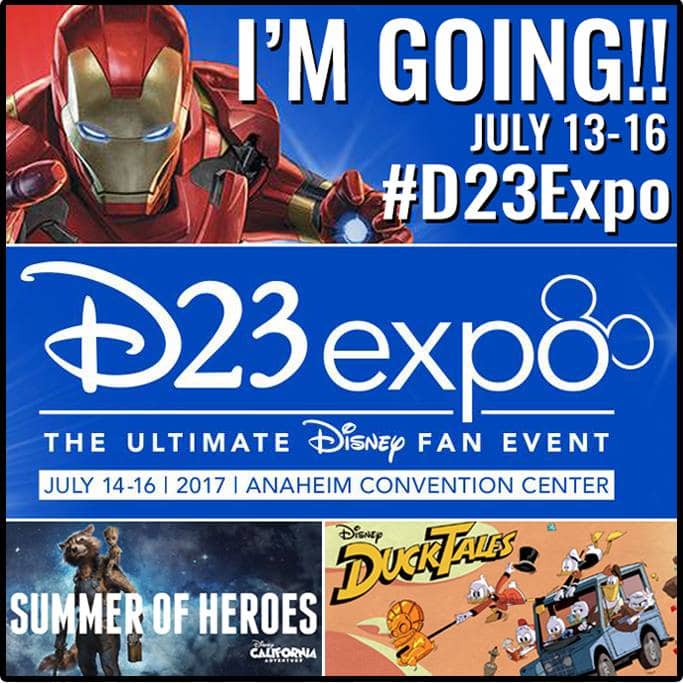 I've been invited to an all-expenses paid trip to Anaheim. As always, all opinions are my own.
[vc_row][vc_column][vc_basic_grid post_type="post" max_items="9″ style="load-more" items_per_page="12″ item="basicGrid_VerticalFlip" grid_id="vc_gid:1500479747515-2dcf4378-5a7a-4″ taxonomies="2045″][/vc_column][/vc_row]