YOU GUYS! On Sunday, I'm headed to Los Angeles for THE NUTCRACKER AND THE FOUR REALMS interviews for a jam-packed few days of press events related to the movie—and a few other events. I'm DYING at the itinerary. So much goodness. I can't even.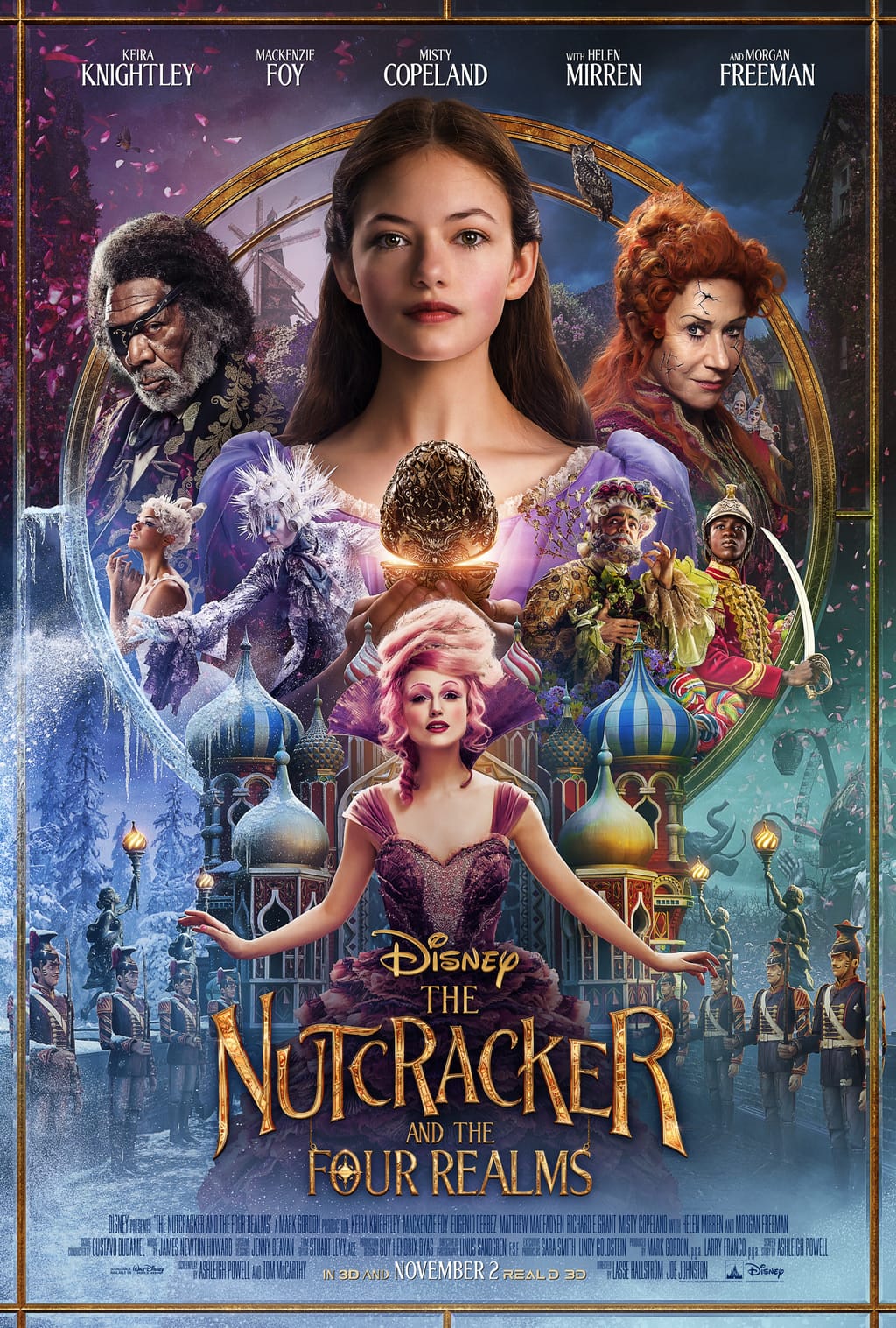 Let's start with the last minute surprise that was added today. The former ballerina (and now dance mom) in me is DEAD sitting in Starbucks at this addition. I'm legit giddy, squealed a little, and the poor guy next to me is all, "What is this chick's problem?" Actually, no problem. Just SUPER excited for THE NUTCRACKER AND THE FOUR REALMS interviews.
I just found out that I'll be interviewing MISTY COPELAND as part of THE NUTCRACKER AND THE FOUR REALMS press event this weekend.
If you don't know, Misty Copeland has been a dancer for ABT (American Ballet Theatre) since 2001 after first joining the ABT's Studio Company in September 2000, and in 2015 Misty became the first African American woman to be promoted to PRINCIPAL dancer in ABT's 75-year history!
We'll also be interviewing MACKENZIE FOY who plays "Clara" in THE NUTCRACKER AND THE FOUR REALMS. Listen, you can judge me if you want, but I totally loved Foy as little "Renesmee Cullen" in The Twilight Saga: Breaking Dawn Part 1 and 2. And as "Cindy" in The Conjuring. Chilling.
The Nutcracker and the Four Realms is in theatres November 2, 2018.
After we get to be a little "extra" celebrating the premiere of THE NUTCRACKER AND THE FOUR REALMS on the red carpet, we'll have some more fun!
We get a group dance lesson with the dance troupe of ABC's DWTS & DWTS: Juniors pros/mentors Gleb Savchenko, Alan Bersten, and Brandon Armstrong. We had such a blast when we did the group lesson the last time!
I'm looking forward to a sneak peek of "The Kids Are Alright," which airs Tuesdays at 8:30|7:30c on ABC. You can also watch/rewatch via streaming (ABC app/ABC.com/Hulu) or On Demand. My 13-year-old daughter is so pumped for this show.
Set in the 1970s, this ensemble comedy follows a traditional Irish-Catholic family, the Clearys, as they navigate big and small changes during one of America's most turbulent decades. In a working-class neighborhood outside Los Angeles, Mike and Peggy raise eight boisterous boys who live out their days with little supervision. The household is turned upside down when oldest son Lawrence returns home and announces he's quitting the seminary to go off and "save the world." Times are changing and this family will never be the same. There are 10 people, three bedrooms, one bathroom and everyone in it for themselves.
The series stars Michael Cudlitz as Mike Cleary, Mary McCormack as Peggy Cleary, Sam Straley as Lawrence Cleary, Caleb Foote as Eddie Cleary, Sawyer Barth as Frank Cleary, Christopher Paul Richards as Joey Cleary, Jack Gore as Timmy Cleary, Andy Walken as William Cleary, and Santino Barnard as Pat Cleary.
Facebook: @TheKidsAreAlrightABC
Twitter: @TheKidsABC
Instagram: @thekidsarealrightabc
Hashtag: #TheKidsAreAlright
We don't know all the details yet, but we'll have a behind-the-scenes experience with "Station 19," starring Jaina Lee Ortiz and Jason George!
"Station 19" airs Thursdays at 9|8c on ABC (also available via streaming on ABC app/ABC.com/Hulu and on demand) follows a group of heroic Seattle firefighters as they put their lives and hearts on the line. The latest series from the executive producers of "Grey's Anatomy," "Scandal" and "How to Get Away with Murder" takes us inside the tough, tight-knit and sometimes heartbreaking world of the city's bravest first responders.
Season 2 of "Station 19" will return with answers to all of our burning questions. With a massive skyscraper fire raging, can Andy (Jaina Lee Ortiz) lead her team to safety?
Will her former flame Jack (Grey Damon) and teammate Travis (Jay Hayden) survive after an explosion sends them both into jeopardy? And when the dust finally settles, who will win the race for the captain position at Station 19?
The second season finds our team wrestling with the fallout of the deadly blaze. The life of their former captain, Pruitt (Miguel Sandoval), hangs in the balance after major health complications. No longer a rookie, Ben (Jason George) searches for his place on the team. Maya (Danielle Savre), Vic (Barrett Doss), and Dean (Okieriete Onaodowan) are tested beyond their limits. And if all that wasn't enough for Andy, her complicated relationship with police officer Ryan (Alberto Frezza) grows even more complex as his path intersects with the stations.
The crew at Station 19 will welcome a new teammate, a seasoned firefighter (Boris Kodjoe) with a mysterious past. Season 2 will also feature more crossover elements with ABC's flagship series "Grey's Anatomy." Seattle's brightest doctors will collide with Seattle's boldest firefighters in unexpected ways as they work side by side to save lives.
"Station 19" stars Jaina Lee Ortiz as Andy Herrera, Jason George as Ben Warren, Grey Damon as Jack Gibson, Barrett Doss as Victoria Hughes, Alberto Frezza as Ryan Tanner, Jay Hayden as Travis Montgomery, Okieriete Onaodowan as Dean Miller, Danielle Savre as Maya Bishop and Miguel Sandoval as Captain Pruitt Herrera.
The drama is produced by ABC Studios.
Stacy McKee ("Grey's Anatomy") serves as showrunner and executive producer, along with Shonda Rhimes and Betsy Beers. Paris Barclay ("Pitch" and "Sons of Anarchy") serves as the producing director and executive producer of the series.
Facebook: @Station19ABC
Instagram: @station19
Twitter: @Station19
Hashtag: #station19
Thanks to Walt Disney Studios for bringing me to Los Angeles on an all-expense paid trip. As always, all opinions are my own.