Disclosure: While activities and accommodations have been sponsored by Universal Orlando Resort, this in no way alters my opinions. It simply makes bringing those opinions and experiences more affordable, and I'm totally cool with that. P.S. This is a bonus preview post, not even part of what I need to do in exchange for my press events. I'm just that excited for it.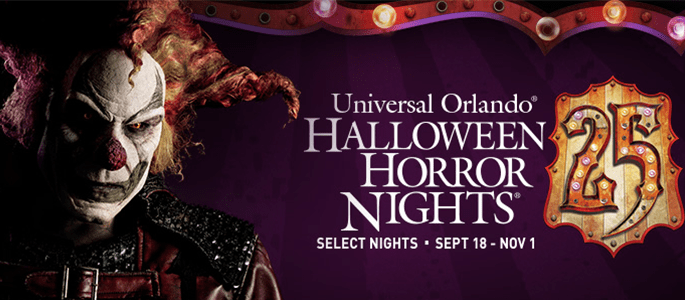 For the next 4 days I'll be joining a team of other bloggers at Universal Orlando Resort for fun, adventure, and a heck of a lot of screams as we face our fears together during the second annual "Facing Their Fears Together" Blogger Media Event as part of the 25th Annual Halloween Horror Nights.
A few fun facts and things you should know about me.
I LOVE roller coasters.
I HATE clowns.
I pretty much only run from clowns and zombies (and for wine)
I'm related to John Carpenter
I grew up in the town where Wes Craven got his inspiration for Nightmare on Elm Street and other movies (and have been in many of those houses)
Hard Rock Hotel Orlando is graciously providing our accommodations. It's beautiful. I'm working poolside now, and I can't wait to give you my full report soon. It looks phenomenal.
Here's a quick outline of events:
Wednesday 9/23
Dinner: Universal CityWalk at Cowfish Sushi Burger Bar
Thursday 9/24 R.I.P Tour of Halloween Horror Nights 25 at Universal Orlando
Scare Zones and Shows: Screams of terror in the streets, and screams of laughter at each live show.
Psychoscareapy – Unleashed: The criminally insane inmates of Shadybrook Asylum have escaped and stumbled upon a Halloween Block party in the streets of New York. They quickly decide they'd kill for some costumes of their own.
ICONS – HHN: The eeriest icons and most cadaverous characters of the last 25 years of Halloween Horror Nights® have returned. The Caretaker, The Storyteller, The Director, The Usher and more are back to relive every monstrous memory.
Scary Tales – ScreamPunk: Classic fairytale characters get a sinister Scary Tale twist immersed in the wicked world of steam punk.
Evil's Roots: Your darkest fears will take root amidst the perilous paths of Central Park as you face evil fairies, humanoid bats, scarecrows and more horrors.
All Nite Die-In – Double Feature: The Carey Drive-In movie theatre has been closed for decades after grisly murders during a double feature. Now it's lights, camera, carnage as the theater nicknamed "Die-In" by the locals lives up to its name.
BILL & TED'S EXCELLENT HALLOWEEN ADVENTURE: Party on as those two most excellent dudes return to skewer the biggest names in politics, show business and pop culture.
The Carnage Returns: Jack the Clown is taking Halloween Horror Nights® back in a blaze of murderous mayhem with his army of feared followers and his companion in carnage, Chance. Remember, Jack always has the last laugh.
9 Haunted Houses:
AMC The Walking Dead
Freddy vs. Jason
Insidisous
The Purge
An American Werewolf in London
Jack Presents 25 Years of Monsters and Mayhem
Run Blood, Sweat, and Fears
Asylum in Wonderland 3D
Body Collectors Recollections
Friday 9/25
VIP Tour of Universal Studios Florida to include:
Hollywood Rip Ride Rockit
Transformers: The Ride – 3D
The Mummy
The Wizarding World of Harry Potter – Diagon Alley
Lunch at Lombard's Landing
Journey on the Hogwarts Express to Islands of Adventure
VIP Tour of Islands of Adventure to include:
The Amazing Adventures of Spider Man
The Raptor Encounter
Jurassic Park River Adventure
The Wizarding World of Harry Potter – Hogsmeade
Saturday 9/26
"Behind the Screams" R.I.P Tour of a few of the HHN25 haunted mazes (lights-tour)
Follow along on Twitter, Instagram, and Periscope for all the fun and the hashtags #HHN25 and #FacingFearsTogether.