This is a sponsored campaign in partnership with MomSelect. As always, all opinions are my own. This post contains affiliate links, meaning that when you click on a link that we recommend, we may receive a teeny weeny commission if you purchase a product.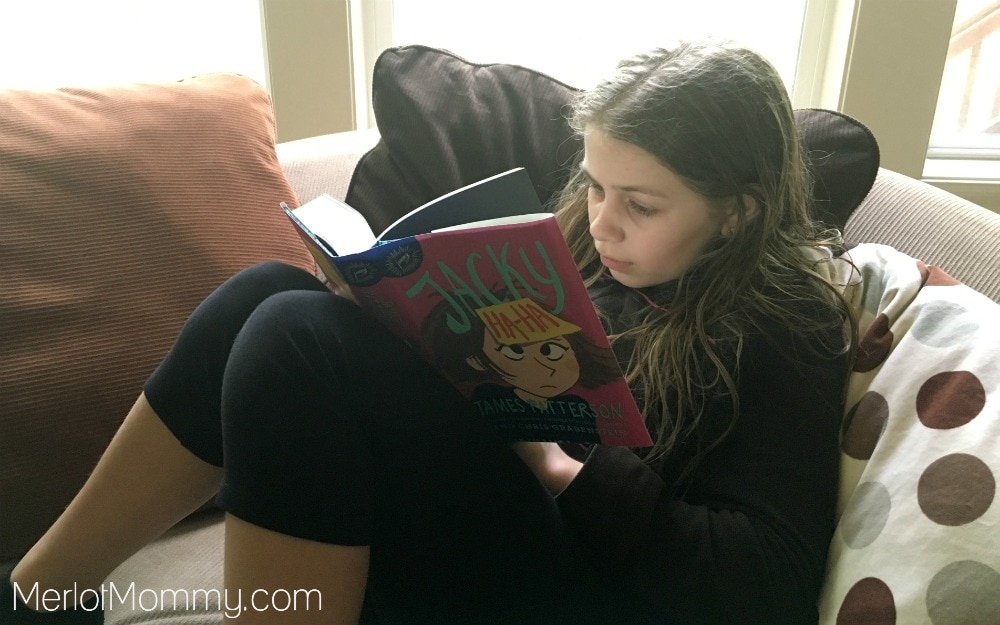 Early literacy is such an important part of education. I don't just say that because my mom was an educator so I grew up in a home where education was important. In fact, for a few semesters in college, I thought I might want to be a teacher; I studied children's lit.
Early literacy builds the foundation and stepping stones for education. We have encouraged our children to want to learn to read bu reading to them and then with them from just months after they were born. Avid readers don't develop out of thin air. I love when books come along that make reading with your child fun, and make them want to read on their own. All four of my children have developed into full-blown chapter book readers, and "Jacky Ha-Ha" was on the list of asks at the bookstore recently. How do you say no to books? Yeah, you don't. Children should have access to books for vocabulary, spelling, and imagination development.

Join the Social Book Club with Jacky Ha-Ha
"Jacky Ha-Ha," by James Patterson, is about a middle school girl who is dealing with all of the ups and downs of life. If you follow the hashtag #HaHaBookClub online, you can interact with a group of people online in your own social book club to talk about the book and encourage your kids to read while sharing your love of reading.
From Amazon:
With her irresistible urge to tell a joke in every situation—even when she really, really shouldn't—12-year-old Jacky Ha-Ha loves to make people laugh. And cracking wise helps distract her from thinking about not-so-funny things in her life, like her mom serving in a dangerous, faraway war, and a dad who's hardly ever home.

But no matter how much fun Jacky has, she can't seem to escape her worries. So one starlit night, she makes a promise to keep her family together…even if she has to give up the one thing that makes her happy. But can she stop being Jacky Ha-Ha, if that's who she really is?
My oldest daughter wishes Jacky could behave a little better, but recognizes she is struggling. Jacky's always getting into trouble, but that gives her something to chat with me about when we talk about the book. I haven't finished reading it yet, but my daughter is almost there.