My son's all-time favorite K'NEX set is an old roller coaster set that we bought at a yard sale years ago. He builds and rebuilds the rollercoaster in a bunch of different ways. It's provided hours of entertainment. He was very excited at the opportunity to review K'NEX sets this holiday season. While he's too young to really "get" the Beatles, he thinks the K'NEX Beatles Yellow Submarine Building Set is funny. He loves the yellow submarine and the outfits the band members are wearing!
K'NEX Beatles Yellow Submarine™ Building Set
Build The Yellow Submarine, and help The Beatles save Pepperland from The Blue Meanies!  This one-of-a-kind building set lets you recreate the awesome adventures of the iconic Yellow Submarine with passengers, John, Paul, George and Ringo. They can do battle against the two Blue Meanie figures, or get out their instruments and jam, since their ship doubles as a concert stage! Includes 226 pieces and is geared for ages 7+. Suggested retail price is $34.99. Available exclusively at Toys "R" Us.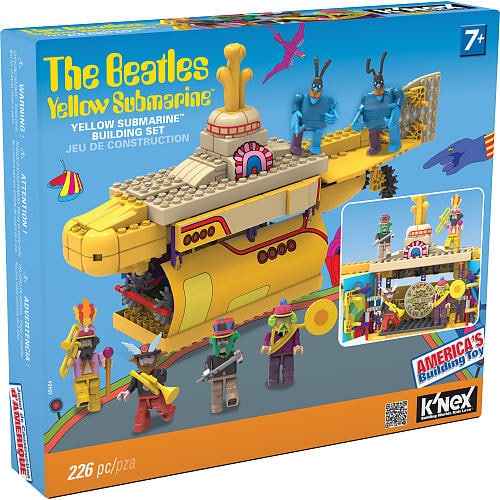 For more information on K'NEX Brands
Facebook: www.facebook.com/buildknex
Twitter: @KNEX, Instagram: KNEXBrands
Pinterest: www.pinterest.com/knexbrands
YouTube: www.youtube.com/knexteam
I was given a sample from K'NEX Brands to try and provide my honest review. All opinions about K'NEX Brands are my own.