Have you tried the new Fresh Pan Pizza from Papa Murphy's? My kids loved it! We're a busy household of 6 and with after school activities and working parents, it's sometimes hard to get a freshly prepared meal on the table.
Papa Murphy's is a great solution because I can stop by anytime during the day and pick-up freshly made, ready-to-cook pizzas and then cook it at home whenever I'm ready. Papa Murphy's Fresh Pan Pizzas, like their other offerings, are made fresh daily. The dough is handmade every day using high-protein wheat flour. The cheese is shredded fresh daily using whole milk mozzarella. The pizza sauce is also fresh (not reconstituted from tomato concentrate) using vine-ripened California tomatoes. Papa Murphy's also slices the fresh produce toppings in store. Everything is fresh—they don't even have freezers in their stores! It doesn't get much better than that for take and bake food!
So when I stop by Papa Murphy's to pick up a fresh pan pizza, here's what I bring home, complete with baking instructions: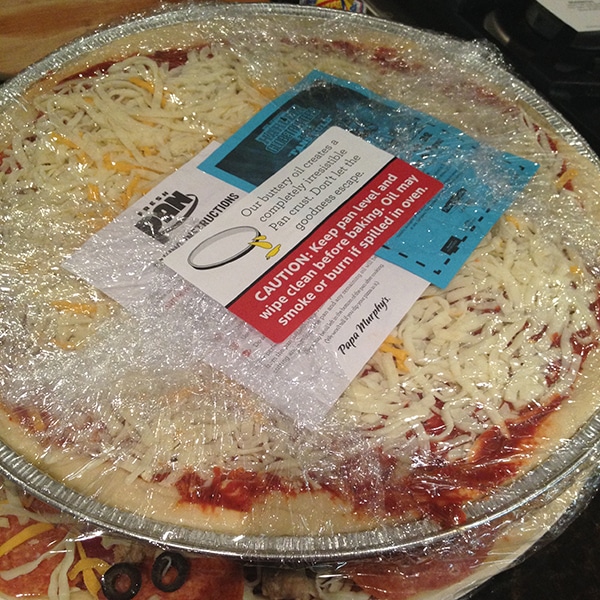 It goes in my fridge until I'm ready to cook dinner. When I'm ready, I pull it out and unwrap the pizza and place it in the oven.
Once it's done cooking, I let it cool in the pan for a few minutes and then slide it out and serve.
Voila! Here's what it looks like from the side view. Cooked to perfection: crispy on the bottom and soft in the middle.
Disclaimer: This post is part of a sponsored campaign with Papa Murphy's and Mom Select. All opinions are my own.