Michael Jordan Steakhouse at Ilani Casino is a perfect date night restaurant, just a short distance from Portland, Oregon.
If you follow the blog, you know that I'm not a steak eater. In fact, I really haven't eaten beef in any form since I was 11 years old. Periodically, I'll try various cuts and preparations to be adventuresome and see if I've changed my mind. I can't count on one hand the number of times I've had beef that I've actually enjoyed (meaning I've eaten a whole serving or had more than one or two bites; two of those were from my friend Sean Martin).
Thanks to Michael Jordan Steakhouse at Ilani Casino for hosting us for dinner and having us sample their menu. As always, all opinions are my own.
My husband—a steak lover—and I visited Michael Jordan Steakhouse at the Ilani Casino for date night recently and had a fantastic meal. Even as a non-steak eater, there are plenty of options on the menu to choose from. For the hardcore carnivores, there is a whole section of the menu devoted just to steak. There's the rest of the menu that is for standard, normal fare, including seafood, pork, chicken, and pasta. Everything we ordered was fantastic. The portions are more than ample. We were so full we didn't even have room for dessert, which is a shame because the choices looked delectable.
We started our meal with some drinks and appetizers.
John Wayne's Last Ride
Buffalo Trace Bourbon Cappelletti, Sweet Vermouth, Chocolate Bitters Muddle XXX Float
Bourbon. You know me by now. Of course, I'll pick a bourbon drink. And I asked the bartender to just wave the vermouth over the drink; I've never been a huge vermouth fan.
Nueske's Double Smoked Bacon with Burton's Maple Glaze.
I mean, bacon. Do I even need to say anymore? To die for. I could have eaten this and only this for my whole meal. So darn good.
Garlic Bread with Rogue Creamery Blue Cheese Fondue
I'm not always a huge blue cheese fan. Some blue cheese is too much for me. This was absolutely mouthwatering, and the flavor profile of the garlic and blue cheese was an explosion of perfection.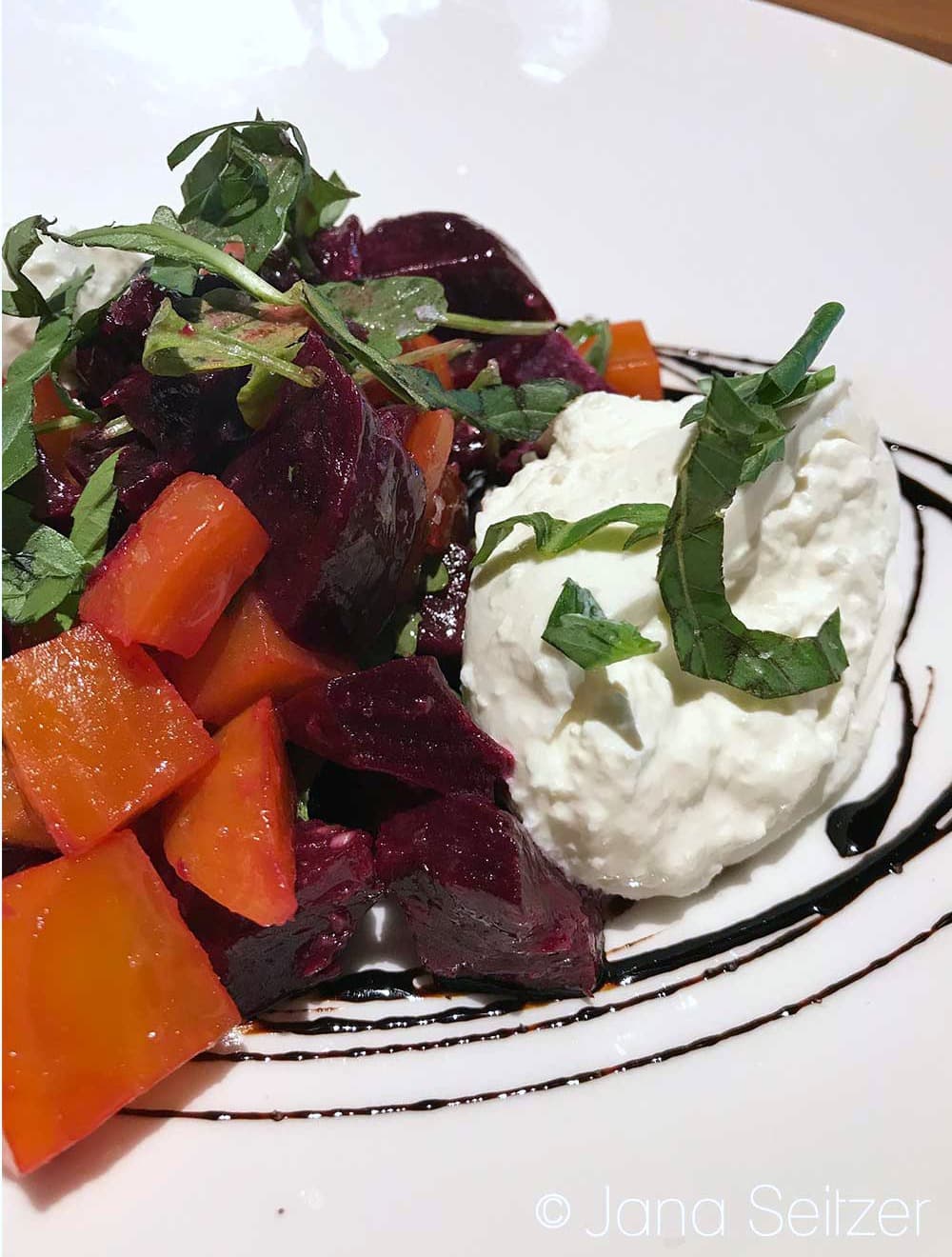 Roasted Beet & Burrata Salad with Basil, Balsamic, and Arugula
You had me at burrata. I'd eat burrata til the cow's come home. If I could live on burrata, I would. It's one of my most favorite things to eat ever. My husband had never had it. I feel as if he'd been deprived. He's now officially converted.
On to the mains.
Colossal Crab Cake with Meyer Lemon Aioli
While this was technically an appetizer, I ordered it for my main dish. I love a good crab cake. I'm a fan of crab cakes that aren't hugely breaded and overly deep-fried. This was an excellent balance of lightly breaded without being deep-fried and over-the-top.
Mashed Potato Trio with Sweet Potato, Smoked Salmon, and French Onion.
This was the ideal accompaniment to my Colossal Crab Cake for my main dish. I loved the combination of flavor offerings. My husband shared it with his steak, too.
Green Beans with Bacon Jam and Crispy Shallots
Such a tasty preparation. Bacon Jam? Yes, please.
Flat Iron Steal Special: Soy-Mirin Marinated Flat Iron Steak with Sushi Rice, Mushrooms, and Shishito Peppers
This looked incredible! My husband said it was a great steak, too. I mean, what more is there to say? Immaculately prepared steak. Boom.