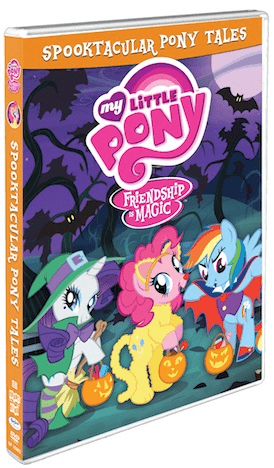 Celebrate Halloween early with the boo-tiful compilation of spooky stories from the MY LITTLE PONY FRIENDSHIP IS MAGIC: SPOOKTACULAR PONY TALES on DVD 9/9.
Everypony loves Halloween…the candy, the pumpkins, the costumes, the friends! Join your favorite residents of Ponyville—Twilight Sparkle, Rainbow Dash, Fluttershy, Rarity, Applejack, Pinkie Pie, and of course, Spike—as they take on some of the spookiest adventures Equestria's ever seen! Time to gather around and hold on tight, because these exciting tales are a chillingly good romp.
My girls LOVE this new Halloween DVD. One of my daughter's favorite is in "Bats!" when "Fluttershy turns into a bat. She flutters around and eat all of the apples. She also gets a vampire tooth." From the mouth of a 7-year-old child.
Check out some of the clips below to see what you can expect! This DVD includes six episodes and a sing-along. Also included in the DVD pack is a "My Little Pony Friendship Is Magic" pumpkin carving stencil and a color Halloween poster perfect for seasonal decorating with your kiddos.
The six episodes included on the DVD are:
Boast Busters
Stare Master
Luna Eclipsed
Sleepless In Ponyville
Castle Mane-ia
Bats!
Clip: Ponies in A Haunted House
Clip: Not Green Hair!
Watch the Official Trailer: