Disclosure: I got this product as part of an advertorial.
The antioxidants in green tea are known to boost your body's natural defenses against oxidation. Researchers have found that a high level of dietary antioxidants can prevent many age-related diseases. Because it is made from the whole leaf of green tea, Matcha Green Tea Powder 
contains 137x the antioxidants of brewed green tea.
Matcha green tea provides all-day energy with increased focus
Matcha green tea provides 4–6 hours of mild, steady energy as it acts as both a stimulant and a relaxant. Lift your vitality and concentration with the slow release natural energy from organic matcha green tea.

Matcha green tea provides a metabolism boost.
Consuming matcha green tea can increase thermogenesis (the body's own rate of burning calories) from a normal 8%–10% of daily energy expenditure, to between 35%–43% of daily energy expenditure. Support your weight loss goals with an all natural way to increase your body's metabolism. I definitely had more energy when I added the organic matcha green tea to my morning vanilla protein shake for an extra boost of nutrients!
Matcha green tea can improve skin health.
Scientists have discovered that matcha green tea helps protect the skin from harmful UVA and UVB rays, as well as free radicals damage,  while improving blood flow and oxygen levels, lifting the overall quality of the skin.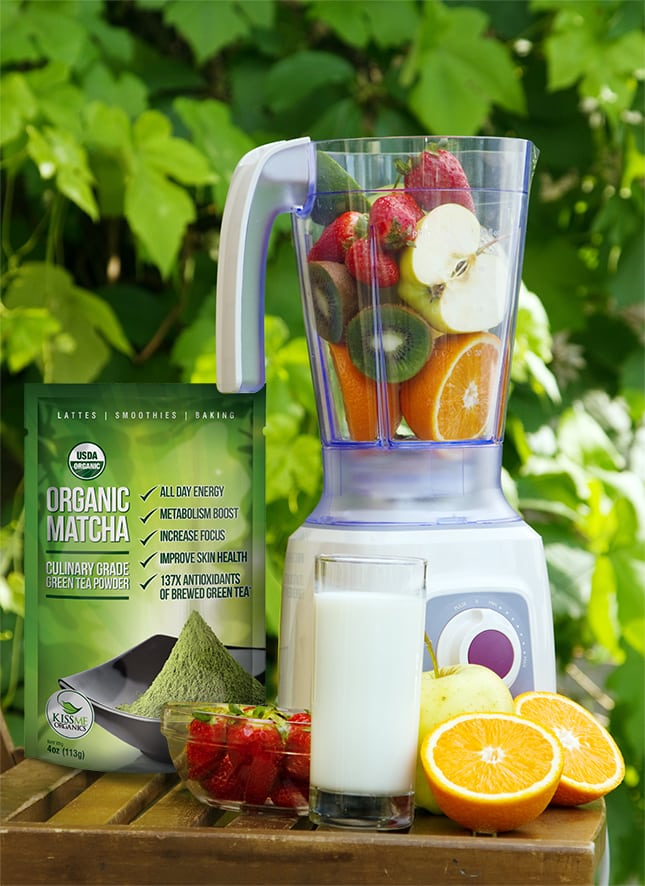 Matcha green tea can be used in lattes, smoothies, and baking.
Kiss Me Organics Matcha Green Tea Powder arrives in an easy-to-use airtight health-grade packaging allowing for as much or as little use as you need for any occasion. Enjoy a relaxing latte in the morning, bake a dozen cupcakes, or simply add a small boost to your morning smoothie. I personally like mine mixed in a smoothie.
Download a free Organic Matcha Recipe Guide with more than recipes inside from KissMeOrganics Matcha Organic Green Tea. It's full of drinks and smoothie recipes, as well as baking recipes that look fabulous. Some of the recipes include Minty Matcha Mojito, Matcha Latte, Berry Good Morning Smoothie, Lemon Matcha Waffles, Matcha Frosting, Jalapeño Matcha Cornbread, Tomato Basil Matcha Pizza, and many more!
I received one or more of the products mentioned above for free using 
Tomoson.com
. Regardless, I only recommend products or services I use personally and believe will be good for my readers.