If you are looking for great deals on gently used and new baby and children's items, you want to stop at the Pass It On sale today. I stopped by yesterday evening to check out the VIP session: wow! There are aisles upon aisles of items to look through. And just when you think you've seen it all, you'll discover the Toy room in the back. I can't believe how many items they have fit into this building.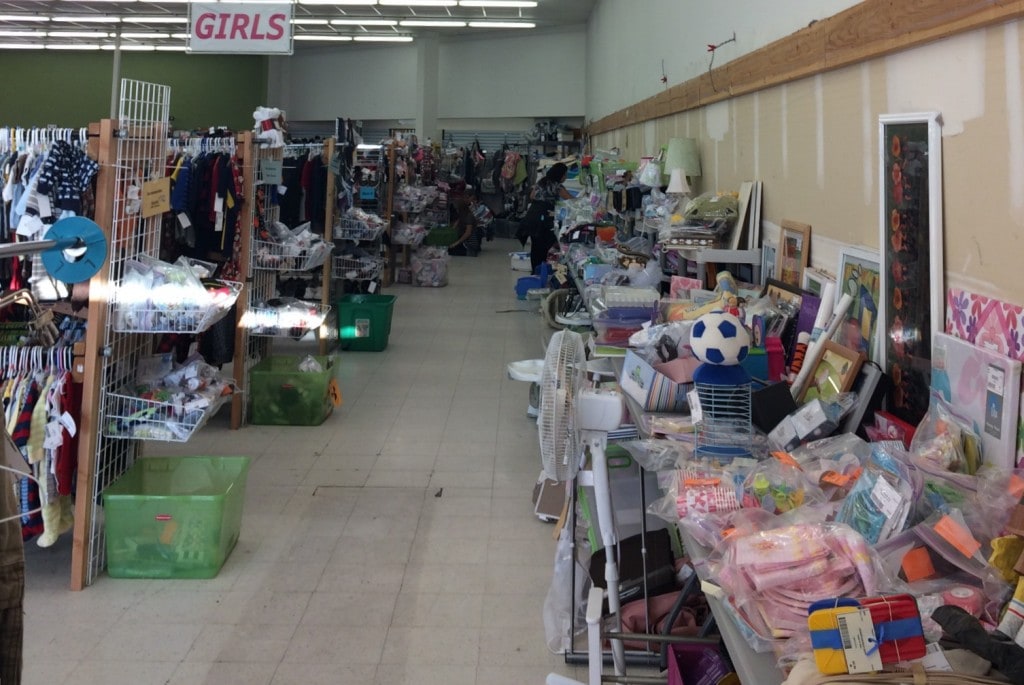 Note to self…the line gets long. Really long. But that's to be expected with a ton of people shopping for awesome bargains! I waited for 45 minutes and probably needed to wait another 15 plus minutes before I reached the checkout. I'll head back this morning to see if I can grab the items I wanted to purchase yesterday before they are gone. I found two pairs of New Balance kids' sneakers for $4 and $7 each. They are in great condition! I can't go to Target or Walmart and buy any sneakers new at that price, regardless of the quality! You'll definitely want to give yourself ample time to shop and get through the line.
Pass It On is Portland's oldest and largest locally-owned and operated children's and maternity consignment sale. Each spring and fall they host a venue for around 500 local families to sell their gently-used or new baby, children's and maternity clothes, shoes, toys, and other items in a HUGE warehouse-type space. With over 100,000 items to shop, they often see 8,000 shoppers each sale, many of whom line up down the block before the doors open so they can get the best stuff first! What a great opportunity to shop for great deals while helping local organizations.
Pass It On events are committed to the community by partnering with Costumes for a Cause, an autumn fundraiser for Doernbecher Children's Hospital, where a large portion of the sales of the nearly 2000 Halloween costumes sold at PIO goes back to. And when the sale is over, much of the rest of all the unsold inventory is donated to the Northwest Children's Outreach to help local families in need. Hundreds of local volunteers work to put on this benefit event.

Set up, drop off, and sorting to get our sale ready will take place October 3–8 and the sale begins October 9 and runs through the 12. This fall, PIO will be held at 12505 NW Cornell, at the corner of Saltzman in the Cedar Mill area, at the former Walgreens and Ace Hardware store locations. For a detailed map and more information, please visit the PIO website.