FTC Disclosure: Merlot Mommy participates in the Amazon Affiliate Program. If you click a link in this article and make a purchase, this website will earn a tiny commission (used to pay for website hosting). Merlot Mommy only participates in affiliate programs for products we have personally used and believe in. I received a Rush Hour Jr Board Game from ThinkFun to review. No other compensation was received. As always, all opinions are my own.
Like most kids, mine enjoy games. Card games, board games, strategy games—you name it. We have loads of ThinkFun games in our game wall, so my kids jumped at the opportunity to review Rush Hour Jr Board Game
 by ThinkFun. In fact, there was so much excitement, there was actually arguing over who got to open the box and play the game first.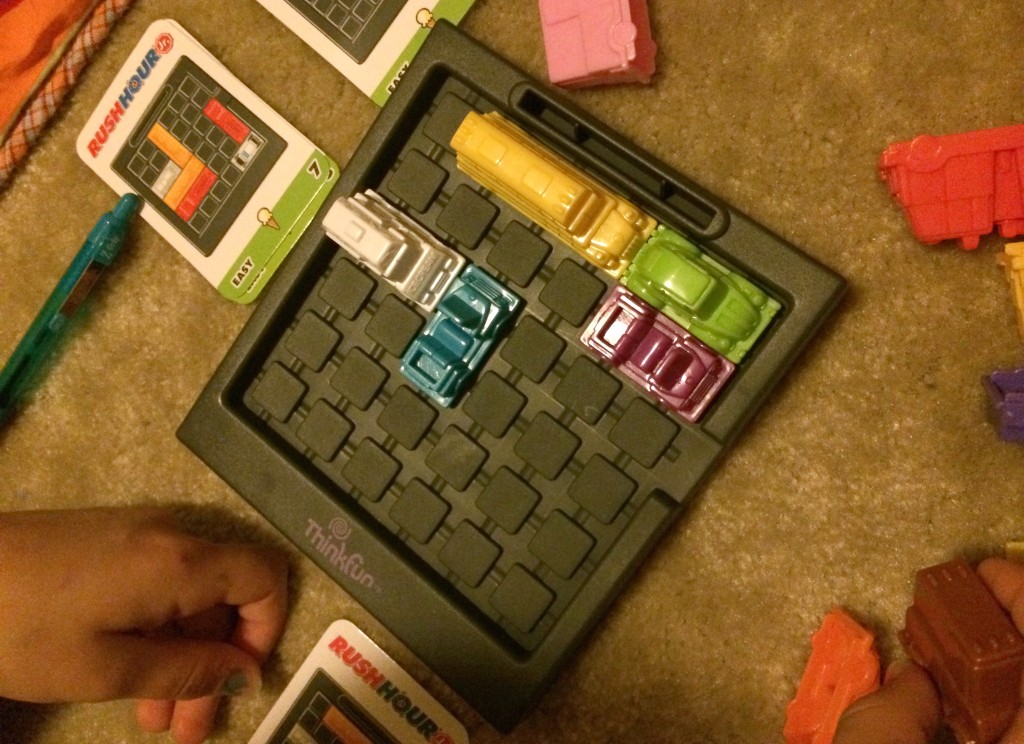 The game is appropriate for ages 5 and up. Both my 6-year-old twin daughters and 8-year-old daughter all love the game. The 8-year-old bedroom was the one who got to play it first. She wanted to have the game be hers and live in her room, but it made its way to the toy wall in the play nook where the other games reside.
Rush Hour Jr is version of Rush Hour geared toward younger players. Similar to the original, you work to clear a path to the exit by shifting cars. Rush Hour Jr offers 40 challenge levels for hours of entertainment. The game includes 1 traffic grid, 40 challenge cards, 1 ice cream truck, 15 blocking vehicles, and one  game go bag. Rush Hour Jr teaches logic and sequential reasoning in a fun theme that appeals to all ages. This game is a perfect introduction to ThinkFun single player games.
PS, I had to laugh and share this photo. As I was posting this review, I looked out into the play nook and this is what I saw…