I am so excited to partner with Sean Astin to promote his radio show Vox Populi (Season 2).
Sean Astin—actor from Goonies, Lord of the Rings, Rudy, and Moms' Night Out—is beginning Season 2 of his political radio show for "the occasionally interested people" on May 1, 2014, on a new network, TradioV. His broadcast airs Thursdays 12–2 PST on TradioV.com.
Sean's interest in politics and representing the people's voice is infectious. Sean genuinely wants people to understand what is happening with the government, even if it seems too complicated. Whether you are (or aren't) interested in politics, he offers an intellectual discussion. Sean doesn't just want to be heard, he wants to hear the people and their concerns, all while keeping it civil.
As a voting citizen and parent of 4 young children, what's happening in the world around us is important to me, and it probably should be important to you, too. What happens today, shapes the future for all of us—especially for our children. Current issues such as climate change have a huge impact on our future.
Interested in learning more about Vox Populi? Join us Saturday, April 26, 2014, at 5:30 pm PST/8:30 pm EST for the #RaiseYourVox Twitter party. RSVP for #RaiseYourVox here.
#RaiseYourVox Details
Host: @HostVoxPopuli @crazyadventures
Co-hosts: @seanastin @LindaofNote @ENMNetwork @Leah_Cevoli
Panelists: @MamaDweeb @StacieinAtlanta @1momof5
Prize Patrol: @SincerelyG
Prizes to be given away: two personalized autographed pictures, one autographed poster, and a grand prize "prize pack" with an autographed picture and Vox-branded items, including a Vox t-shirt!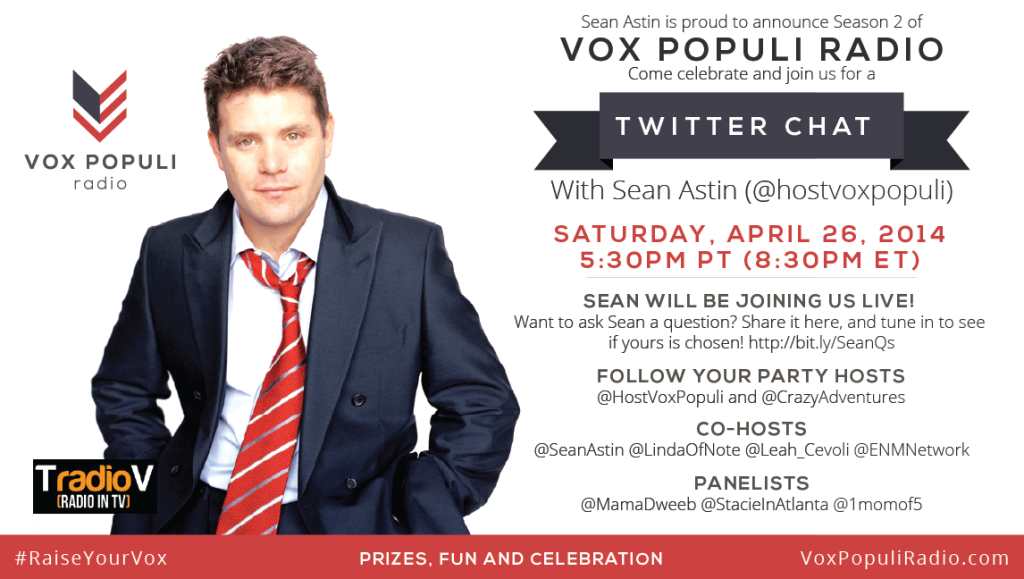 Where to Connect
Follow Sean on Twitter
Be a Fan on Facebook
Subscribe on YouTube
Hashtag: #RaiseYourVox
Disclosure: I received a gift from Sean in appreciation of my support for his show. No other compensation was offered or received. As always, all thoughts and opinions are my own. ENMNetwork disclosure.