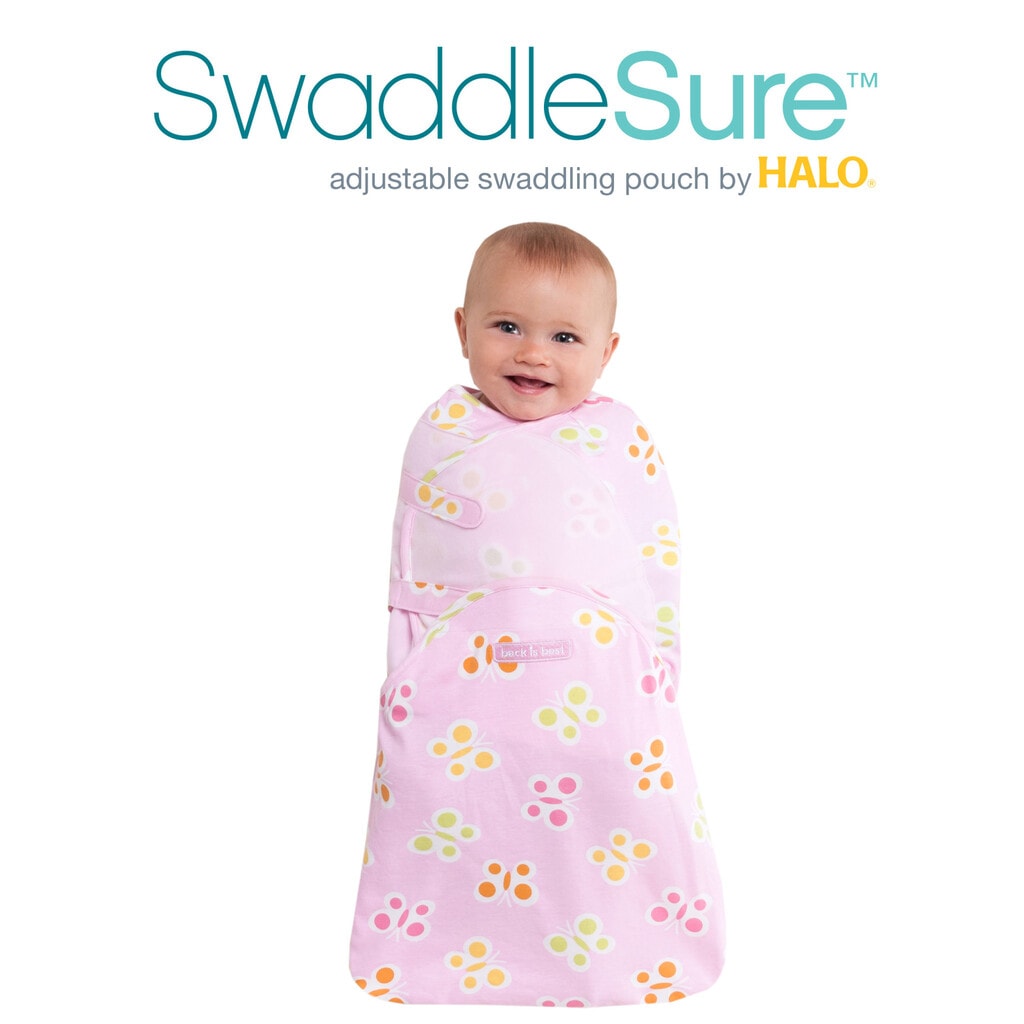 The SwaddleSure Adjustable Swaddling Pouch by HALO is the safe, easy and secure way to keep your baby sleeping longer and more peacefully. Its innovative design with adjustable fasteners make it easy to swaddle correctly for a perfect fit every time – preventing even the most talented little Houdinis from making their great escape. Plus, its patented three-point fastening system resists "breakouts" for superior, more secure swaddling. Its generously-sized leg pouch help baby's hips stay in the correct, frog-like position which ensures healthy hip development and allows easy access to baby's diaper for diaper changes. It also features "Back is best" embroidery reminding all caregivers that babies should sleep on their backs.  Use over regular sleepwear to take the place of loose blankets.  Available in sizes newborn and small. The SwaddleSure Adjustable Swaddling Pouch by HALO is available on amazon.com
 and at Babies R Us.
The Benefits of Swaddling
After being tightly cuddled inside mom for nine months, it's no wonder that some babies enjoy being swaddled after birth. It makes them feel snug, warm and secure. Swaddling can help calm many fussy or crying babies and even help them sleep longer in the first few months of life. In fact, many cultures have been swaddling their infants for thousands of years.  Basic benefits of swaddling:
Swaddling is a great way to soothe and calm a fussy baby by giving him a feeling of security, similar to being in the womb
A newborn cannot regulate his temperature as well as an adult, so swaddling keeps his body warm. (Just make sure that he doesn't become overheated)
Swaddling often helps a baby sleep longer because it prevents the sudden movements (startle reflex) that can cause him to wake up
Swaddling can help a baby focus on breastfeeding, helping to keep his arms and legs out of the way
Swaddling prevents a newborn baby from scratching himself with his nails
Thanks to Halo Innovations for providing this information on the benefits of swaddling.