We were invited to taste the new Blaze menu. As always, all opinions are our own.
Chef Brad Kent, who Zagat Guide said makes one of 10 pizza pies in the U.S. worth traveling for, designed the pizza menu at the new Blaze Pizza in Beaverton—Blaze's first Oregon (Portland-area) restaurant. Blaze is a fast-casual artisanal pizza restaurant, which sources ingredients locally and makes its dough from scratch in-restaurant. Pizzas cook in 3 minutes in an open-flame 800 degree Fahrenheit oven. We love Blaze; it's delicious and fun for kids.
Blaze Pizza is a modern day "pizza joint" known for its custom-built artisanal pizzas. Each restaurant features an interactive assembly-line format that allows you to customize one of the menu's signature pizzas or create your own, choosing from a wide variety of fresh, local, artisanal ingredients—all for under $8. Hop in line and get started. The generously-sized 11-inch pizzas are then sent to a blazing hot open-flame oven—the centerpiece of the restaurant—where dedicated pizzasmiths ensure that the thin-crust pies are fast-fired and ready to eat in just 180 seconds.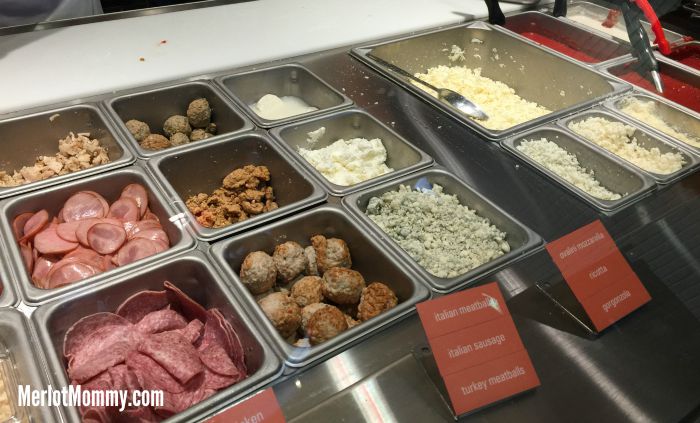 Complement your pizza creation with a freshly made salad, refreshing fresh Blood Orange Lemonade, or tasty handcrafted s'mores pie dessert.
At just under $8 for an 11-inch pizza, that's an affordable price for an evening out for your family dinner, plus it makes it easy for the kids to pick the pizza toppings they want—either as a shared pizza or to each get their own with some leftovers for another meal. My kids love this place. My son can pile on all of the meat toppings he chooses while my daughters can split a pizza and get pepperoni on one half and cheese on another. Be adventurous with pre-designed signature pizzas. I love the variety of sauces I can choose from.
Each restaurant makes its own dough from scratch using a recipe developed by critically-acclaimed Executive Chef Bradford Kent ("The Pizza Whisperer"), which requires a 24-hour fermentation period to produce his signature light-as-air, crisp crust. For pizza fans with specific dietary needs, Blaze Pizza offers gluten-free dough and vegan cheese.
The company's mantra of making "intelligent choices" goes beyond selecting insanely great ingredients and serving exceptional pizzas.  Each restaurant is carefully designed to suit its own space, with award-winning architect Ana Henton thoughtfully applying unique elements and fire-inspired colors to each location—creating a warm, inviting environment that fits within the local neighborhood. Additionally, Blaze is committed to sustainability and uses eco-friendly packaging and locally sourced ingredients whenever practical.
Blaze Pizza is located at 3260 SW Cedar Hills Blvd, Beaverton, OR 97005.