For all of you Whole Foods Market lovers out there, the new Greenway (Tigard) Store opens at 9 a.m. on Wednesday, May 21, 2014. I was able to take a private media tour this past Friday, and I'm so excited to share an overview of the new store with you!
The new 37,000-square-foot store features the following departments: Bakery, Beer, Bulk, Cheese, Coffee & Tea, Floral, Grocery, Meat & Poultry, Pets, Prepared Foods, Produce, Seafood, Whole Body, Wine
Whole Foods Market Community Commitment
Whole Foods Market is known for their commitment to the communities they are in. The Greenway store is no different. Washington County Whole Foods Markets carry about 500 locally grown and produced products, and the new Greenway store features 90 new local vendors that have been added to the list. On the opening day, they are donating a palate of food worth $1,000 to Good Neighbors Center. They are also granting Mary Woodward Elementary School a $2,000 Whole Kids Foundation School Garden Grant. Outside the building, they are installing bird art display that was made by 2nd graders from Mary Woodward Elementary.
Whole Foods Market will also be awarding one of their Local Producer Loans to Unbound Pickling on opening day to help them a low-interest loan to improve their business.
Store Highlights
Bulk Department
Just one of the many reasons our family loves Whole Foods Market is their bulk department, With a family of 6, it isn't inexpensive to eat well, but the bulk department with 350 products sure helps! The bins are also labeled with a freshness sticker so you know when the item was produced! An exclusive feature to the WFM Greenway is their new Fresh Grind Chocolate and Hazelnut Butter blend. It was heavenly!!
Beer/Wine
Just as you'd expect from Whole Foods Market, there is an extensive beer and wine selection, many of which are local. This is also the only place you can buy Bridgeport Hillsboro Hops IPA outside of a Hillsboro Hops Game!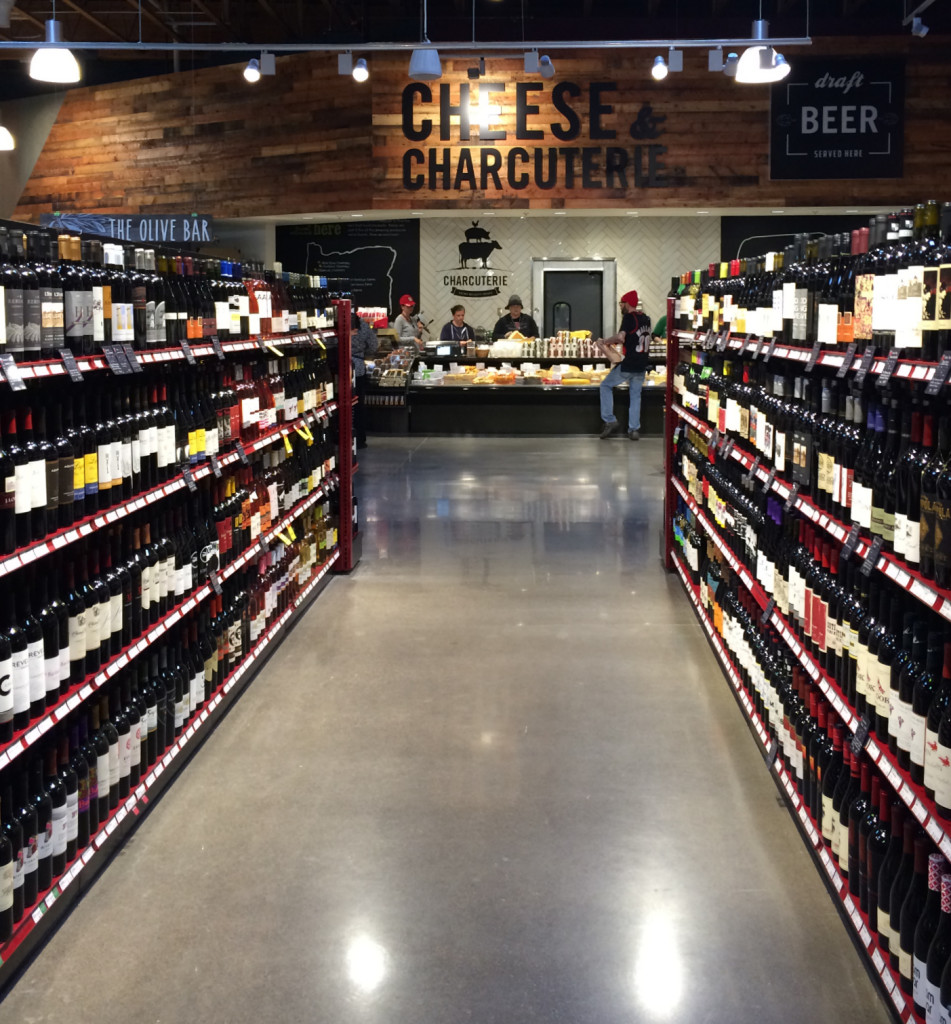 The store features 315 linear feet of beer selection, as well as a Growler Station, which boasts 2 wines and 8 beers on tap. Bring your own growler from home or get a new one at the store to fill! All wines that are scored 90+ by Wine Spectator are labeled as such, so you know what you're getting.
Oh, and all of the amazing chalkboards in the store (like the beer logos) are done by hand!
Cheese
The cheese selection at all Whole Foods Markets is extensive. The cheese department features cheese samples, so you can try before you buy or try a type of cheese you've never had. They will also cut-to-size and cheese wheel you'd like.
Seafood
Mmmmm seafood. If you like seafood, then you must love fresh seafood. Whole Foods Market has their seafood delivered fresh 6 days a week. Exclusive to this WFM, there is a fish fry available so you can have your fresh fish fried while you wait 7 days a week. The full-service counter will cut fish to the size you need. The seafood department at Greenway also offers local choices, such as local salmon. The salmon below was smoked in-store and was delicious. It melted in my mouth!
Whole Foods Market sells seafood that is caught in environmentally friendly ways. The fish sold offers 100% traceability so customers know where the fish they are eating came from. WFM partnered with the Marine Stewardship Council (MSC) in 1999 to bring its customers MSC-certified seafood options. When MSC-certified seafood is not available, WFM presents color-coded sustainability ratings on its seafood products.
Meats
The Fine Cuts counter offers many options, including local meats from farms such as French Perry Pork (OR) and Draper Valley (WA) products. Sausage is made fresh in-house and you can have any of your cuts ground into sausage if you just ask the full-service staff.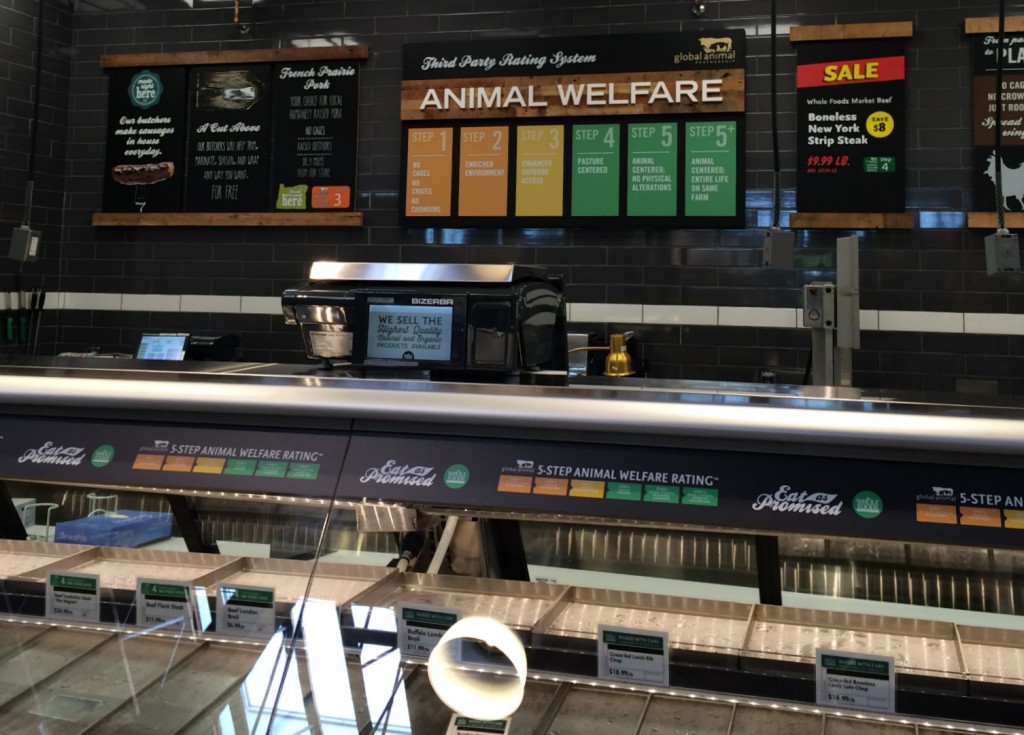 Whole Foods Market uses Global Animal Partnership's 5-Step Animal Welfare rating system for its beef, chicken, pork, and turkey. The program outlines specific animal husbandry and management practices that promote farm-animal welfare. At a minimum, mets at WFM are rated Step 1, which is a clear difference from conventional animal agricultural practices. So if eating meat that was produced humanely and ethically is important to you, know that WFM helps to make it easy for you to do so.
365 Everyday Value Products
Whole Foods Markets offers their exclusive private label line of 365 Everyday Value products throughout their stores. The line is aimed to sell high quality organic and natural products at a fair price.
In order to wear the 365 Everyday Value label, an item must meet the highest standards for quality and taste. All 365 Everyday Value products are free of artificial flavorings, colorings, sweeteners, preservatives, and hydrogenated fats and are non-GMO. WFM 365 Everyday Value offers everything for your budget from whole grain flours and fair trade shade-grown coffee to organic dairy products and frozen vegetables.
Also, all non-GMO products in the store are noted with a handy label. WFM has taken a pledge to ensure that all items in their stores are labeled with GMO/non-GMO information by 2018.
Whole Body Department
Whole Foods Market's Whole Body Department stocks items that are plant-based, naturally derived, free of artificial preservatives, and are petroleum free. None of their products have been tested on animals. WFM products also contain an Premium Body Care industry label to dictate that a product meets the strictest standards for quality sourcing, environmental impact, results, and safety.
Dairy Corner
All dairy products in Whole Foods Market are rBSH free and antibiotic free. It's wonderful knowing that I can grab any dairy product in the store and not have to read to see if they are hormone and antibiotic free. All of the eggs sold are cage-free eggs.
Prepared Foods
This department is great and pays homage to the local community. The Fanno Creek Pizzeria, Monto Toro (Bull Mountain), and Cafe Conestoga offer prepared foods, almost all of which are prepared in-store.
Bakery
The bakery wasn't stock yet, but is sure to be filled with delicious cupcakes, cookies, breads, and more. The bakery will feature its own exclusive Maple Bacon Magnificent Muffin and a Manhattan Cake. I can't wait to try them!
Community Space
Whole Foods Market offers a community seating area that seats up to 80 people indoors and out. The modern, minimalist feel creates a nice space for gatherings. The outdoor seating area features a fire pit and heat torches and the inside features some cool modern light fixtures.
Coffee and Juice Bars
The Coffee Bar will feature a variety of espresso and coffee beverages from Allegro Coffee. Like other WFM, there is no charge for milk substations in your coffee beverage. WFM also offers about 40 different sustainable coffee options to choose from to suit your personal java needs. The full-service Juice Bar will offer a variety of juices to choose from.
If You Go
The grand opening is at 9 a.m. on May 21, 2014, following the bread breaking ceremony. The celebration features live music, giveaways, a local sports mascot, and more. The store will be open 7 a.m. to 10 p.m. daily. There is also a 25% off 365 Everyday Value Products that is happening only on 5/21 and 5/22.
Whole Foods Market Greenway
12220 SW Scholls Ferry Road
Tigard, OR 97223
Phone: 971-371-7000
Disclaimer: I was invited to preview the store before it opened. As always, all opinions are my own.