Halloween treats are fun and spooky and I love when they are something you can make out of simple ingredients without having to buy crazy Halloween-specific items. These Witches Brew Bites are one of those easy Halloween treats that are a fun Halloween themed treat idea tat you can make with items found in your pantry or the baking aisle at your local grocery store.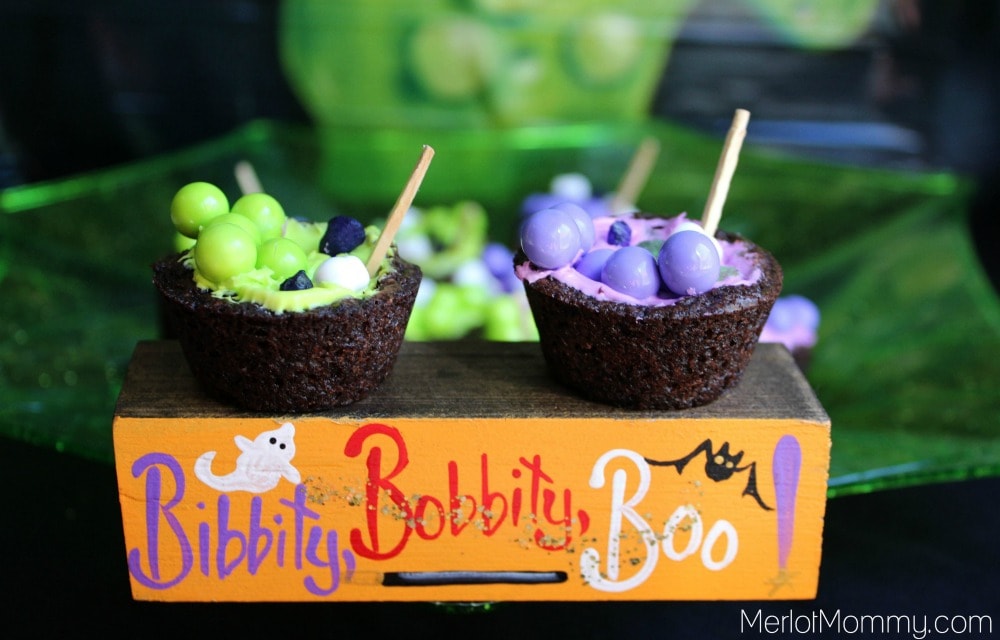 Ingredients
1 box of Brownie Mix* (any kind will work)
1 can of White Frosting (any kind will work, but we prefer vanilla)
Purple & Green Sixlets Candy
Candy eyes
Candy Bones
Purple & Green Rock candy pieces
Purple & Green Food Coloring
Directions
Prepare brownies according to package directions.
Spoon batter into a lightly oil-sprayed mini muffin pan. Bake according to directions on brownie box.
When done, take out of the oven and immediately press (with a teaspoon back or any similar utensil) about half way down in the center of the brownie to create a hollow inside, then let cool.
While the brownies are cooling down, take your frosting and split between 2 bowls. Add purple food coloring to one and green to the other. Add as many drops until you get the color you desire.
Once brownies are cooled, use a spoon to fill the brownies with purple and green frosting.
Decorate with the candy to create your
Optional: If you want a "stirrer" you can use a toothpick, pretzel stick, or a lollipop stick.
*The average size brownie mix box is 18.2 oz., which can make up to 36 brownie bites.