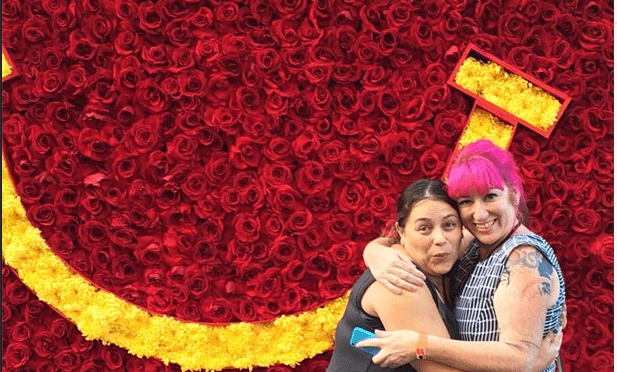 I'm going to preface this post with the following: I had a good time, I made a handful of amazing networking contacts, and I made new friends. That said, I may not go to BlogHer next year and here's why: when I shell out lots of my own money (ticket, travel, meals, and room ran nearly $1,000, and I shared a room to save on cost), I need to see the ROI for what I put into the conference financially, and I didn't see enough ROI this year. That said, there were some highlights.
1. Bigger isn't always better, but sometimes bigger IS better
This was my third year at BlogHer. The Expo this year was small. Not just small on swag and networking opportunities, but small in general. Compared to the Expo Hall is 2012 and 2013, this year's Expo was small. While I made a few valuable contacts, the overall networking (and brand fits) just wasn't there for me.
2. Brands need knowledgeable representatives staffing their exhibits
Many of the brands for which I already have contacts didn't even send their reps to the Expo. They had lower-level office and account staff attend. It would have been great to reconnect with established contacts. Additionally, quite a few exhibits had hired college students to represent the brand. That's fine until I have questions that the college student can't answer. That's a waste of my time and likely a connection with the brand that I'll never complete.
3. The Breakout Sessions were uninspiring
To be fair, maybe they weren't all uninspiring, but the first session I attended was "The Visual Web: Get Started in Video: Easy Tools and Strategies" and I didn't get anything out of it. Not to be harsh, but I literally didn't learn a single thing in the hour I was there. I left. It felt like a waste of time. The panelists were certainly nice. I don't really do video, so I was hoping to learn something. And I didn't. In fact, I've made one vlog ever. So while I'm a photographer, I don't know much about video, but apparently I know more than I realized. I didn't bother attending any of the other sessions because that one left me so empty.
Also, for those of us who have been attending BlogHer for awhile, we need more 200 and 300 level breakouts. The 101s just aren't cutting it.
4. The Keynotes were VERY inspiring
I LOVE Jenny Lawson (aka the Bloggess). She's hysterical. She's inspiring. She has a way to make you laugh at things when she should be making you cry. I don't know how she works her magic, but she draws you in and you can't get out. I could listen to Jenny talk all day long. Really. Here are a couple of my favorite quotes from her keynote:
"Nobody talks about mental illness in a funny way. Then I started a book and realized why…it's really f*cking hard."
"Blog fame is fleeting, fickle, and largely based on chance and can disappear at any moment."
"Everyone has a story in them."
Kerry Washington, Ariana Huffington, and Guy Kawasaki were among some other great inspiring keynotes.
At the end of the day, inspiration is wonderful. It's great to walk out of a session feeling renewed and energized. We aren't all inspired by the same thing, but the variety of keynotes helps make sure there is something for everyone; but just having good keynotes isn't enough.
5. Everyone needs to be reminded that they are special and loved
No, for real. The Mrs. Band had their magic mirror booth. Look and listen and be reminded that you are special, beautiful, loved, admired…all the things that we almost never hear as moms. It was such a wonderful and moving experience. It made me tear up…and it takes a lot to make me tear up. Then they played their song "I'm Enough" at the start of the keynote lunch. There were plenty of wet eyes in the room, that's for sure. It's my new favorite single.
6. Swag and Swag Wh*res
We all love a little good swag. Overall it was lacking at this year's conference (watch for my post on out-boarding parties coming soon), but there were some fun things. Skype had some awesome lipstick phone rechargers. Chuck E. Cheese had board games and giftcards. I won a giftcard from tweeting at Baskin Robins. However, overall there was a lot less swag and items of use than there have been in years past. Several of the big sponsors didn't even offer anything in terms of working with bloggers. Also, the Expo had a lot more vendors who were all about "You can buy my product" (or "Can you tell your readers to buy our product) rather than "How can we work with you?"
I understand that a vast amount of swag perpetuates the "swag wh*re" mentality (when there are great free items available), but a lack of swag also perpetuates it. People were hoarding the minimal great swag items because there wasn't anything else to hoard. I literally had a woman try to grab something out of my bag at the Swag Exchange room while dropping something off the last day of the Expo, and then the same woman asked if she could take the plastic totes that were there for organizing swag. Really? For realz? WTF is wrong with people. Sigh. I'm sure she was also also inline for the opportunity to take a selfie with a Kardashian, but that's also another blog post.
P.S., Swag Wh*res give the rest of us normal-ish people a bad reputation.
7. BlogHer throws great parties
I think we can all agree that BlogHer parties are spectacular. The Karaoke Party was a blast. This year's Closing Party featuring McDonald's Happy Meals (with an added vegetarian option that was not available at CheesburgHer in 2013) was fun. The addition of the entertaining and talented Rev. Run/DJ Run was also a win, for sure. Saturday night was killer. But good parties don't help me grow my blog.
8. Cliques or Friends
I hate cliques. I always have and I always will. I'm an open book. I wear my emotions on my sleeve. What you get is what you see with me. I'm likely an acquired taste. That said, not too many people hate me, so there's that. I reconnected with old friends I'd made at other BlogHer conferences, as well as other social media conferences. I also made some amazing new friends at this conference and got to know some old connections better (those friends are definitely worth the money I spent to attend and might actually help me grow my blog).
9. Networking works
When cliques aren't at play, you can really get to know people and make valuable contacts. I had dinners, breakfasts, and meaningful engagement with brands (sponsors and not). The Keurig breakfast was awesome and well run. I love the new Magisto app that I learned about. Bright Starts offered some great website content and expert information my readers will like. Some other panels, not so much. If you're going to ask me to skip something else at the conference, you really need to make it worth my time.
Those connections are hands down the most valuable part of BlogHer14 for me.
Final Thoughts
Obviously the conference isn't all about me, and I'm not saying it should be. But as someone who has to spend their hard-earned money to attend…it is about me, to a degree. And for every single person who pays to attend any conference, it should be about them, also. If you pay for the opportunity to learn and connect, you should be asking yourself, "What's in it for me?" "What's the ROI?"
I'm certainly hoping next year's event welcomes the feedback they receive from this year's event and makes some changes. Better brands that want to engage, not just sell to us. The addition of some higher-level learning for veteran and mid-size bloggers would be useful. Keep the swag wh*res at home. Increase the size of the Expo with quality brands that want to connect with bloggers. Any other feedback I missed? What would you like to see done differently.
Oh, and in a previous life I was a marketing specialist who worked on event planning, so I'm neither naive nor ignorant to what has to happen to pull together an event of this magnitude. Clearly an incredible amount of work goes into planning this and it shows.