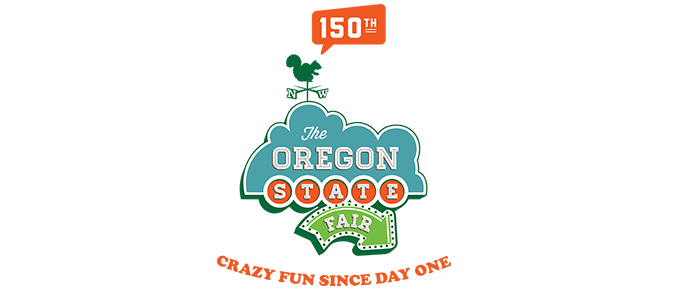 Celebration of the New Visitors of All Ages to Enjoy 'Crazy Fun' as it's Been since Day One
The 150th Oregon State Fair, which runs through Monday, September 7, returns to Salem, Oregon, for its milestone sesquicentennial year. This year's program is packed with street performers, horse competitions, canine agility tests, world reptiles, carnival rides, nightly fireworks, and much more—making it the perfect grand finale to the summer.
Special Events at the 150th Oregon State Fair
Concerts
Each concert is free with fair admission. Limited VIP experience seating is available for $25 or $35, depending on the act. VIP concert tickets are sold on the Oregon State Fair web site only.
Wednesday, Sept. 2nd Casting Crowns at 7 p.m.

Friday, Sept. 4th Jerrod Nieman at 7 p.m.

Saturday, Sept. 5th Eric Burdon & The Animals at 7 p.m.

Monday, Sept. 7th Dan & Shay at 4 p.m. Opening act: Kelsea Ballerini
Dia de La Familia
On Sunday, September 6th, there will be additional entertainment and activities for "La Familia Day" at the Oregon State Fair. There will be free activities & entertainment with your paid entry. Enjoy the fabulous Mariachi & Ballet Foklorico parade, Dia De Los Muertos face painting, kids soccer Kick Camp with the help of Chemeketa Community College Women's "Storm" Soccer team, piñata breaking, live performances by Aztec dancers, and musical presentations with Los Rebeldez, Los Supremos, Grupo Candente, international groups; Samuray and Rocio y Su Sonora.
Animal Attractions
Discover the Dinosaurs in the Pavilion
A special engagement in honor of the fair's 150th year. Visitors will encounter 8 to 10 unique dinosaur scenes with museum quality pieces along with animatronic dinosaurs displayed in their natural environment. Each scene reflects the period of time when the dinosaurs lived. Special lighting, sound effects, animatronics, video displays, and fog enhance the exhibit experience.
The best collection of dog attractions and health-and-wellness professionals on the West Coast will show their stuff. This popular attraction features sporting and working dogs, training, educational demonstrations and competitions. There will be competitions each day of the fair.
Multiple performances each day of various breeds begin at 9 a.m. each day, with a special 7 p.m. performance each evening showcasing the majestic Draft Horse.
There will also be a special BlackPearl Friesian Dance Troupe performance that takes place on Saturday, September 5th at 7 p.m.
The main categories for livestock are small animals, open class, 4H and FFA Horses, and Open Class Livestock. Activities take place each day of the fair.
The Great Western Dairy Expo is an all breeds dairy show featuring some of the very best dairy cattle in America happening September 5-7.
Wild & Wacky Creepy Creature Feature
From the wild to the wacky, Brad's World of Reptiles will showcase some of the extremely creepy characters of the animal kingdom. Don't miss your opportunity to view and even interact with some of the most amazing exotic animals in the world!
Creative Living
Fairgoers can participate in fabulous "just for fun" verbal spelling bee on the Creative Living Stage in Columbia Hall on Saturday, September 5th. There will be prizes for first, second and third place winners.
STEM = Science, Technology, Engineering and Math.
This program focuses on four areas of education—Science, Technology, Engineering and Math—to build the skills and knowledge in each area that are essential to student success. These fields are deeply intertwined in the real world and how students learn most effectively. This is an applied approach for hands-on and problem-based learning. This four-day long event begins on Friday, August 28th.
Other attractions seen in Creative Living in Columbia Hall:
• Art
• Calligraphy
• Photography
• Poetry
• Crafts and Hobbies (including Woodworking)
• Paper Arts
• Baked Foods
• Preserved Foods
• Decorated Cakes and Confectionery Arts
• Table Decorating
• Farm and Garden
• Honey and Products of the Hive
• Floral
• Needlework and Clothing
• Quilting
• Felting, Spinning & Weaving
Culinary Contests
Saucy Mama's Tailgate Cook-off
Contestants give it their all with Barhyte Specialty Foods' first-ever, Oregonian-only, live cooking contest on Friday, August 28th! That's right. It's time for Oregonians to show off their recipe skills at the 2015 Oregon State Fair. No doubt we'll see some Ducks vs. Beavers themes.
Emily Ellen Retro-Dish Cookoff
Retro Rad Emily Ellyn on Saturday, August 29th, for an entire afternoon of culinary fun highlighted by Live Cooking Demos, the Retro Dish Cook-off, and the zany Retro Rad 50s Dress Contest.
There competitive divisions for professional bakers, amateur adult bakers, and amateur youth bakers at 11 a.m. on Wednesday, September 2nd and everyone is competing for the blue ribbon.
Bob's Best Home-baked Bread Contest
On Friday, September 4th, Oregon-based Bob's Red Mill sponsors this baking contest each year at the Oregon State Fair. This is a yeast bread competition for amateur bakers only.
Gerry Frank Chocolate Cake Contest moves to the Columbia Hall
The 56th consecutive contest featuring Gerry Frank takes place on the Creative Living Stage on Sunday, September 6th.
Fair Admission
Adults: $8 (12 and up) — Presale Tickets $6
Kids: $6 (6 to 11) — Presale Tickets $5
Seniors: $6 (62 and up) — Presale Tickets $5
Hours
Monday, Aug. 31 to Thursday, Sept. 3: 10 a.m. to 10 p.m.
Friday, Sept. 4: 10 a.m. to 11 p.m.
Saturday, Sept. 5: 10 a.m. to 11 p.m.
Sunday, Sept. 6: 10 a.m. to 11 p.m.
Labor Day, Sept. 7: 10 a.m. to 10 p.m.