When Bryce Dallas Howard walks in a room, her smile and laugh are infectious. Sitting next to her is mesmerizing. Her giggle, her generosity, her aura. She walked into our interview room a couple of minutes late as she had been photographing something for the National Park Centennial and apologized for holding us up. She's just so genuine and kind, and it was obvious that she felt badly for keeping us. And at the end she kept asking if we really had to go, if our time was really up.
Read on to learn what Bryce had to say on parenting, shooting in New Zealand, Robert Redford's Hair, and her favorite Disney movie.
BDH: Thank you. So you guys have been being referred to as mommy bloggers. That's awesome. You guys are responsible for all of my parenting choices.
I've seen such a huge difference in…I'm sure you guys have, as well. My son is almost 10 and my daughter is 4 ½, and in that span of 5 years, there is so much more information, it's because of you guys, what you're doing. So thank you. Also the second kid thing is like, 'You're like okay.' It's just a wilderness out there. The world is a wilderness and I know how to set up camp a little bit.
On shooting in New Zealand with her family
BDH: Yeah, they came to New Zealand. They went to school there, and it was cool because, actually, 30 years previously, my dad shot Willow partly in New Zealand and I went there. And I remember it. I have very vivid memories from that time. I went back 30 years later with my own kids around the same age so it was really awesome. It was exactly what I remember from when I was a kid. It's cool.
On why she was interested in the role of Grace
BDH: So the 1977 version of Pete's Dragon was just one of those—you know how as kids there's a collection of movies that there's a sweet spot, an age where you just watch those movies again and again and again? And Pete's Dragon was one of just a few movies that was it, for myself and my siblings and my sisters in particular because my brother's 6 years younger than me.
And so when I heard about this script, that they were going to be doing this film, I sought it out just out of curiosity—not because I knew that there was a role or anything like that. And then I read it, and it's very different than the 1977 version, but I think it's so beautiful, and it really reminded me of the Disney films that I watched as a child that were quite defining for me—and emotional and really sort of cemented this idea of American values or something. And it just reminded me of that.
[My kids] haven't seen the first version. They haven't seen this version yet. They're going to. But I have a little board book that's based on the film. And I read that to them a lot. And that's already kind of getting them hooked on the story.
I didn't want to show them that film, and then have them say to me, 'Well why weren't you singing?' or something like that. That's the last thing I need. So they will, of course they'll see both movies for sure.
On how she's like Grace
BDH: It's really interesting with the Disney movies because watching them when I was a kid, I always identified with the child, and then reading the script I just instantly was thinking about it from the perspective of being a parent. And I was talking to my husband about it a lot because I was like, 'I don't want to create a sort of complicated persona that's like what's this adult persona in this children's film?'
Like this, 'Get to the Dragon,' you know. I just wanted to really approach it simply, and he said something great to me, which is, 'Listen, you haven't really played a mother. You were technically a mother when you played Halley Hollbrook,' but I didn't of picture her as a mother or an ideal mother at least. And he just said, 'You know, I mean you've been doing this for almost 10 years. Like just infuse the character with the kind of the relationship and the dynamic you have with our kids, and just be with Pete in the way that you are, like how you talk to, Theo and Beatrice.'
Those are my kid's names. And it just made it really simple.
On her rapport with Oakes
BDH: Other than coming to New Zealand and a couple of weeks leading into shooting and rehearsals and all of that [we hadn't had any interaction]. And then once we were there we were like a traveling circus, all of us and we went to a lot of different places in New Zealand and Wes brought his family. They were there. There were a lot of kids. It actually reminded me a lot of when I was a kid and my dad was making Parenthood and I was 7 years old. And I mean it was like, it was so fun. I was on set every day just surrounded by kids my own age.
It was pretty much exactly like that for my kids, as well. So with Oakes, it was he and Oona and my kids and Wes's kids and other kids that were there and Jim Whitaker's kids, it felt like a family very early on.
On working with Robert Redford
BDH: Oh my gosh, I mean he's—okay so upstairs, I stayed in the hotel last night and there's a picture of him as a young man in like the hallway. And I like opened the elevator doors, and I'm like, 'Hello.' I know, seriously. I mean it was phenomenal. And watching the movie last night again he's such an environmentalist, and he has just so much—when you're around him you feel so much peace because it seems like he has arrived at that place for himself.
And just being in this really serene environment and having these long awesome conversations with him, I mean it's less a conversation and more just me peppering him with questions, I mean it was incredible. And particularly I mean he's a family man and raising kids also in this industry and in this world. And he has a lot of perspective on that and so it was just wonderful getting to learn from him and to be around him and admire him and see that he has the most incredible head of hair.
He's never dyed his hair. He's never dyed his hair. He said his son was like, 'Dad, you can stop dying your hair.' And he's like, 'Why don't you believe me? I don't die my hair.' It's crazy. Yeah, never.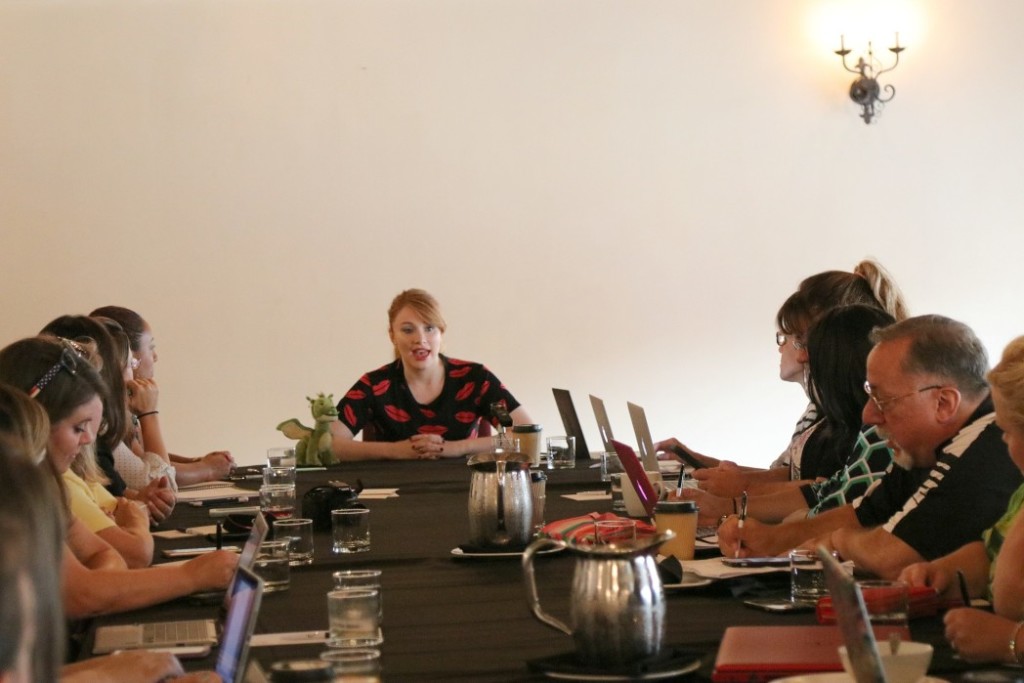 On her favorite moment or scene while filming
BDH: It was definitely getting to ride on the back of Elliot. I was just in hysterics that whole day. And I was sitting behind Wes last night at the premiere and I just like grabbed his shoulders when we were watching it.
Yes, we were just losing it the whole time because we're adults, and we have kids and we're on a dragon! And the way they set it up it was kind of like this rig where we had harnesses on and you had to climb up, you were pretty high up, climbed up on a ladder and it would move around like a ride. So it was nice that they kind of replicated the Disneyland experience in New Zealand while we were shooting. It was really fun.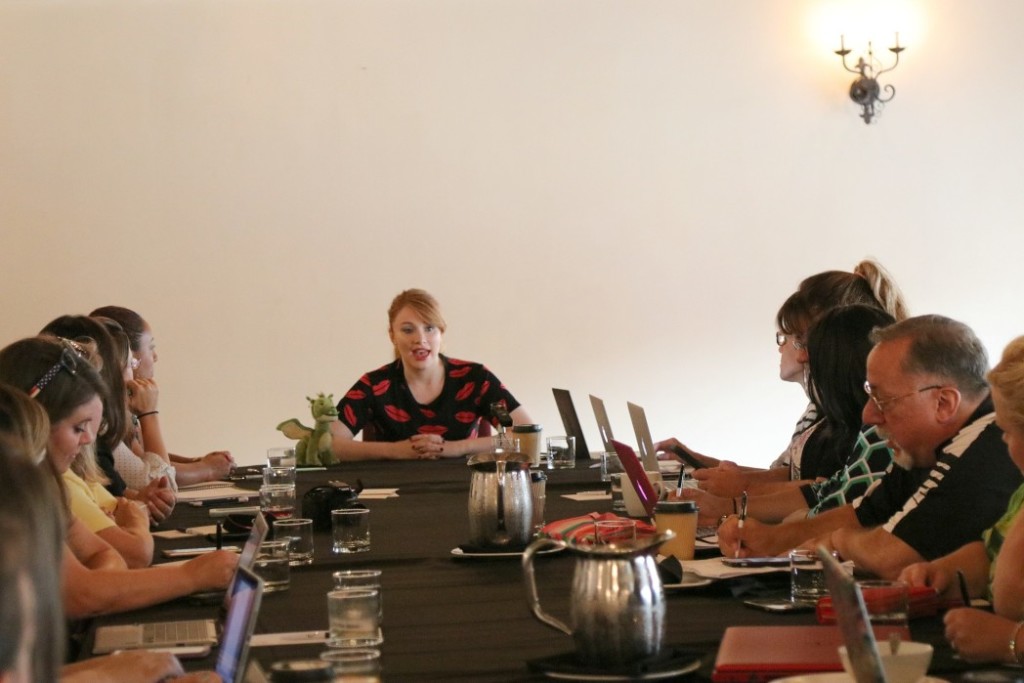 On her favorite Disney movie
BDH: I haven't thought really critically about that question, but just my first thought is The Little Mermaid because it came at a time, I think I was in second or third grade and it just—I mean I was born in '81 so I don't know, I don't know, yeah, whenever it came out. My mom sets all of her stories when she was 7. My dad's always like, 'Everything happened when you were 7 Cheryl.'
And so I could be doing that as well. Ariel has red hair. I had red hair. I still have red hair. It just was one of those movies that just came at one of those moments, and I memorized all the songs and I used to do really dangerous things such as I would, oh, my gosh, I would put on a leotard, and then I would tie my legs together and I would throw myself in the pool.
I did it many times. So dangerous. I actually have a memory of the last time I did this underwater looking up like and thinking to myself, 'This is really not good,' like starting to panic really bad.
I don't think my parents know. I mean they couldn't have known. I don't think that they would know, now they're going to know, but now they know a lot of things.
But I think it was The Little Mermaid. Interestingly enough, David Lowery, the director of Pete's Dragon, we're the same age he said the exact same thing.
Me: That he use to tie his legs together?
BDH: Yeah, no, no, he didn't. He didn't practice any bondage or anything on himself.
What message do you want people to walk away with from Pete's Dragon?
BDH: What has always occurred to me was that it's like so many Disney movies deal with loss. I mean actually, like it's like a mother can't survive right? Like every movie it's so crazy. What's really powerful about that, there's this great Walt Disney quote that I'm just going to completely paraphrase here where he essentially was saying that there can't be light without shadows, and the Walt Disney films don't shy away from that.
And perhaps that's in a way, that's the power of those movies is that today, as an audience, they bring you to a place where it's like—I can't imagine anything more nightmarish as a parent or a child than dying or losing my parents, from both perspectives. I think that telling the story of after that kind of loss, showing what it takes to find your family, and that there is a family out there even, when you're orphaned.
I think that's a really powerful message because we all experience loss and will experience eventually be extreme loss of losing your parents, and I think another thing that's occurred to me over time, is that Disney films seem to be, for me, it's like they're 50% entertainment and 50% therapeutic. You sort of practice those emotions as a child, and you go through that experience and in a way, I mean this is sort of what I think stories are meant to do, prepare you for what is ahead, prepare you for the commonalities within the human experience.
And so I think that seeing that journey and that adventure finding your family, and in the midst of that having bonds that seem completely impossible or unconventional, his best friend being a dragon. I think that is a really powerful message. And I think also just very simply telling stories that intertwine or integrate the imaginary world and of the mystical world with the real world.
I think for kids and adults that kind of, it allows us to transcend the daily grind of reality, and reminds us to look for magic, to look for something that can make you believe that the supernatural exists or just that there's something beyond. And it's not in a religious sense at all or even a spiritual sense. But I think we all have that kind of sense of wonder within us and awe within us.
And having a movie that's a live-action film with a character who is magical and mythological, I think that does something for kids. I mean my favorite question to be asked after a screening is from a kid saying, 'You know, what was it like working with Elliot? Where is Elliot right now?' Just to keep that alive, I definitely treasure that.
Even though it touches on deeper issues, Pete's Dragon really has, it's presented kind of in the whimsical way. It has a whimsical factor to it. What was your first emotional response when you saw the finished movie?
BDH: I watched it with my husband, and we were really emotional very early on. And the first reaction honestly, was I turned to him after the first 5 minutes, and I was already crying, and I was like, 'Is this okay?' And he turned to me, and he said, 'Not for me it's not.' And I was like, 'Oh, my gosh!' I think just the power of that, especially being in the movie, and then being able to watch it, and experience it in a way that it's intended to be experienced, I think that definitely caught me off guard. That was my first reaction, that I was really moved by it, and surprised how much.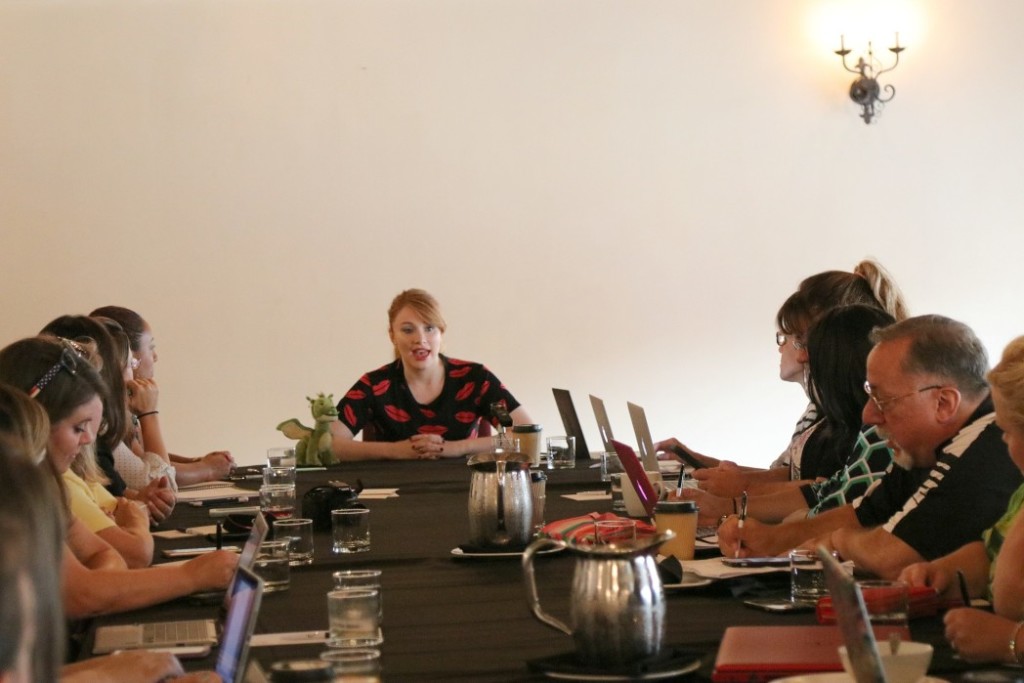 On the difference between the schools in the United States and in New Zealand and if her kids enjoyed it
BDH: My children go to a school that's international, so it's the same curriculum pretty much. There's some variation, of course, but international. So they've been to the same school system in Vancouver [Washington], Hawaii, Louisiana, Los Angeles, New Zealand.
When I traveled as a kid with my parents, and we would go to schools, it was a completely different school system. I've noticed more similarities than differences. But my son, he's one of those kids where I'm always just like, 'Tell me about school. Tell me about your friends,' and all the questions that you're not supposed to ask.
And then I'll try to find my way around, and I'll be like,' What's the funniest thing you heard today?' or 'What did your friend next to you eat at lunch?' He doesn't divulge a lot of information. And just a couple of weeks ago we were lying down in bed together, and he turned to me and he was like, 'You know, in New Zealand it was really tricky because I didn't understand anyone for the first 2 weeks.' I was like, 'Oh, my gosh!' And he said, 'It seemed like it was a different alphabet and everything and I thought it was a different language at first. Then I realized it was the same language but it sounded different.' And so I think like to answer your question, I think at first it was just a dialect, and I didn't really think about needing to adjust according to that.
Was there a defining moment while shooting the film that you felt wow, 'this is an incredible film?'
BDH: Yeah, I think, I mean other than the riding on the Dragon there was one day in particular where we were walking into the woods and something, so two of the best things about New Zealand, in my opinion, is that there are no predators, so you can go into the forest and you're really not worried that there's going to be an animal—no snakes, nothing. And the other thing is that most places you, it's very difficult to get an Internet connection. So those two things work together beautifully. And yeah, there was a day where we were shooting and the forest and Bob was there and Oakes was there and Oona, and I just remember looking up and it was just kind of perfect and it was idyllic, you know.
And no one was on their phones, and it felt like what the movie looks like, when you watch the movie. Like it felt kind of innocent, just sort of like perfect moment. And that, I'm realizing the older I get how much of a privilege that is. We live in like the suburbs, and our backyard is half the size of this table, which I'm like so grateful for.
And I asked my daughter recently, I was like, 'You know, do you want to grow up in nature?' And she was like, 'I do, I am growing up in nature.' And I was like, 'Oh.' You know, because I'm like, 'Girlfriend, that's Astroturf in the back.' And so it really, being there, being in New Zealand, I mean it's consistently ranked as one of the best places to raise families in the world. And I realized why.
And it definitely, it's kind of shifted something for me as a parent in terms of my priorities. And I think having those experiences, you know, being surrounded by nature and being in a serene state where there is no fear and you could just kind of be there I really want that for my kids. And I had that so much as a child. I mean I grew up in Connecticut in the woods. And, and it's crazy—when we were growing up, you had parents think like, 'Oh, back when I was a child we could walk here.'
And I'm doing the same exact thing. I remember thinking at the time like, 'Oh, yes, we are in an advanced civilization now. Nothing is going to change. Like we are as advanced as we'll become. I'm not going to be like my parents and say that kind of stuff.' But we always yearn for our childhoods, and we always yearn to, in a way, either to transform it or to give it to our children.
I've been invited to an all-expenses paid trip to LA. As always, all opinions are my own.
Like PETE'S DRAGON on Facebook | Follow PETE'S DRAGON on Twitter | Follow PETE'S DRAGON on Instagram
Visit Disney Animation on Tumblr | Visit the official PETE'S DRAGON website
PETE'S DRAGON flies into theatres everywhere TODAY August 12th!