This is a sponsored post in partnership with
www.UHCCF.org
. As always, all opinions are my own.
Do your kids love to tell jokes? Mine sure do. They constantly looks for joke books to buy or borrow, and they also love to make up their own jokes. For only $5.99, I can buy them a new children's joke book to celebrate National Smile Day that they'll enjoy while helping out a great cause, too.
The books Little Book Big Laughs Riddle Book (for Kids by Kids)
and Little Book – Big Laughs Knock-Knock Book (For Kids By Kids)
raise fund to help families pay for child medical expenses. These two new books from UHCCF.org include more than 350 jokes and 500 riddles written by kids. Of course they are written by kids, kids love to tell and write jokes and riddles! Proceeds from the joke books fund medical grants for children. These books would make a great just because gift, stocking stuffer, or birthday gift, or addition to your personal library.
Why do bicycles fall over? Because they are two tired

What can you see in the water that doesn't get wet? Your reflection

Knock Knock Who's there?

Bashful Bashful who?

I can't tell you, I'm so embarrassed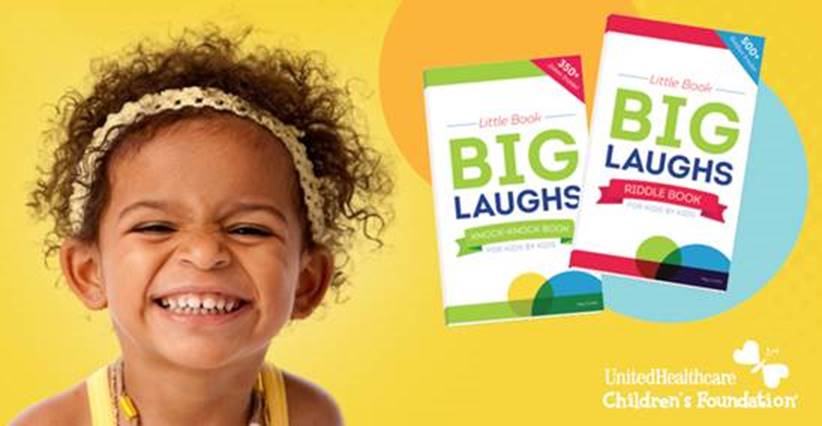 The UnitedHealthcare Children's Foundation (UHCCF) has collected knock-knock jokes and riddles for two new joke books. Not only do these joke books provide smiles and laughter, but they also provide a benefit: they help fund child medical grants for families in need. Proceeds from the sales of the books will help fund UHCCF grants that help families pay for children's medical expenses not covered, or not fully covered, by a commercial health insurance plan. Since 2007, UHCCF has funded more than 10,000 medical grants totaling more than $29 million.
The first "Little Book-Big Laughs" joke book was released April Fools' Day 2014 and was a Mom's Choice Gold Award recipient for juvenile books. The success of the first book propelled the idea to create two additional books for a joke book series.
In addition to the joke books, UHCCF publishes and sells the award-winning Oliver & Hope's storybooks, along with other fun child toys and products; all available at Amazon. UHCCF recently added two more characters to the Oliver & Hope™ series of super-soft stuffed toys—Charlotte
the fox and Hugo
the dragon. Proceeds from the books and toys help fund UHCCF child medical grants.