Cars 3 opens today in theatres across the country. This is my spoiler-free review, along with a sneak peek at the short that comes before the film called "Lou."
If you're a fan of the Cars franchise from Disney • Pixar, you are going to love Cars 3. We adore Cars in our house. Cars 2 missed the mark a little bit for us (long, didn't hold our attention) but Cars 3 is everything we hoped it would be and more. You won't walk away disappointed.
The plot of the new next-gen racers/rookies taking over the older style racers is entertaining and a good storyline. We loved seeing the throwback to Doc Hudson and some more of the racing history that made Doc Hudson the racing legend he became. The tie in with trainer Cruz Ramirez is fantastic, funny, and will keep you on your toes. The addition of villains like Sterling and Miss Fritter are not to be overlooked. And if you are fans of the work of Nathan Fillion and Lea DeLaria, you are going to love this movie even more. I couldn't get enough of Miss Fritter.
The message of girls can do anything that comes across in the movie is also not to be overlooked. It's an empowering and important message for everyone to walk away with. Cruz sure isn't "just a trainer" and everyone will see that by the end of the movie.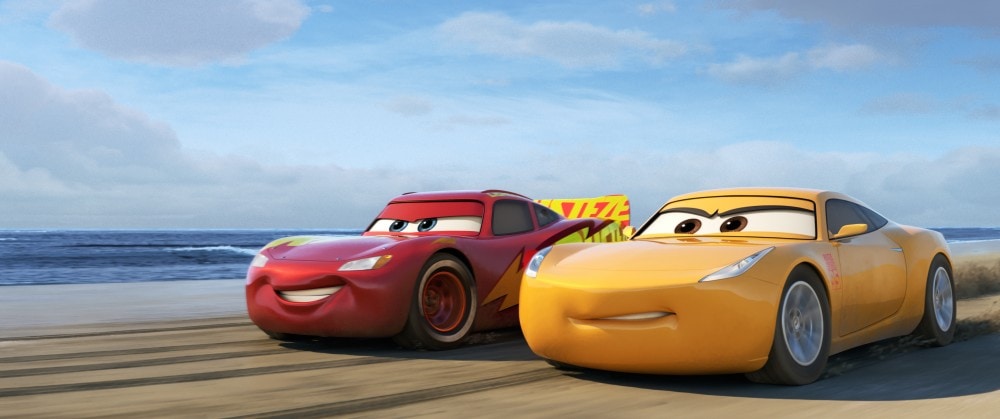 Lou
Animated shorts are always one of the treats of seeing a Disney • Pixar film. You can't help but love the tradition of the animated shorts in front of the Disney • Pixar films. They're always heartwarming. "Lou" is the story of a playground bully and a lost and found bin.
The lost and found bin creates a Jim Henson-inspired monster of all of the lost playground items. The playground bully must return the items in order to get his own lost treasure back from the monster. As with all Disney • Pixar animated shorts, the moral of the short is worth sticking around for and it's a great beginning to your film experience for the evening.