Demons I get. People are crazy.

—Dean
Celebrate 15 Seasons of Supernatural
Sam (Jared Padalecki) and Dean (Jensen Ackles) face everything from demons to vampires, ghosts, angels, and pagan gods. And with the help of the fallen angel Castiel (Misha Collins), they discover that every threat they vanquish opens a new door for evil to enter.
This post contains affiliate links.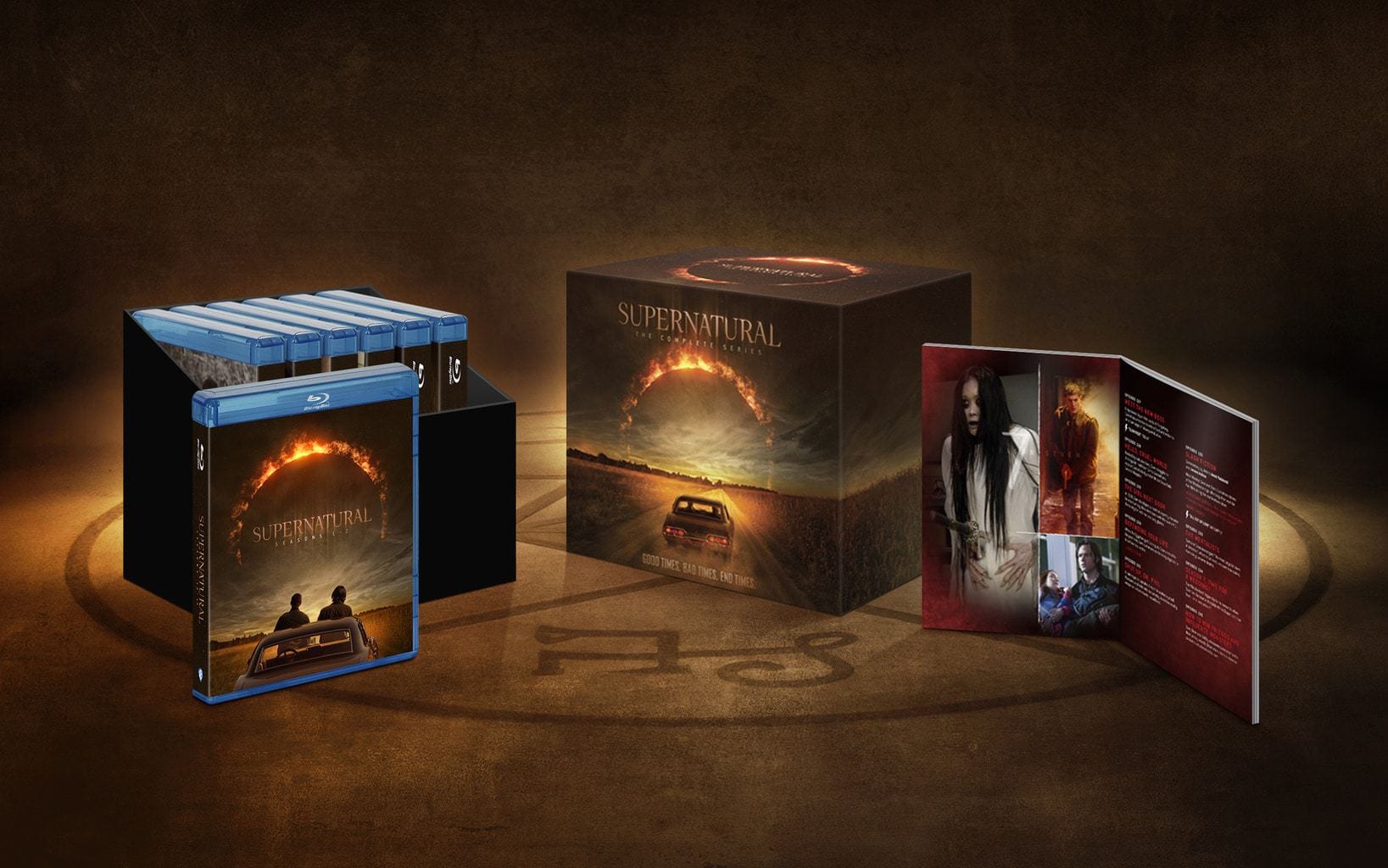 Supernatural: The Complete Series contains all 327 thrilling episodes from the phenomenal series, as well as countless hours of bonus features from all 15 epic, not-to-be-missed seasons. Fans who purchase the Complete Series will also receive a 68-page Collectible Book filled with new images from the beloved series, set designs, and letters to the Supernatural Family from both Eric Kripke and Robert Singer. The Complete Series is priced to own on DVD for $329.99 SRP ($369.99 in Canada), and on Blu-ray for $359.99 SRP ($399.98 in Canada), representing substantial savings over purchasing all 15 seasons individually.
About Supernatural: The Complete Series Collectors Set
Supernatural: The Complete Series on Digital
Supernatural is also available to own on Digital. Digital allows consumers to instantly stream and download all episodes to watch anywhere and anytime on
their favorite devices. Digital movies and TV shows are available from various digital retailers including Amazon Video, iTunes, Google Play, Vudu, and others.
A Digital Copy is also included with the purchase of specially marked Blu-ray discs for redemption and cloud storage (US Copy Only).
Release Date: May 25, 2021
Running Time: Feature: Approx. 13,716 min.; Enhanced Content: Approx. 3,226 min (Bonus Disc: Approx. 164 min)
DVD Price: $329.99 SRP ($369.99 in Canada); Blu-ray Price: $359.99 SRP ($399.98 in Canada)
86 Discs (85 DVD-9s +1 DVD-9 Bonus Disc) / 58 Discs (57 BD-50s +1 BD-25 Bonus Disc)
Presented in 16×9 widescreen format
Supernatural: The Fifteenth and Final Season contains the final 20 epic episodes from the landmark series' final season, as well as a bonus disc loaded with over two hours of special features including the special retrospective episode Supernatural: The Long Road Home. Also on the bonus disc, and exclusive to Blu-ray and DVD, are two all-new featurettes, deleted scenes, and a gag reel. The set is priced to own on DVD for $44.98 SRP ($49.99 in Canada), and on Blu-ray, which includes Digital Copy (US only) for $49.99 SRP ($54.97 in Canada).