We received a Summer Outdoor Date Night Kit on behalf of Breyers. All opinions are my own.
With the kids out of school and summer in full swing, it can be hard to schedule a date night with your special someone. If you work out of the home like I do, you're with the kids all day and longing for a break in the evening. Breyers Gelato Indulgences can help make that date night time easier to attain. Breyers Gelato Indulgences offers a sweet solution, one with no flowers or reservations required.
You can squeeze in quality time with your loved one right in your own backyard, local park, or even your own living room floor with a picnic date night kit from Breyers Gelato Indulgences. Grab an insulated cooler bag, picnic blanket, spoons, and your favorite flavor of Breyers Gelato Indulgences, featuring a creamy gelato, luscious sauce, and gourmet toppings. Premium gelatos are available in eight luscious varieties, including:
Cappuccino – Features cappuccino gelato with a foamy cream swirl and gourmet chocolate chips
Chocolate Caramel – Features chocolate gelato with luscious caramel sauce and gourmet chocolate curls
Mint Chocolate – Features mint gelato with a rich fudge swirl and gourmet chocolate curls
Strawberry Truffle – Features strawberry gelato with a rich fudge swirl and gourmet dark chocolatey truffles
Vanilla Caramel – Features creamy vanilla gelato with luscious caramel sauce and gourmet caramel curls
Raspberry Cheesecake – Features cheesecake gelato with luscious raspberry sauce and gourmet graham crumble
Tiramisu – Features mascarpone gelato with espresso sauce, ladyfinger cookie pieces & gourmet cocoa
Triple Chocolate – Features milk and dark chocolate gelato with white chocolate sauce & chocolate curls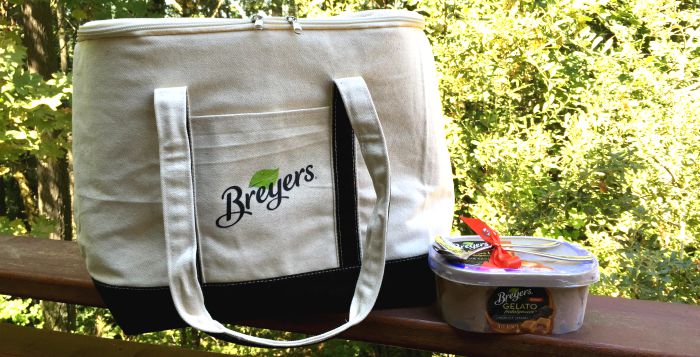 The Raspberry Cheesecake and Chocolate Caramel are my personal favorites. The only problem I find with having them in the house is that they don't last long. It's hard to keep them away from my four kids, and once they are opened, the container doesn't last more than an evening or so. They are decadent and delightful.