Disclaimer: I was selected to attend an all-expense paid trip to LA courtesy of Disney to experience these incredible events, along with a group of 24 other bloggers. All opinions, excitement, and smiles are my own.
One of the most fun aspects of watching an animated Disney film is the animated shorts that are shown before the feature film. "FEAST" is a new animated short that appears in front of the new Big Hero 6 release in theaters this November. The audience sees the life cycle of the dog, Winston, through is eyes from under the table.
Have you ever wondered what goes into creating one of these shorts and where they come from?
When I was in LA this summer, I had the chance to see one of the very early screenings of "FEAST" and chat with Director Patrick Osborne about the new Disney Animation Studios (DAS) animated short.
The Making of FEAST
Anyone who works at Disney Animations Studio can pitch an idea for a short. Osborne had an idea of a short based on his video project of 1-second videos from his meals everyday. "There is something really cool about the context you get in your life in seeing these meals pass, and hearing those moments, the sound design of those moments. It tells a big story, and on top of that—the design of food, plates on the table, the colors of foods—would be something that would be really cool to animate," Osborne said. "And then you think about what the character needs to be, and a dog underneath the table, following the life of a family through their meals seemed like a really cool place to start."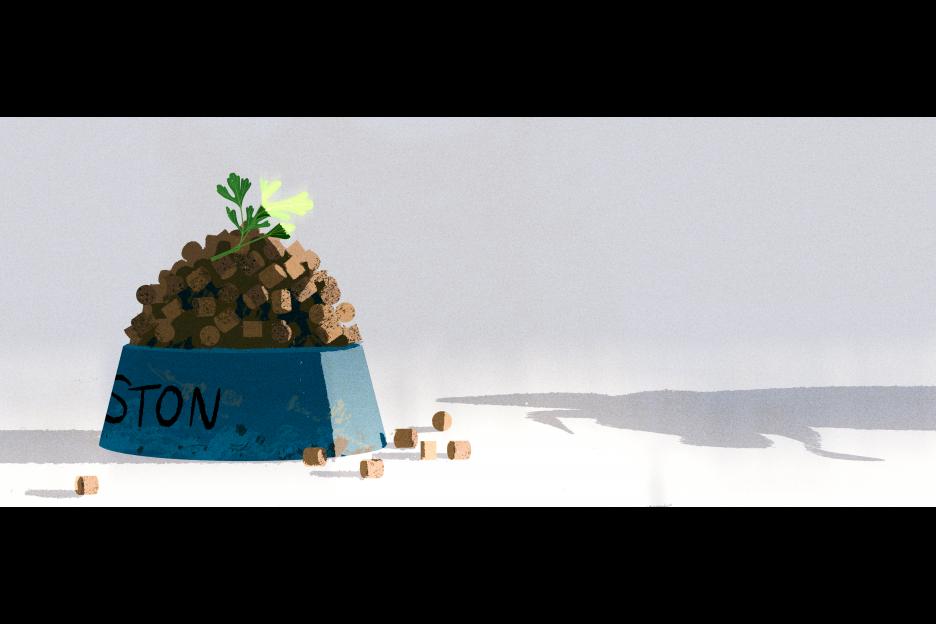 When you are getting a pitch together, you start doing really small concept paintings, figure out what things might look like. Get the idea across visually of what things might look like, You pull together three boards and you pitch to the directors of the studio, and hope for the best. "I was really lucky to be selected to do this," said Osborne. "It's a once-in-a-lifetime opportunity and really cool."
Next you develop a story and spend the next few months getting storyboards together, and figure out what things are going to look like visually. Osborne worked as head of animation on "Paperman" developing this neat look and doing CG animation that has more of a hands-on and tactile feel. Osborne wanted to play with that feel again. What he likes doing most is taking tools they already have and then "breaking them and bending them and doing them in unique ways to develop a really interesting visual look."
The team started with a rough poster and hung it on their doors so they would feel like they were doing something. "It's nice to have something that represents the project," said Osborne. They painted a bunch of really early concept paintings and one they loved was sort of an impression of light and impression of a real place, but it's really just a simple shade of color, simple color planes, and a little bit of light work and a textured edge.
The team is very, very small at the beginning because the shorts are filmed in between feature films. Once it gets going, you have a core team of 5 or 6 people. When you start the short, it's not going to look real, but you need something to guide the team toward a solution. It's easier to point to a visual than hand wave and talk about it.
They started with that as a goal and at the same time started designing characters. One of their character designers started by doing hundreds of dog drawings, from Chihuahuas to what ended up being Winston. They designed characters and gave them names and jobs. They put the characters in moments. "It's good to design characters in the scenes you want to see them in so you can get a feel for their personality and how it fits their design, said Osborne. They also brought a couple of puppies into the studio. It's fun for the animators to sit and watch them play around. Osborne didn't want it to be a dog that acted like a human; he wanted Winston to have real dog characteristics.
From there, they define the character design and then you pick a few that you think are going in the right direction and hone in on something. They work with 15 animators for about 3 weeks.
Dale, one of the 2D-animators that worked on the short, has been around since The Fox and the Hound. Once you have the characters, you can start playing with them on paper and see what will be interesting for the short. They start to turn the characters and draw them in ways that they'll be able to model then in 3D.
This is also where they start to design the costume changes. Osborne wanted the short to take place over a period of time, so you have a sense of this guys' life changing over the duration. Changes the way he dresses, etc. They started with an early 90s era wit the outfits.
The food is the final character in the short. Osborne wanted the food to simple, iconic, and quickly identifiable. As a nod to earlier animated films (and a true Disney Easter Egg), spaghetti and meatballs is one of the iconic foods that is included…think Lady and the Tramp.
The process moves on: layout, animation planning, dailies, sketch notes, silhouette design, final animation, final air, final. Scenes are shown in dailies, notes are taken, and the short develops.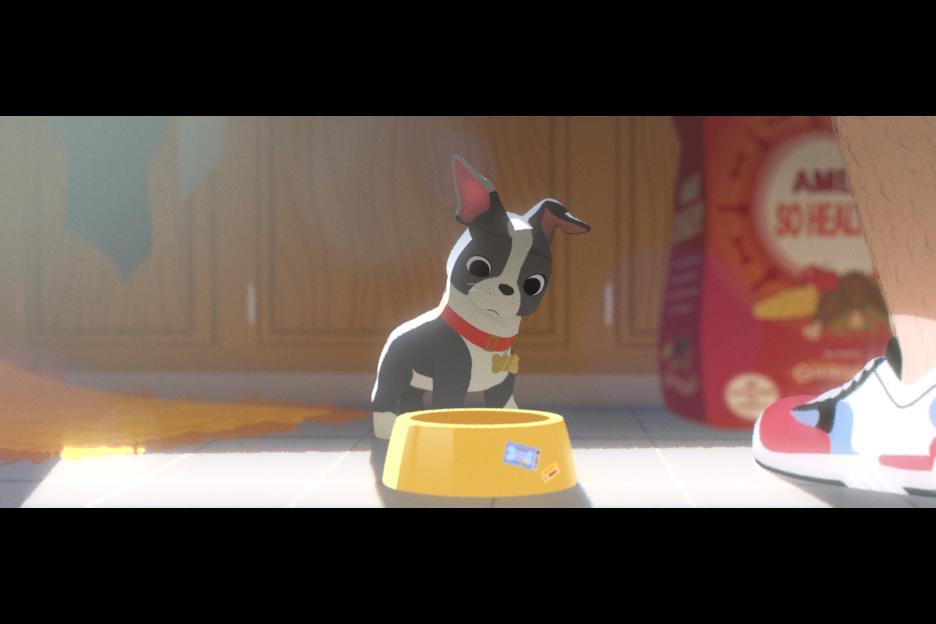 How long does it take to put together a short?
The green lit was given January 2014. The shot production was 16 weeks long with another month for sound and and music at the end after the digitals were finished.
Do you have a dog that was the inspiration for the progression of single guy with dog to girlfriend, to married, to baby?
Osborne has a weiner dog, but no kids. He felt there were too many weiner dogs in animation. Because they were going with a simple look, they chose a two-toned dog that you could tell was rotated.
What's your favorite part of the animation process?
Osborne: "I'm an animator, so that's my favorite part. I've been an animator for 12 years. There are certain parts that are a little more free and creative, like the story is wide open and all of these things could happen, but it doesn't always work on screen. Animation is creative and it's on screen. Every step is fun in its own way, but I'm biased to my own skill set."
See the Big Hero 6 Trailer
Like BIG HERO 6 on Facebook
Follow Walt Disney Animation Studios on Twitter
Follow Walt Disney Animation Studios on Tumblr
Visit the Website
BIG HERO 6 opens in theaters everywhere on November 7th!