I received ZIOBAFFA wine to taste. As always, all opinions are my own.
With so many wines out there, it's fun to find ones with a unique story to tell. Filmmaker Jason Baffa traveled the globe with his friends and camera-crew surfing and creating movies about their love of surfing and surf culture. The films, "Singlefin: yellow," "One California Day" and the newly released and award winning, "Bella Vita," embrace the inspired life of the care-free surfing sub-culture.
During their initial filming days in Italy with surfer-environmentalist Chris Del Moro and winemaker Piergiorgio Castellani on "Bella Vita," Jason Baffa's passion for good food, love of libations, and late-night jokes, inspired the local surf crew to nick-name him, Zio Baffa (Uncle Baffa). Even their wine label speaks to fun and elegance with their embossed elements on the front.
In the spirit of that off-beat fun-loving uncle we all may have, ZIOBAFFA delivers some of their favorite things to enjoy. As with their filmmaking endeavors, ZIOBAFFA products take pride in authenticity with an attention to detail and quality. Handmade by artisans with a focus on traditional and organic production, these are the things they kept keep going back to places like Italy for.
ZIOBAFFA wines are farmed organically and 100% of energy used in manufacturing is from renewable resources and NDV certified with a "zero waste" program, recycling all possible waste and purifying polluted water. Also, 100% of the paper they use for their label is FSC (The Forest Stewardship Council) certified and is produced from raw material obtained through sustainable farming practices. The labels are printed with non-toxic ink and affixed using bio-friendly, non-toxic glue. The new HELIX™ cork closure on their wine embraces technology to create a bio-friendly re-usable seal. It's sexy and environmentally sound.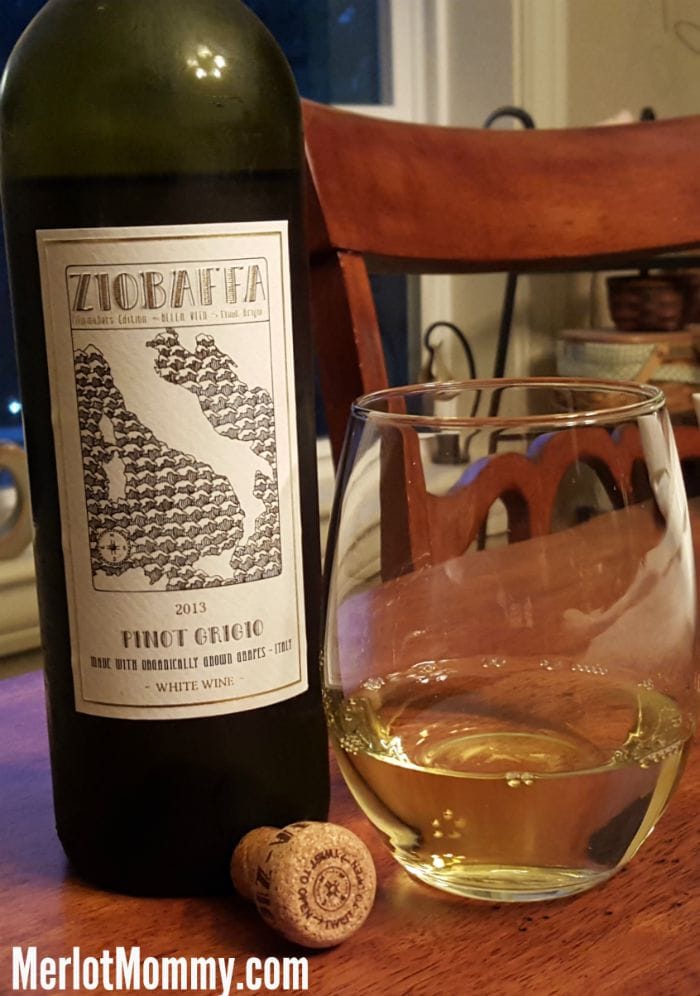 ZIOBAFFA organic Pinot Grigio is light, crisp, and refreshing. It has nose of apples and pears with a touch of lemon and floral notes. On the palate, it is bright and refreshing with lots of apple and pear flavors and a hint of citrus. This wine was lovely to enjoy on it's own or paired with food. We paired it with cheese and sausage stuffed red bell peppers, but it would absolutely pair well will fish, poultry, pastas in cream sauce, and softer cheeses.