I participated in the Idina Menzel Holiday Wishes album review program as a member of One2One Network. I was provided an album to review but all opinions are my own.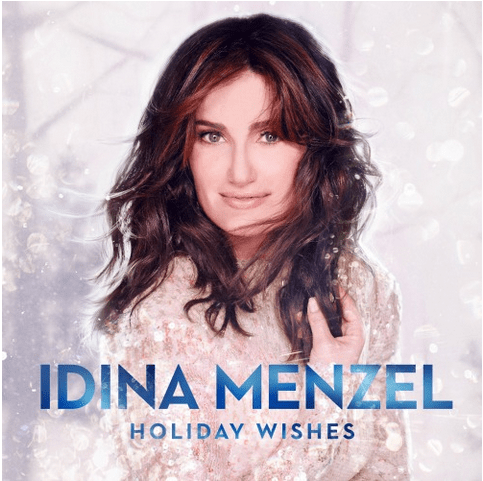 Tony-award winning vocalist Idina Menzel, the voice of Elsa in the mega-hit Frozen and star of Wicked, Rent, Glee andIf/Then, has a new album called Holiday Wishes! It's 12 tracks of holiday hits, including guest performances by Kenny G and Michael Bublé.
Idina Menzel has been one of my favorite vocalists for as long as I can remember. I can sing, but holy cow can Idina Menzel belt out notes I can only dream of belting. She's totally my girl crush. Since Rent, I've adored her vocals and own everything she's ever produced.
Her newest album Holiday Wishes doesn't disappoint. The album was produced by Grammy Award-winner Walter Afanasieff (who's also worked with Barbra Streisand, Celine Dion, and Mariah Carey) and features classic favorites such as "All I Want For Christmas Is You" and "Have Yourself A Merry Little Christmas," as well as Joni Mitchell's Christmas-themed "River," one of Menzel's favorites and one of mine.
Another highlight is a duet with international superstar Michael Bublé on "Baby It's Cold Outside." I could listen to the two of them since for hours.
Here's the Track List for Holiday Wishes
Baby It's Cold Outside (Duet with Michael Bublé)
Have Yourself A Merry Little Christmas
What Are You Doing New Year's Eve?
When You Wish Upon A Star
Oh, and an exclusive Target edition of Holiday Wishes features two bonus tracks, including "Let It Snow! Let It Snow! Let It Snow!" and "Mothers Spiritual."
Idina's career has traversed stage, film, television, and music. She was most recently heard as Elsa in Disney's global box-office smash Frozen, in which she sings the film's Oscar-winning song "Let It Go." After her performance of the multi-platinum song at the 86th annual Academy Awards, she made history as the first person with both a Billboard Top 10 hit and a Tony Award for acting.
Check out the Holiday Wishes album trailer: